Page 3 of 5
Google is hoping that what it lacks in privacy policy clarity, it can make up for in the transparency of its services.
But Dixon, who follows medical privacy issues, contends that they aren't transparent enough. Medical records, once transferred to Google Health, aren't protected by HIPAA or by the rules of doctor-patient confidentiality. Google states that it has no plans to use Google Health for advertising. But by sharing data across services, the company is blurring the lines, Dixon says.
If you have a health problem and you use Google Health, research the disease using Google's search engine, use Gmail to communicate with your doctor, and link appointment details to Google Calendar, and your last location in Latitude was a medical clinic, Dixon asks, "What does the advertiser get to know about you? What about law enforcement? Or a civil litigant? Where are the facts? I don't have them, and that bothers me."
Change in Behavior
Google's recent decision to change gears and mine what it knows about you to better target advertisements has also raised concerns.
Until recently, Google placed ads based on "contextual targeting" -- derived from the subject of a search or a keyword in a Gmail message you were reading, for example. To avoid creeping people out with ads targeting sensitive subjects, it avoids the topics of race, religion, sexual orientation, health, political or trade union affiliation, and some sensitive financial categories, as illustrated in the screenshots below.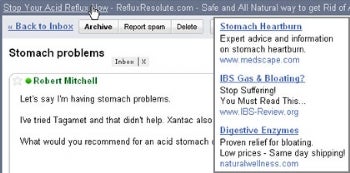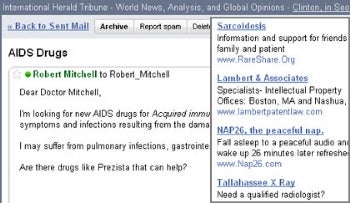 With the information at its disposal, Google could pull together in-depth profiles of its users and launch highly targeted ads based on who you are (your user profile) and your activity history on the Web. The latter is a controversial practice known as behavioral advertising. Until recently, Google rejected the technique.
Then, on March 11, Susan Wojcicki, vice president of product management, announced in a post on Google's official blog that the company was taking a step in that direction. With the launch of "interest-based advertising," Google is beginning to target ads based not just on context but on the Web pages you previously viewed.
That Web page history will come from a log associated with the cookie ID. However, since that ID links not to a unique user but to a unique browser, you may end up viewing ads for Web pages visited by your spouse or others who share your machine. In a bizarre Catch-22, advertisers will be able to target ads at you based on logs that Google says it cannot make available to you -- for privacy reasons.
Ghosemajumder acknowledges that the situation isn't perfect. "In some cases there is [transparency], and in some cases there isn't," he admits. But he says Google is "trying to come up with more ways to offer transparency."