Page 3 of 3
"Face-to-face video ... is an opportunity we think Apple will not miss," Gotteil said. "It must provide video chat to make the front-facing iPhone camera useful, but the opportunity to build videoconferencing, video social networking and video games is too [good] to pass up. By providing a subscription-based infrastructure for video communications and an API enabling its developer community, Apple gets a recurrent revenue stream with a lot of stickiness."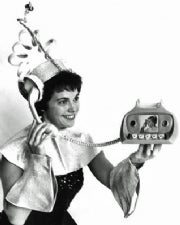 Burden said everyone agrees that if Apple installs a forward-facing camera in the next iPhone, it will be primarily for video chat, but also, possibly, for an augmented reality application. Under that scenario, a user could launch a multi-player gaming application, then use the front-facing camera to project his or her face or body onto the avatar used in the game that would be shared with others wirelessly in real time.
Even if Apple's iPhone video chat concept initially is more modest than such visions, Gottheil said consumers will want video chat for the iPhone as they have wanted it for Facebook, which has a video application to help old friends reunite and for new friends to meet and flirt. Families will love it, much as they have favored desktop video chats over Skype using a laptop or desktop computer. "My first grandchild was born about a month ago, and he has singlehandedly introduced video chat to at least half a dozen homes," Gottheil said.
Dulaney said despite some workforce reservations, he is certain that Apple will make iPhone video chat viable, given its marketing prowess and understanding of consumer needs. "And Apple has a good working relationship with Cisco who talks about videoconferencing anytime they can, so I expect something to happen on this [Apple-Cisco] front," he said.
In summary, analysts admit there will be some, if not great, value in video chat for a wide range of consumers, but far less for business users. And they don't foresee huge networking problems that would lead to video chat's early demise, although they believe wide area cellular networks commonly called 3G will certainly pose bandwidth constraints that Wi-Fi will not.
The most lingering worry, especially for workers, could ultimately come down to a personal one, Burden said. "With video chat, you really do expose yourself for who you are at any given time," he explained. "Technology is not the barrier. It's how we look physically at any given time."
Burden recalled how characters in "The Jetsons," a 1960s TV cartoon series set far in the future, adjusted to having a video phone at home, doing things that wouldn't be practical with mobile video chat.
"Jane Jetson would wake up one morning with her hair all over the place," Burden recalled, "and when she had a video call, she'd put on a kind of mask with her hair perfectly in place to take care of the call," he said.
Matt Hamblen covers mobile and wireless, smartphones and other handhelds, and wireless networking for Computerworld. Follow Matt on Twitter at
@matthamblen or subscribe to
. His e-mail address is mhamblen@computerworld.com.
Read more about Mobile Apps and Services in Computerworld's Mobile Apps and Services Topic Center.
This story, "WWDC Preview: Will Next-gen iPhone Be Ready for Video Chat?" was originally published by Computerworld.