Sprint's EVO Phone in a 4G Zone: How Fast Is It?
After all the excitement surrounding the release of the "first 4G smartphone"--Sprint's EVO 4G (by HTC), I was excited to take the phone to a place that had a working 4G network so I could see how it performed in its preferred habitat. The nice people at PCWorld let me jump on a plane and fly up to (Sprint 4G partner) Clearwire's own backyard in the Pacific Northwest to test the new phone on the fast 4G WiMax network.
I rented a car and visited six cities that have working 4G networks--Portland and Salem in Oregon; and Bellingham, Seattle, Snohomish, and Tacoma in Washington. I tested apps, ran speed tests, ate bad fast food, and heard way more talk radio than I wanted to, as I followed Interstate 5 around the Northwest.
This third and final installment of my story focuses on the connection speeds that I obtained while using the EVO 4G phone. For a play-by-play account of where and how well I connected to the 4G network, and of how well my test apps ran in 4G, please refer to Wednesday's Washington account and Thursday's Oregon account.
Reading the Chart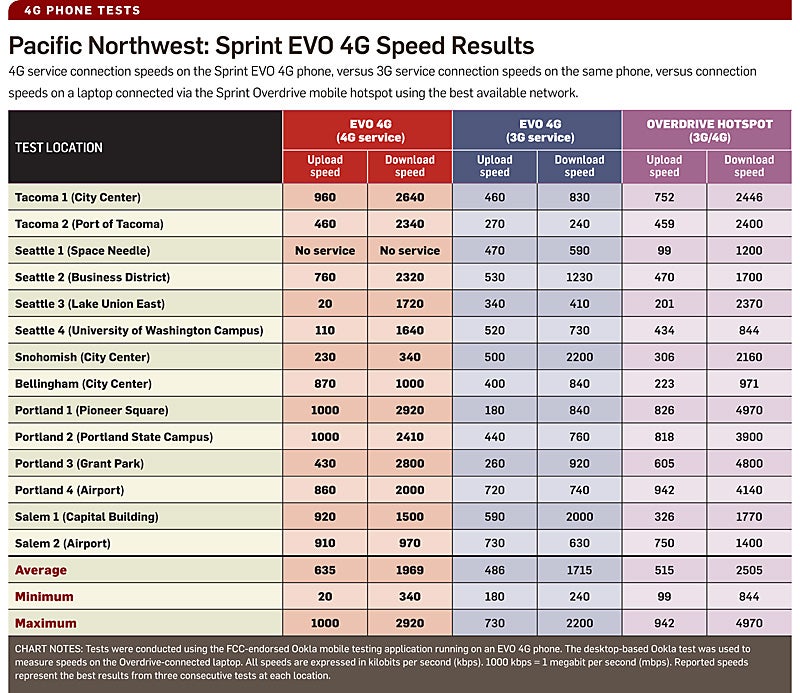 Click on the chart thumbnail at left to see the detailed results of my speed testing in the Northwest. The chart lists the 4G cities in the leftmost column. Moving rightward across the chart, you can see the speeds (upload and download) that I recorded with the same phone in each of 14 testing locations--first on a 4G connection (the red-background columns) and then on a 3G connection (the blue-background columns) in the same locations on the Sprint 3G network. Bear in mind that 4G service is supposed to be up to ten times faster than 3G service. For further comparison, on the far right of the chart (the purple-background columns) are the connections speeds achieved in the same locations by the Sprint Overdrive mobile hotspot, using the best network available.
The Tale of the Tests
While I believe that the 4G network is available everywhere in the Pacific Northwest that Sprint and Clearwire say it is, I was a bit disappointed with the speeds I recorded in the six cities I visited. Sprint says that EVO 4G phone users can expect to get download speeds in the range of 3 megabits per second to 6 mbps, with bursts of up to 10 mbps. But in my tests, I never recorded a download speed greater than 3 mbps on the EVO 4G, much less a burst of speed approaching 10 mbps.
My average 4G connection speed on the EVO phone across 14 testing locations in six cities was 1969 kbps--that is, roughly 2 mbps. Meanwhile, the average 4G upload speed on the phone was 586 kbps. These are not impressive speeds in comparison with those achievable on AT&T's HSPA 7.2 3G network and T-Mobile's rapidly spreading HSPA+ 3G network.
Portland Speed Averages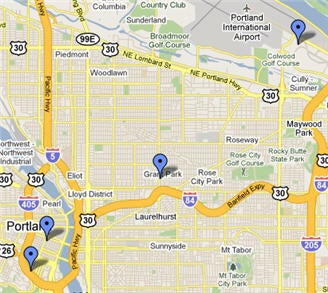 In Portland, with the EVO phone connected to 4G, I recorded an average download speed of 2.53 mpbs (2530 kbps) and an average upload speed of 822 kbps. In two testing locations (see the map at left), download speeds neared the baseline 3-mbps mark that Sprint says 4G users should see: 2.92 mbps at Pioneer Square in the city center, and 2.8 mbps across the river in Grant Park. In contrast, when I connected the phone to the Sprint 3G network, I saw average download speeds of 815 kbps and average upload speeds of 400 kbps.
Sprint was surprised at the low speed numbers I recorded in Portland, but a company executive I talked to had some explanations: "Even though we've launched Portland, we're still in an aggressive build-out mode there," says Iyad Tarazi, Sprint's vice president of network development. "More locations will continue to have better capabilities and speeds as we continue to build out."
On the other hand, when I used the Sprint Overdrive mobile hotspot to connect to the WiMax network in Portland, I saw some 4G speeds that really looked like 4G speeds. The device connected at an average download speed of 4.45 mbps and an average upload speed of almost 800 kbps. That's more like it--and the improved performance of the YouTube high-quality video I watched on my laptop showed what a difference the higher speeds can make.
This finding, combined with the speeds that I recorded on the EVO 4G, lead me to suspect that Portland has, right now at least, a more robust 4G network than Seattle or any of the other cities I tested. My sense is that the network will continue to get faster.
Product mentioned in this article
(1 items)
HTC EVO 4G $499.00

The speedy HTC EVO 4G packs in some powerful specs and a variety of multimedia features into a stylish, minimalist design, but not everybody will get to enjoy one of its best features--4G connectivity.