Page 2 of 5
This new version of Windows Live Sync has a new client interface for controlling synchronization; it now shows you more detail about all the folders on a computer you want synchronized -- which device they synchronize to, synchronization status and so on. You can also choose to share the folders with other users.
How? Well, with this version you can sync your folders not just from computer to computer, but also to the free Windows Live SkyDrive Web-based storage service, where you get 2GB of free storage space. That means that Windows Live Sync doubles as a simple backup service. It also means that you'll be able to get access to your files from any Internet-connected computer.
You can also synchronize your Internet Explorer Favorites and a variety of Microsoft Office settings, including templates and e-mail signatures, among multiple computers.
(Click to view larger image. For a slideshow of Windows Live visit Computerworld's image gallery)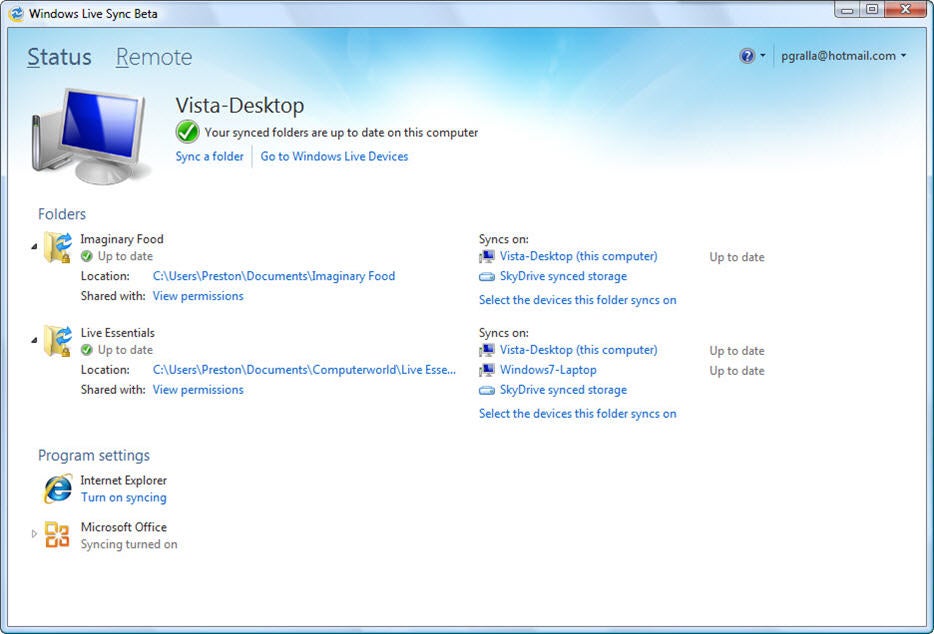 An especially useful new feature, taken from an older Microsoft service, Windows Live Mesh, is the ability to take control of one of your Windows computers via a remote Internet connection. I tried it out and found that it was quite easy -- I was able to control a remote PC as if I were sitting at its keyboard. Anyone who has struggled with setting up Windows' built-in Remote Desktop Connection will welcome this new tool.
Windows Live Sync is so useful that it's surprising that Microsoft hasn't baked it into all of its products, such as Microsoft Office and the Web-based Microsoft Office Web Apps. Perhaps that will come in the future.
Windows Live Mail
When Microsoft decided to kill the Windows Mail desktop client back in 2007, not everyone was pleased. Windows Mail had been an update to Outlook Express, was built into Windows Vista and was a nice piece of work, although not as powerful as full-blown Outlook. Microsoft subsequently made it available as a free download under the name Windows Live Mail.
This latest version of Windows Live Mail represents a significant improvement over the previous version. The big change here is the addition of the Ribbon interface, found in Office 2007 and 2010 applications, and a calendar pane (which gives you access to the calendar that is in Windows Live Mail). This makes Windows Live Mail much more Outlook-like. In fact, at a first, quick glance, you could almost mistake it for Outlook.
(Click to view larger image. For a slideshow of Windows Live visit Computerworld's image gallery)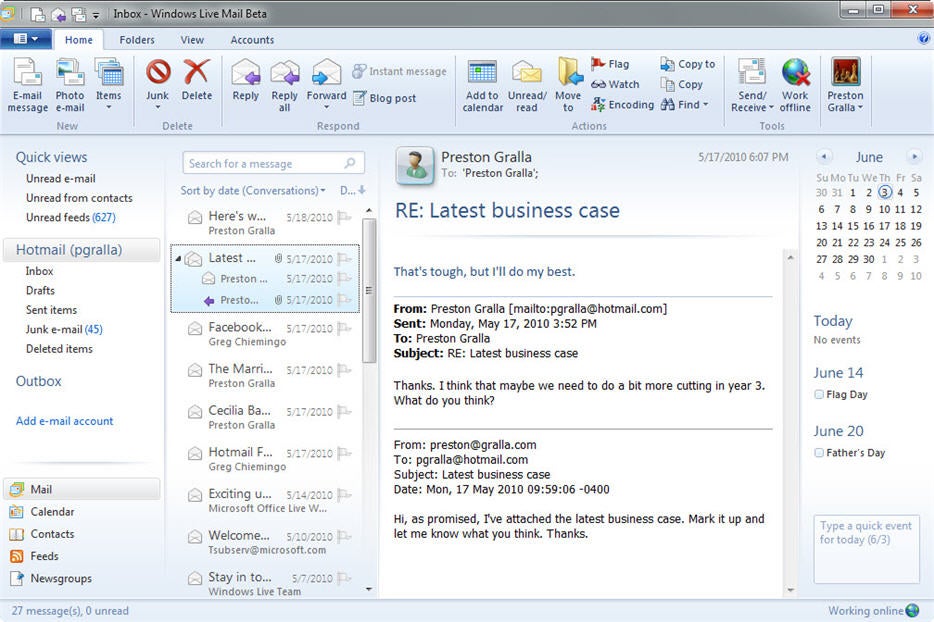 Also useful is the new Conversation View, similar to the one introduced in Outlook 2010, which makes it easy to follow threaded conversations with one or more people. Every e-mail with more than one message has a small triangle next to it. Click the triangle to see a chronological list of every message in the conversation; click any message to jump to it. It's a fine time-saver.
Windows Live Mail also lifts several features from Hotmail. As with Hotmail, if you want to share photos with others via e-mail, you can send a photo album.
Create your e-mail, click the "Photo album" icon, and choose your photos. Windows Live Mail then formats your images into a nice-looking album (using thumbnails) in your e-mail, and also stores the photos on your Windows Live SkyDrive account. Recipients can click the thumbnails and be sent to the full-size images on SkyDrive. This solves the problem of ISPs blocking messages with too-large attachments.
Also welcome are Quick Views, which appear on the left-hand side of the Live Mail screen, and which are especially useful for people who use Windows Live Mail for multiple e-mail accounts. For example, if you want to see all of your unread mail from all accounts combined, click "Unread e-mail." To see unread mail just from your contacts, click "Unread from contacts." And to see all the RSS feeds you haven't read yet, click "Unread feeds."