Page 4 of 5
When used on Windows 7, Windows Live Photo Gallery also includes a wizard-like import tool that launches when you plug a device with pictures or videos on it into your computer.
It's easy to share photos and videos with a variety of sites, including Facebook, YouTube, Flickr, Windows Live Groups and your SkyDrive account. On the Ribbon, you click the icon of the site where you want to share photos, and it takes one more click to share them. There's also integration with other Windows Live Essentials software. You can, for example, send a photo e-mail from within Windows Live Mail.
Windows Live Movie Maker
(Click to view larger image. For a slideshow of Windows Live visit Computerworld's image gallery)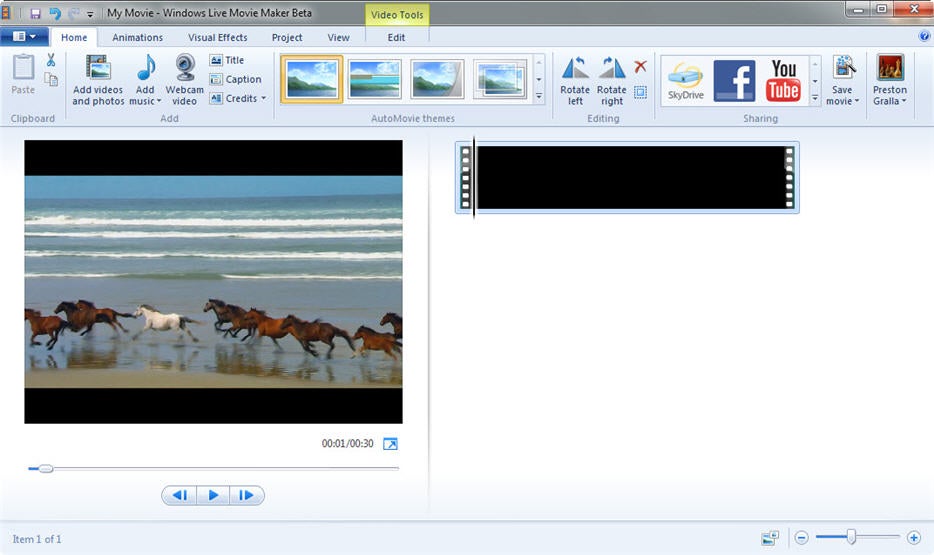 The most significant change you'll see in the new version of Windows Live Movie Maker is -- surprise! -- that it now gets the Ribbon treatment. But there are several other useful changes as well.
For example, Windows Live Movie Maker sports the same interface on the Ribbon as Windows Live Photo Gallery for sharing videos via SkyDrive, Facebook, Windows Live Groups and YouTube.
Also notable are the new AutoMovie themes, which add a title, transitions, captions and a soundtrack to your video. You get a choice of six themes, such as a Sepia theme that turns your movie sepia-toned. In addition, Movie Maker now features a live preview feature, so you can see your movie in the playback window before making any changes.
More Windows Live Essentials
Microsoft has updated or introduced several other tools in its Live Essentials suite.
The Windows Live Writer blogging tool has gotten a minor redo, with -- yes, you guessed it -- a Ribbon interface. In addition, built into Writer is a way to easily link to SkyDrive-based photo albums and display them, so you don't have to create and embed that code yourself. You can also embed a Bing map into your blog.
Apart from this, though, there's not much new. Windows Live Writer remains a nifty front end to a variety of blogging applications, including Blogger, WordPress, TypePad, Windows Live Spaces, SharePoint and others. Note that, depending on your blogging service, it may either be very simple or very difficult to get the software to work with it. It's very easy to get it to work on Blogger, for example, but when you try to get it to work on a site that may have built its own blogging front-end with WordPress, it can be tough to do.
Microsoft's new browser toolbar, the Bing Bar, takes the place of the old Windows Live Toolbar. There are versions for both Internet Explorer and Firefox. It adds the Bing search box on the left-hand side of Internet Explorer's toolbar, which is overkill, considering that there's already a search box on the upper right-hand side of the browser. There's also an autofill function for filling out Web forms, and links to various Microsoft services, such as Bing video, Bing weather, MSN stocks, and so on. If you like that sort of thing, you might find it useful, although many people will find it superfluous.
Windows Live Family Safety is a piece of software that I believe few people will ever use. It is intended to fill a hole that Microsoft created when it inexplicably weakened parental controls in Windows 7. This new version appears to work very much like the old version; I was unable to discover what was new.
Windows Live Family Safety requires such a ridiculously confusing setup that it's hard to imagine anyone going through the pain required to use it. You'll need to create a separate Windows Live ID for every child, and then link those Windows Live IDs to a master parental Windows Live ID, then map the IDs to individual user accounts... let me just stop there, and say it's not worth the effort.