Page 2 of 3
Slip-Sliding Away
Looking like an oversized slider cell phone, Sean Bovee's Slider is a handheld computer with a 9-in. touch screen and a mechanical keyboard that slides out from underneath the screen. The display has a central pivot that rides in a recessed track down the middle of the keyboard.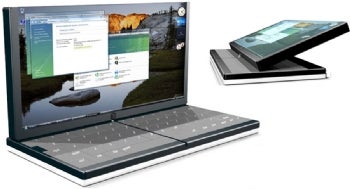 "Slider was born out of frustration," explains Bovee, an independent industrial designer based in Atlanta. "Why can't we have a small machine with enough power to run the programs we want with versatility for every situation?"
At 9.5 by 5 by 1 in., Slider is designed to be small enough for a jacket pocket or bag, but powerful enough to do what you need it to do. Not an actual cell phone, Slider is equipped with a 1.5-GHz processor that enables it to handle VoIP calls as well as high-definition streaming video and video chats on its OLED screen, according to Bovee. Slider's battery can power it for four to seven hours on a charge.
The design calls for a complete QWERTY keyboard for thumb typing or touch typing, but there's a potential snag. Some of the keys in the center of the keyboard need to be split or downsized to accommodate the track for the screen to ride on. In other words, using the 7, Y, H and B keys might be awkward.
Veeramoney and his group at Intel built a similar prototype called UrbanMax and showed it at the Intel Developer Forum in Taiwan in the fall of 2008. The big difference is that UrbanMax has a larger screen, at 11 in., making it a bit less mobile than Slider.

Everything needed to make Slider or UrbanMax exists today, although Bovee says that to keep it slim, Slider requires a machined aluminum case and the dividing of the system's electronics between its base and screen lid. While he declined to estimate the price, Bovee did say it would be would be more expensive than a conventional system with a plastic case.
Roll Out the PC
I couldn't resist including a concept design that isn't quite ready for prime time: the Rolltop, a mobile computer that's unlike anything you've ever seen. According to designer Evgeny Orkin, "The idea was to make a computer that could roll up and be folded into different configurations. Flexibility is what I'm after."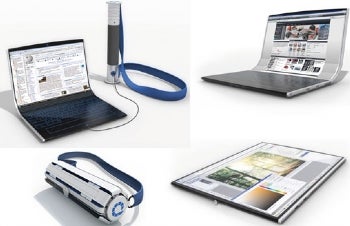 While traveling, the Rolltop looks like a cylinder about the size of a roll of paper towels with a latch to keep it from unrolling en route. When it's time to get down to work or play a game, the system is rolled out like a rug, revealing a 17-in. touch-screen tablet with a pop-out stylus for writing or drawing.
Alternatively, the upper part of this system can be folded up to a 110-degree angle and locked into place. This transforms it into something resembling a traditional notebook with a 13-in. display on top and an on-screen keyboard below.
The secret to the Rolltop's "rollability" is that it doesn't have a rigid glass display, a solid case or a motherboard that integrates all the electronics. Rather, its flexible plastic screen has a series of narrow slats on the back. In between are narrow circuit boards that contain all the electronics. As the Rolltop is unrolled, adjacent slats snap together to create a solid surface. Orkin has created a video demonstrating how it works.
The ports, speakers and power adapter are housed in a cylinder that the whole thing is rolled onto when you're ready to hit the road. There's also a pull-out leg in the back to prop it up for use as a monitor, as well as a shoulder strap for carrying around the rolled-up computer.
"I think it will take about two years before you'll see something like this in a computer shop," says Orkin.
As innovative as the Rolltop is, it's a step or two away from actually being made. The missing element is the superflexible screen, but there's been a lot of action of late in this area -- particularly in e-readers like the upcoming Skiff Reader.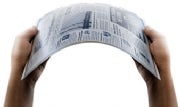 Rather than a rigid frame, the screen of this e-reader uses a flexible thin stainless steel backing sheet that can be bent into a "U" without cracking or breaking.
It's a start, but it won't bend enough to be used on the Rolltop. Also, the 11.5-in. screen, made by LG Display, is a monochrome display that won't show color -- although color should arrive in a few years.

A big step forward is Sony's flexible color OLED display that is thin enough to be rolled around a rod the thickness of a pencil. So far, the biggest screen that Sony has shown is just 4.1 in. with 432 by 240 resolution, so there's some development still needed before it could be used in the Rolltop. Similarly, a highly bendable color LCD being developed by a consortium of Japanese tech companies is currently limited to cell-phone-size screens.
Nevertheless, with ongoing advances from these and many other sources, including HP Labs and Arizona State University, PARC, E-Ink and Plastic Logic, fully flexible notebook-size displays are likely only a few years off.
Leave the Keyboard at Home
First shown at the Consumer Electronics Show in January 2010, Freescale's SABRE smartbook is a crossover system that doubles as a 7-in. tablet on the road and a small netbook with keyboard at home.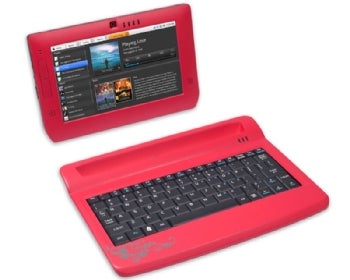 The key to its design is a keyboard-based docking station that charges the system's battery and connects it to local resources such as printers and external hard drives.
"Our research showed that people wanted a smaller device than a notebook but one larger than a cell phone," says Freescale's Sperle. "SABRE is that computer."
SABRE stands for stands for Smart Application Blueprint for Rapid Engineering. It's a full working system ready for manufacturing. In fact, the prototype is intended to drum up business for Freescale's components among Asian manufacturers, although no resellers have snapped up the SABRE design yet.
At 13 oz. and about the size of a small stack of 5-by-7-in. file cards, it's roughly two-thirds the size and one-third the weight of today's typical netbook. But with an ARM Cortex A8-based processor, it doesn't skimp on power. Its performance should be on a par with that of an Intel Atom N270-based netbook, but it will use less than one-tenth the power.
In addition to a battery that lasts for seven or eight hours of work, according to Sperle, SABRE offers instant-on capabilities as well as all the amenities you'd expect, such as 64GB of flash storage, USB ports and a 3-megapixel camera.
One Tablet Per Child
While many were impressed by the ability of the One Laptop Per Child (OLPC) organization to manufacture and sell its XO educational notebook for about $200 each, its design was rather pedestrian. A follow-up fold-open tablet, the XO 2.0, never made it to production, but OLPC is now working on its successor, the XO-3.
This slate tablet design trades the traditional mechanical keyboard for a 9-in. multitouch screen -- a "single sheet of flexible plastic," according to OLPC -- for typing or writing with a stylus. The first working prototype, due in December, will have a glass screen, but the goal is for the shipping product to be 100% unbreakable plastic, according to project founder Nicholas Negroponte.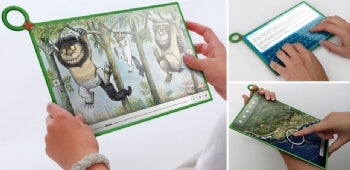 Other hoped-for features include haptic feedback, a dual-mode display that can be seen both indoors and in direct sunlight, and a unique corner loop for carrying the tablet between classes.
It's extremely optimistic, but the group says that the XO-3 will cost just $75 and go on sale in 2012. (I'll believe it when I see it.)