Page 3 of 3
Two Concepts That Never Made It ...
It seems to be the routine for notebook prototypes: They're always a year or two away from commercialization, making the world of designing and building them fraught with frustration. In fact, some of the best ideas never make it out of the lab or boardroom.
Take the Pocket Yoga, which came out of Lenovo's Beijing design studio. A long, narrow netbook with a leather case, the Pocket Yoga resembles a large wallet when closed and can actually fit into a back pocket. The screen can be flipped over to turn the keyboard-centric system into a small slate.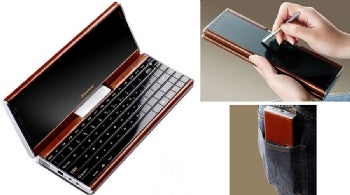 The device caused quite a stir when photos of it began popping up all over the Web last year. To the disappointment of many, however, Lenovo quickly revealed that the Yoga was nothing more than a two-year-old concept design that was never intended to be produced.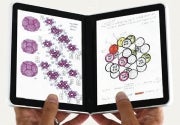 By the same token, Microsoft's innovative Courier concept will never see the inside of an electronics store. Composed of a pair of 7-in. touch-screen displays hinged together, Courier was designed for flexibility: Hold it upright, and it's a two-screen e-book reader or calendar. Turn it sideways, and it resembles a traditional notebook where one of the screens is a keyboard.
While some tech watchers had high hopes that Courier might eventually become a competitor to Apple's iPad, Microsoft recently announced that the project has been canceled. However, company officials have hinted that some of Courier's technologies are likely to show up in future Microsoft products.
... And One concept That Did Make It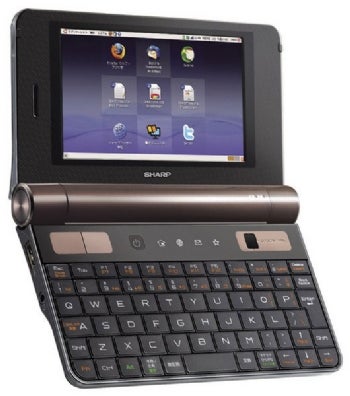 One of the exceptions is Sharp's PC-Z1 NetWalker, which is based on one of Sperle's concepts at Freescale. Looking like a severely downsized traditional notebook, this mobile internet device has a 5-in. touch screen and QWERTY keyboard.
Inside is an 800-MHz ARM processor in a handheld package that weighs 13 oz., so it can go where you go -- provided you live in Japan, the only country where it's for sale.
Even if only a few of these design innovations make it into a commercial system, the future of mobility will be bright indeed. After decades of lugging too much gear or not having what I need on the road, the right system might be just around the corner.
Powering Up
Finally, let's take a look at how we might charge our amazing new laptops in the not-so-distant future. Don't expect the conventional AC adapter to go the way of the dinosaurs. Power to run the machines and charge their batteries has to come from somewhere.
But even here, things will evolve. For example, a major part of the Rolltop prototype is that its power adapter, speakers and connections are in a cylinder that the computer is rolled onto for transit.
Most of the rest of today's prototypes use conventional AC adapters, but George Holmes, vice president for sales and marketing at PureEnergy Solutions, has a different idea. His company's WildCharge Pad efficiently transfers power to mobile devices. Although laptops are not on the official list of supported devices, the company says that the pad can charge a notebook or netbook.
The system uses raised conductive strips that move the electricity from the pad to a receiver that's attached to the mobile gadget. PureEnergy's hope is that hardware manufacturers will start incorporating the receivers into their products' cases, but currently the company sells a variety of phone sleeves and other adapters with the receiver built in; some are no bigger than a coin and glue onto the bottom of the mobile device.
For now, juicing up a notebook requires the external PowerDisc. The disc isn't actually connected to the pad (it can be moved around), but it is magnetically attracted.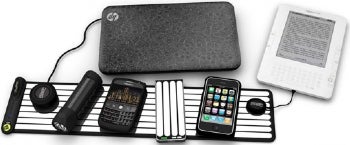 The WildCharge Pad can simultaneously charge several phones or a single notebook, according to the company. Despite having enough power to charge a notebook on tap, the pad is safe to touch, and it can provide the right amount of power for the device(s) being charged.
But that's just the beginning. Taking the concept a step further, PureEnergy is partnering with Kimball International to integrate the pad into desks, tables and other furniture, says Holmes. Imagine hotel rooms, airport lounges and coffee shops everywhere with charging pads built into the surfaces. Just put your notebook down on it, and power will flow to its battery.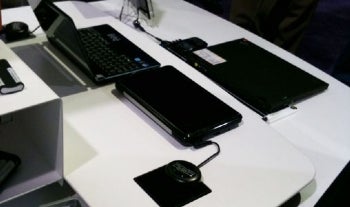 "It's all about convenience," says Holmes. "This will change the way people think about power and charging their notebooks and phones."
PureEnergy isn't alone in its vision for a wirelessly charged future. Wireless charging pads with names like Powermat and myGrid are cropping up left and right, and competitors such as eCoupled have similar ideas about wireless charging.
But until notebooks and cell phones come with receivers built in -- likely a year or two away -- users will have to use external receivers to work with the WildCharge Pad or competing products, keeping the promise of purely wireless laptop charging just out of reach -- for now.
Brian Nadel is a freelance writer based near New York and is the former editor in chief of Mobile Computing & Communications magazine.
This story, "Your Next Laptop: Concept Designs Point the Way" was originally published by Computerworld.