Page 2 of 2
Enhanced Tops Sites and History
I've been a big fan of Apple's Top Sites display, which showed up when Safari 4 was released as a public beta last year. Top Sites renders frequently and recently visited Web pages on a 3D "wall," along with a blue star for sites where the browser detects updated content. The feature is easy to use and for the most part consistently displays the sites I visit first thing in the morning and throughout the day.
Apple has updated Top Sites with an option to view the standard Top Sites page or a graphical history of visited pages. (The History page was previously available but not as obviously displayed.) The History view allows you to see screenshots of previously viewed sites and pages as well as to search for words/phrases in those pages. That allows only pages containing a search string to be shown.
In Safari 5, Apple has added dates to the information displayed about pages when scrolling through the History view. It's a useful feature if you're looking for something you saw or read yesterday, last Monday, or even last month — provided you keep your history that long.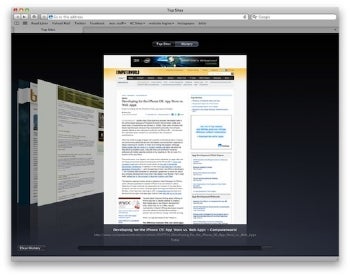 Safari also now supports pinning specific Web sites to the Top Sites display by simply dragging a site's URL from the Address Bar into the Top Sites display. This joins earlier features such as being able to exclude sites or pages from Top Sites and to pin sites to specific locations in the display.
Enhanced Address Bar
Apple revamped the Address Bar in Safari in a couple of ways. First, it restores the progress bar that displays in blue along the Address Bar as a page loads. The blue bar was axed from Safari in version 4.
More important, Apple expanded the matching features of the Address Bar. In Safari 4, as you began typing a URL into the bar, Safari would attempt to offer URL auto-completion based on sites in your bookmarks or in your history. However, that matching was limited to specific parts of the URL. Predominantly, this meant the domain name or the domain name plus later portions of the URL if they exactly matched what you were typing.
For instance, as I typed "computer" into the Address Bar, Safari 4 would auto-complete http://www.computerworld.com as a possible match; typing "world" would not be auto-completed with the Computerworld.com URL.
Safari 5, by contrast, can actually search the entire URL regardless of where a particular word or phrase happens to be. It's a small tweak that builds on an already useful feature.
Honorable Mentions
It may seem like I'm ignoring some of the more newsy changes to Safari — at least if you compare my focus here with what Apple is touting on its Safari site or in press releases. But after working with Safari 5 a bit, I picked the features that most immediately impressed me and that I think the majority of Web users will notice first.
That said, I should mention three additional features that are likely of interest to hard-core techies.
HTML5 — Apple has been pushing the adoption of HTML5 since the public beta of Safari 4. Certainly in the recent spat with Adobe over Flash, Apple has really ratcheted up its advocacy of HTML5 as a next-generation standard for video, animation and interactive Web design.
Not surprisingly, Apple has incorporated a lot of HTML5 media features, including video and animation, closed captioning and full-screen playback of media, into Safari 5. It also supports other HTML5 components such as geolocation, draggable items/attributes, and support for components specific to handling forms, Ruby on Rails and AJAX. This has the potential to be a big deal, but HTML5 right now is still evolving.
Bing — Safari's preferences now support setting Bing as an alternative default search engine instead of Google. (And the option to use Yahoo remains.)
Security patches — Safari 5 patches 48 vulnerabilities that existed in previous releases. For Macs still running Tiger (Mac OS X 10.4.x), Apple has patched these same vulnerabilities in an update to Safari 4.
Overall, Safari 5 is an evolutionary update to Apple's browser. While it doesn't provide earth-shattering changes, it does illustrate Apple's ongoing commitment to HTML5. Most important, with the browser wars in overdrive, it offers improvements that longtime users will appreciate and that bring it closer to parity with IE8, Chrome and Firefox.
Ryan Faas is a freelance writer and technology consultant specializing in Mac and multiplatform network issues. His most recent book is iPhone for Work , published by Apress. You can find more information at www.ryanfaas.com and can e-mail Ryan at ryan@ryanfaas.com.
Read more about Browsers in Computerworld's Browsers Topic Center.
This story, "5 Reasons to Upgrade to Apple's Safari 5" was originally published by Computerworld.