Page 2 of 2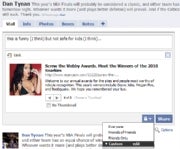 Part deux: Now post something on your Facebook wall. Go on, I'll wait. When you're ready to share it, click the Lock icon next to the Share button, and select Custom from the drop down menu. In the Custom Privacy dialog box, select the people you want to "Make this visible to" (Friends of Friends, Friends only, Specific People, etc). Under "Hide this from" type the name of the list you just created. If you want to apply this to all future posts, click the box next to "Make this my default setting." Then click Save Setting and hit Share.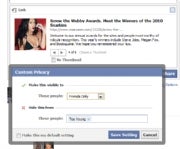 Voila. If you've followed the steps correctly (and Facebook works like it should) some of your friends can see that post, while others on your list will be totally unaware of it.
Of course, this works in reverse too. You can create a list that you only want to share certain things with. Simply go to "Make this visible to… Specific People," then enter the name of your list. Someday I might get around to doing that for my snarky off-color humor. But today I'll settle for not corrupting the youth of American any more than I already have.
Dan Tynan hasn't offended everyone he's ever met yet, but there's still time. Catch his brand of NSFW humor at eSarcasm or follow him on Twitter: @tynan_on_tech . But don't say you haven't been warned.
This story, "How to Boost Your Privacy on Facebook, One Post at a Time" was originally published by ITworld.