Page 4 of 4
Shortly thereafter, Olson persuaded management to ease the restriction. "We explained that we wouldn't be watching [workers] all the time. We would only check the logs if their manager complained that they weren't getting their work done," he says.
The new policy has made for much better working relationships between employees and the IT staff, he notes, with employees more willing to inform IT promptly about technology snafus and IT able to get the information it needs to remedy the problems.
Get Used to It
Going forward, companies like Farstad that have policies that favor minimal monitoring are likely to be in the minority. Observers say IT managers can expect to be asked to take on even more monitoring duties, such are reviewing video surveillance, examining text messages, tracking employee location by GPS or listening in on social media.
Larger companies have started to hire third-party firms to monitor what's said about them in the blogosphere and on social media sites, but in many midsize and small companies, this duty could fall to IT.
Will IT managers resist this expansion or chalk it up to just doing their jobs? Florida Institute of Technology's Workman doesn't envision much pushback. "I see them doing it, but I don't see them being completely comfortable with the practice," he says.
How do you feel about being asked to monitor employee behavior? Would you rather not do it, or does it simply come with the IT terrain? Share your thoughts here.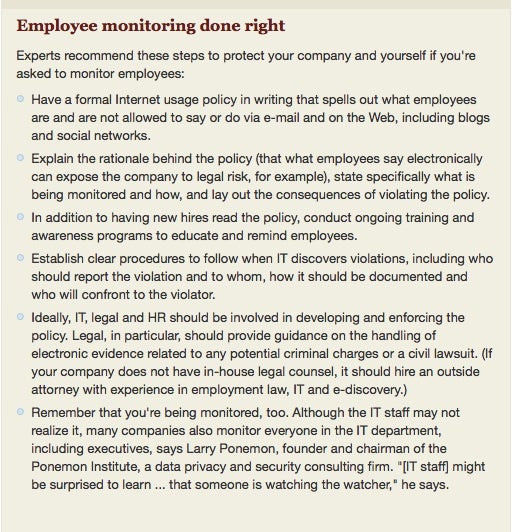 Frequent Computerworld contributor Tam Harbert is a Washington, D.C.-based writer specializing in technology, business and public policy. She can be contacted through her Web site, TamHarbert.com.
This story, "Yes, Your IT Department Is Watching — And Being Paid to Rat You Out" was originally published by Computerworld.