Gateway NV59C09u: An Attractive but Seemingly Fragile General-Purpose Laptop
Gateway NV59C09u Notebook

This laptop provides reasonable power for video and work, but it feels cheaper than its price warrants.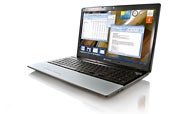 The exterior of the Gateway NV59C09 is a subtly rippling silver with black edging and an understated "Gateway" logo on the top. The LED-backlit 15.6-inch screen set to a 16-by-9 aspect ratio scores, too: It's small enough for easy portability, yet roomy enough to let you dig into work or games. At 15 inches wide, 9.96 inches front to back, 1.22 to 1.34 inches thick, and 5.5 pounds (6.3 pounds including the charger), the NV59C09 isn't too big or too heavy. Nevertheless I didn't come away believing that this all-purpose laptop was worth the asking price of $799.
The review unit creaked audibly when I picked it up. While reviewing the NV59C09, I had the recurring impression that the whole machine might fall apart in my hands at any moment. It creaks when you pick it up or move the screen on its hinges; both the keyboard and the screen flex ominously; and the keyboard consists of simple flat surfaces on thin pegs, with no body around the pegs.The whole thing feels too big for its own good, straining to avoid collapsing under its own weight.
Once I had the NV59C09 up and running, it produced mixed results. The laptop packs a 2.13GHz Intel Core i3-M330 and 4GB of RAM, providing adequate muscle for running applications or watch video. But a 320GB hard drive (spinning at 5400 rpm) and integrated graphics through Intel's integrated HD Graphics make the notebook unsuitable for playing games on. Its WorldBench 6 score of 93 isn't bad, but it's not top-of-class either. In our battery life tests, the system ran for 4 hours, 24 minutes before running out of juice.
The included Blu-ray player is a nice touch; however, the screen's resolution is only 1366 by 768, so you end up with a mediocre Blu-ray experience. Though the LED-backlit screen's picture is bright and crisp, I had expected to see a higher-resolution screen and a bit more hard-drive space for the money.
The NV59C09 does look sleek, though. A rippled silver palmrest matches the lid, and most of the machine is black plastic--glossy around the monitor and keyboard, matte on the keyboard itself. A glossy silver plastic bar separates the keyboard and the small speaker grille, and silver hinges connect the lid and the body. Gateway even made the power button an elegant thin bar on the upper right.
A full-size numeric keypad appears on the right, dedicated volume controls above that, and a standard keyboard layout to the left. The trackpad is flush with the rest of the palmrest, with a thin raised rail on either side to indicate where the trackpad starts and ends. The trackpad's "buttons" consist of a single inset click-bar. The trackpad ships with multitouch installed and ready, but the keys are flat, thin squares of plastic set on pegs; they feel flimsy, they look cheap, and they provide a welcome mat for gunk to get stuck in.
Three USB ports, headphone and microphone ports, an HDMI port, two VGA ports, gigabit ethernet, 802.11b/g/n wireless, a 1280 by 1024 Webcam, the aforementioned Blu-ray drive, and a "multi-in-one" memory card port fill out the NV59C09u's connectivity choices. Bluetooth is conspicuously absent. The speakers sound a bit hollow and have no bass to speak of, but they're reasonably loud.
The Gateway NV59C09u shows a lot of potential with its deliciously elegant appearance and LED-backlit 15.6-inch screen. But it's a bit pricy, seems fragile, and doesn't fill those 15.6 inches of screen real estate as well as it could. In short, it's not bad, but it's not quite the machine it should be for the price.