Hands on with the new extra social Foursquare app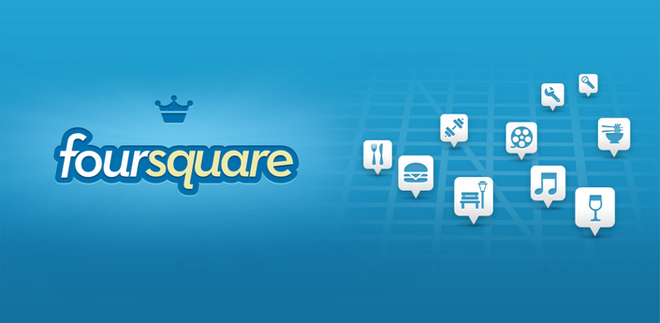 Foursquare, the loveable check-in service that somehow convinced legions of people to constantly reveal their locations to the Internet, has decided that it was time for a facelift and has revamped its iOS and Android apps. These new apps still contain all of the old features, but are now more focused on helping you find interesting places near your location.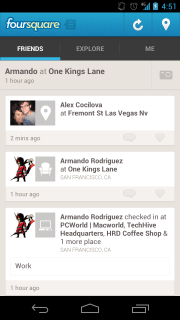 At first, I wasn't all that happy about the new layout that the update had brought along--especially when it came to how the app was organized in Android Ice Cream Sandwich. Though I was happy to see Foursquare using the design guidelines put forth by Google, I wasn't thrilled with the handful of unlabeled icons that had been added to the application. These same icons are present in the iOS version of the app, but look slightly out of place on Android. Once I got over the new design, however, I was more than pleased with how the new version of Foursquare handled.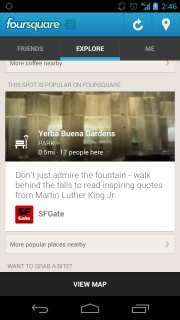 Both apps seem much faster, and the new design makes it a lot easier to see and comment on your friends' check-ins. Whereas in the past I mostly found the Explore tab useless, it now offers valuable information on nearby venues. You can see friends in the area, any tips that friends have left, deals and specials you can unlock by checking in, and you can view suggestions for new places to try out based on your previous check-ins--all things that urge users to go out and explore more of their surroundings.
If you're someone that likes to brag about their exploits on Facebook, you can set either app to automatically share your check-ins and photos to your Facebook timeline. Check-ins shared to Facebook will also be marked on a map on your profile, so you'll have a running log of all the different places you've visited.
Both app updates are a huge improvement over the previous versions, but they will take some getting used to. It's obvious that Foursquare is pushing users to check-in to new places and is looking to become more even more of a social platform by showing which of your friends are close by. These changes may turn off current users who are only on Foursquare to score mayorships and badges, but they'll ultimately make Foursquare a more inviting and useful service for new users. So if you've never tried Foursquare before, now's the best time to download the app and see what all the hubbub is about.
This story, "Hands on with the new extra social Foursquare app" was originally published by TechHive.
Shop Tech Products at Amazon