[Apps to the left of you! Apps to the right of you! In the crowded app marketplaces, it's all too easy to overlook a useful piece of mobile software. Our Get This App series can guide you to these under-appreciated gems.]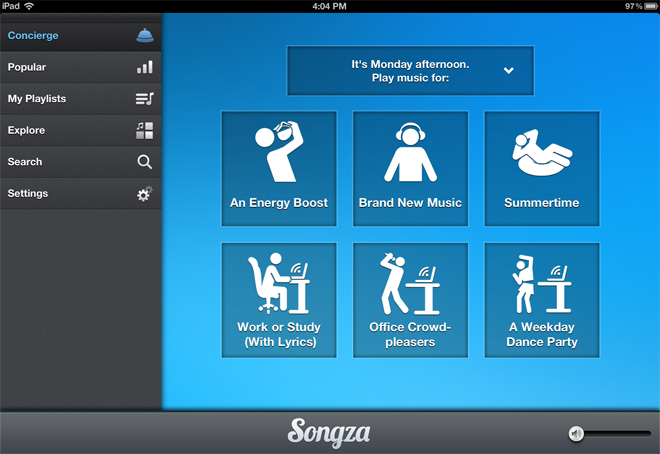 Finally sick of dealing with the subpar Pandora app, I went off in search of a better Internet radio experience. Though the web version of Pandora had served me faithfully all these years, the mobile app felt cobbled together and Pandora had the nasty habit of playing the same old songs over and over again. After a few weeks of searching through both the App and Play stores, I found Songza–an Internet radio app that blew the pants off of Pandora's mobile offerings.
Unlike Pandora, which creates "radio stations" around an artist or song that you like, Songza recommends songs based on what you're doing and the time of day. So if you check the app at night on a weekend, it will suggest different playlists than it would on a Tuesday afternoon. If you aren't satisfied with the playlists that the app is recommending, you can also find playlists based on what's popular or by different genres or activities.
Clicking on a playlist gives you a bit of information about the types of artists and songs that list contains, and will also give you other similar playlists that you may be interested in. Once you've started playing a playlist, you can rate songs that you like or dislike, and Songza will recommend different playlists based on those song ratings. So if you're constantly thumbing down or skipping reggae songs, Songza will stop recommending playlists that include them. Like with Pandora, you are limited to the number of songs you can skip in an hour, so if you hit a patch of songs you don't like, you'll probably want to jump to a new playlist.
Should you find a playlist that you're particularly fond of, you can save the playlist to your favorites list so you can easily find it later. If you connect Songza to your Facebook account you can see what Songza playlists your friends are listening to, and you can share your playlists on your timeline. You don't need a Facebook account to use the app, but the option is there in case you feel like sharing your musical tastes with your social circles.
Songza is completely free to use, and the iOS version works on both the iPad and iPhones. The app does contain some banner ads but they are not obtrusive and do not detract from the overall experience. So if you're as tired of Pandora as I was, and are looking for a new way find music that fits your mood, Songza may be exactly what you've been looking for.
Developer: Songza Media
Platforms iOS, Android
Price: Free
This story, "Get This App: Songza" was originally published by TechHive.
Shop Tech Products at Amazon