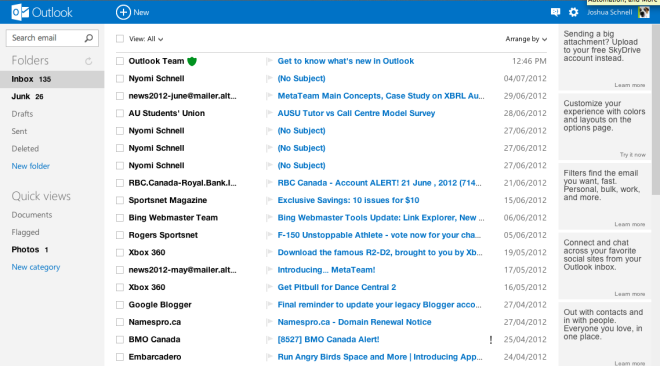 Big news: Microsoft is phasing out Hotmail and replacing the email service with the sleeker, Metro-looking Outlook.com. As of Tuesday, anyone can log into Outlook.com using an MSN based email account, such as yourname@hotmail.com, to check out the new Gmail competitor.
If it's been a while since you've checked out Hotmail, you're in for a nice surprise. Outlook.com is simpler, cleaner, and more lightweight than its predecessor, lining it up well against the likes of Google's popular Gmail service.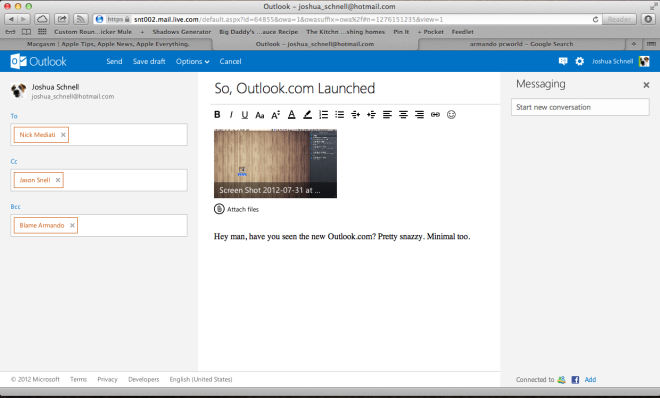 Outlook.com also features a unified address book that contains contacts from Facebook, Gmail, and LinkedIn, as well as updates from Facebook and Twitter. You can even jump directly into a Skype video chat with your friends from within Outlook.com.
It certainly looks like Microsoft is trying to challenge Google on as many fronts as possible, especially when it comes to tying all of its apps together. Outlook.com integrates with Microsoft's SkyDrive cloud-storage service, as well as free versions of Microsoft's Office Web apps.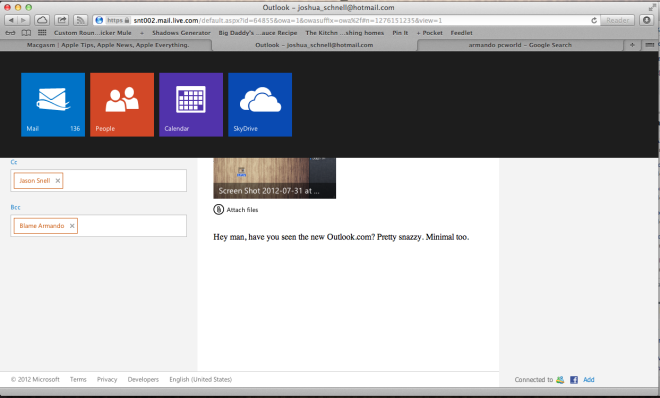 The service is currently in a preview mode, meaning that Hotmail will still function normally. Eventually, Microsoft will flip the switch and require Hotmail users to move to Outlook.com. The date for that move hasn't been set just yet.
This story, "Outlook.com is a clean, slick Hotmail replacement" was originally published by TechHive.