[Apps to the left of you! Apps to the right of you! In the crowded app marketplaces, it's all too easy to overlook a useful piece of mobile software. Our Get This App series can guide you to these under-appreciated gems.]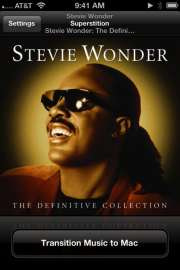 The thing about a one-trick pony is that it depends just how valuable that trick is.
Five Details's Seamless is an iPhone app with but a single purpose: ensuring continuity of jams. Here's the scenario: You're sitting at your desk, grooving to a particularly catchy song, when you realize that you've got to be out the door pronto.
But pausing your current tune will just leave you feeling unfulfilled. Sure, you could open up the Music app on your iPhone and cue up the same song, but then you'll either have to start listening from the beginning, or you'll have to try and scrub through to figure out just where you left off.
That's where Seamless comes in.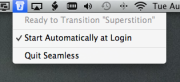 With its small helper app running on your Mac (sorry, PC users), you just launch Seamless on your iPhone and tap the big "Transition Music from Mac" button. The app will slowly fade out the music in iTunes on your Mac, even as it ramps up the volume of the exact same track on your iPhone, resuming, dare I say, seamlessly.
Technically, Seamless has one other trick up its sleeve: It can perform the same process in reverse. So when you walk back into your house, you can fire up Seamless on your iPhone and tap "Transition Music to Mac" button to fade the music out from your iPhone and have it fade in to iTunes.
Whether or not Seamless's modest capabilities are worth its $2 asking price is a judgment you'll have to make for yourself, but if you've found yourself lingering to listen to the end of a song even a couple times, you might find that the app provides you with a valuable service.
Developer: Five Details
Platforms: iOS (iPhone, iPod touch)
Price: $2
This story, "Get This App: Seamless" was originally published by TechHive.
Shop Tech Products at Amazon