Smartphone Multitasking: iOS4 vs. Android
At a Glance
Motorola Droid X shines at multimedia playback, network performance, and features; but the interface can occasionally be sluggish.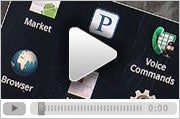 With the release of iOS4, Apple has finally implemented multitasking. Senior editor Melissa Perenson takes a closer look at the new feature, and compares it to the multitasking capabilities of rival Android OS.
For comprehensive coverage of the Android ecosystem, visit Greenbot.com.
At a Glance
Motorola Droid X shines at multimedia playback, network performance, and features; but the interface can occasionally be sluggish. Read the full review

Pros

Beautiful 4.3-inch display
Intuitive, full-featured software

Cons

Interface can sometimes be sluggish
Not launching with latest version of Android