It was way back in December 2009 when Borders first announced that it was partnering with Kobo for its e-book store, and the service finally launched yesterday.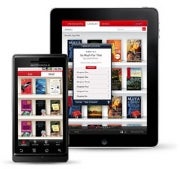 Amazon has the Kindle, Barnes & Noble has the Nook, but Borders has opted to offer a range of dedicated e-readers. There's the Kobo eReader for $149, the Libre eBook Reader for a very affordable $119 (though do note it's an LCD display, not E Ink, and its available only for pre-order as of today), and the Sony Touch ($169) and Pocket ($149). The Kobo seems to be the 'flagship' model and Borders is throwing in a $20 Borders Gift card and "Double Borders Bucks" if you buy now. So for effectively $129 you get an E Ink e-reader, though you'll have to sync books onto it via a USB cable; there's no wireless connectivity.
[ Get news and reviews on tech toys in ITworld's personal tech newsletter]
The Borders e-book store is also rolling out with broad support of non-dedicated devices; they have e-reader software available for iPhone, iPad, Android (2.0 and later) and Blackberry, as well as PC and Mac computers. These all do support wireless downloading of e-books, but don't have the syncing features of Amazon's Kindle and Apple's iBooks ecosystems. If you only read your books on one device that won't matter, but for those of us who jump back and forth from mobile device to...uh, slightly less mobile device, that syncing feature is a nice perk.
Border's e-reader apps let you purchase books from within the e-reader software; that seems to be an important differentiator to some, though I personally don't see dumping out to a browser to buy an e-book that much of an inconvenience. I tried the iPad and Android versions of the e-reader software and surprisingly found the Android version had a better store experience. The Android version has a row of icons at the bottom of the screen that quickly take you to a "Discover" section (with lists such as New York Time's Fiction Bestsellers, Oprah's Book Club and 2010 Pulitzer Winners), a Browse section that lets you drill down through categories and subcategories (e.g. Sci Fi & Fantasy -> Fantasy -> Historical and finally a list of titles), and finally a search box. The iPad version of the store offered a few lists on the front page. When I last checked they were Just Released, Today's Top 50 and then a couple of semi-random lists: e.g The Thrill of the Chaste (religious fiction) and Just For Kicks (soccer; at least I understand why that was there). The category browse is there via an otherwise unlabeled Jump To button which leads to a choice of even more lists or the category drill-down.
The actual reading experience on the iPad is good, with a choice of 4 fonts and a good selection of font sizes, a variety of page-turn animations (including 'None'), a brightness slider and a night reading mode. There's no option to change the page color. There's a progress meter that shows at a glance roughly how far through the current chapter, and the whole book, you are. The Android software offers 3 fonts, 5 font sizes and a day/night toggle. It shows the page number of the chapter and how far you are into the book in terms of percentage.
If there's a way to bring non-Borders content into these apps, I haven't found it yet.