Seven apps for street art fans
To be honest, I take an excessive number of photos of my cats. However, the other things that I often go out of my way to capture with my smartphone camera are street art and graffiti. Fortunately for all of us, I live in San Francisco—a city known for a variety of outdoor murals, art installations, wall writing, and building decoration—so my Camera Roll is a pretty even mix of "art lover" and "crazy cat lady."
From urban graffiti to tagging to guerilla art, never have city streets been more colorful and creatively reimagined. Every alley is a gallery, and with a camera on every phone, every street-art fan becomes a curator. While that has produced a long list of street-art and graffiti-related apps, the majority of the available apps for street-art fans are subpar. If you'd like to get in on the action but are looking to avoid the duds, check out these seven apps for street-art fans, appreciators, travelers looking for local art landmarks, and artists looking to share their work.
All City (M&K Co., free)—iOS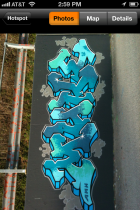 Not only is this app loaded with lovely images and info, but it also makes a noise when you open it that sounds like a spray can being shaken. The home screen rotates through a few example images, and display tabs for Artists, Recent, and Top Rated images below the featured images. Clicking on a featured image leads to more work by that artist, and also provides information on the location of the piece, how many stars it has received, and explanatory icons such as a ghost (which indicates an unknown artist) or a flame (which indicates a "hotspot" of multiple works).
The Artists tab brings up an alphabetical list that is organized much like the Contacts list in iOS, while the Recent and Top Rated tabs show exactly what you'd expect: recent submissions and top-rated artwork. Each feature maintains a Map button in the upper right portion of the app, so you can easily switch over to a map view of where the artwork in question is located. Browsing through the app by artist, location, or image was fluid and effortless; each feature performed smoothly and has a Details tab that helps you locate more information on the artist, or share the artwork via Twitter or email.
Along the bottom of the app, there are options for browsing the street art, finding nearby art, and uploading art you've found. All City provides information not only on nearby street art, but also on nearby galleries, museums, and exhibition spaces that showcase art; uploading found street art can be done with a few simple clicks. Overall, this was one of the better apps I saw, both in finding local and nearby art, and in functionality.
Geo Street Art NYC (Geo Street Art, $3)—iOS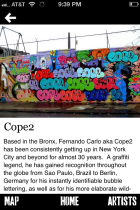 Many of the available street art apps are location specific, such as Geo Street Art NYC which shows off some of the best street art that the five boroughs have to offer. The app's home screen rotates images of different street art each time you land on it, and has a simple menu along the bottom. where you can switch to a Map view, an Update button to update the app and images, a News tab, and an Artists tab.
Switching to the map view defaults to a map of Brooklyn and Queens, with black pins representing the location of various murals and drawings. Tapping on a pin displays a thumbnail view of the art, which sometimes takes a while to load; tapping on the thumbnail brings up the full-size image as well as the name of the artist and options to share the image via Facebook, Twitter, or email. However, the two standout features here are News and Artists: The News tab not only contains news and blog posts on new art, but also has interviews with artists—and all posts are peppered with additional images of art and murals. Likewise, the Artist tab not only allows you to alphabetically search through artists, it also contains a bio on each artist and a slideshow of the artist's work. A solid, well-thought out app, my only complaint is that it doesn't cover more cities.
StreetArt (William Wray, $1)—iOS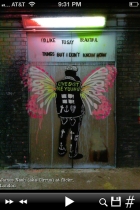 StreetArt—not to be confused with StreetARt, or other similarly named apps—comes from William Wray, and is organized as a slideshow of art culled from various Flickr pages. The street art featured is primarily from major cities (London, New York, San Francisco, Buenos Aires, and Berlin). The slideshow cycles through the images pretty quickly, so you'll probably want to pause it and swipe through the art using your finger, or using the back and forward arrow buttons located at the bottom of the app.
The navigation buttons on the bottom of the app also allow you to display or hide artist and location info, save images to your Camera Roll, or search the app. Search is the noteworthy feature here, as each result displays all the street-art images available in the user's Flickr profile, meaning there are a slew of additional images to check out. The zoom button, which appears as a ship's wheel icon when you tap an image, was a bit clunky to operate. However, the wealth of images available in the Search tab more than makes up for it.
Banksy (Aipple Media, $1)—iOS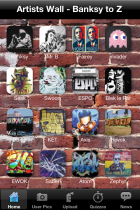 While there are several apps that bear Banksy's name, this one is most focused on the actual artwork as opposed to, say, providing you with wallpapers. The home screen overlays artist icons against a brick wall, and selecting an artist leads to a slideshow of their work and sharing options (either by email, or by saving the image). There are 16 artists featured in all, including Banksy, Sherpard Faery, Blek le Rat, and Invader, but more art can be found by clicking the User Uploads tab along the bottom navigation.
The bottom nav also features options to upload images of street art that you've found, take quizzes, or get news. Although the articles listed are a bit hard to read against the brick background, it is interesting to read street-art articles from the New Yorker and OK! magazine. If you're looking for some mainstream street-art images and info, this uncomplicated app isn't a bad place to start.
Graffiti!!! (Italic Labs LC, $3)—iOS and Android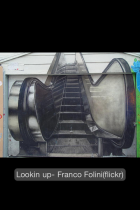 A straightforward app that centers on a slideshow of street art, Graffiti! automatically starts playing music in the background when you open the app (something to be aware of if you're in public). Instrumental guitar overlays a slideshow of street art; you can pause the music or the slideshow by tapping the screen to reveal the menu.
The features menu will also show or hide the submitter's information, play or pause the music or the slideshow, and allow you to save the image to a photo album. If the slideshow is moving too quickly for you, just pause it and manually flip through the images by swiping your finger across the screen.
While Graffiti!! Is lacking some basic features such as search, submit, artist information, and a location/map component, it is an enjoyable way to page through some incredibly creative artwork or find unique background images for your smartphone.
Street Art//Sticky Wiki (Flurpty Castle, free)—Android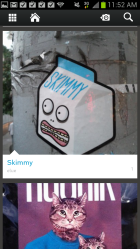 Despite it's somewhat silly title, the Street Art//Sticky Wiki app is a nicely laid out, semi-social sort of affair: Once you've created a StickyWiki profile, you can tap the grid icon in the upper left to access your profile, favorites, and "peeps" (by which they mean "friends" and not "dyed marshmallow goodies"). The app allows users to pin items and follow their friends, actions which should be familiar to most users.
Users can also submit their own street-art finds using the Drafts icon in the upper right—it resembles a camera. Next to that is the familiar search icon,  a mail option for notifications from within the app, and a home button.
The street art itself is designed to be scrolled through from top to bottom, and includes a title and username at the bottom of each image. Tapping on an image displays information about it, such as which user submitted it, and what tags are associated with it (such as #Tuscon, or #sticker or #LowerManhattan). At the bottom, there are options to Follow, Like, or Reply to the post. With the reliance on hashtags, it seems a little strange that there's not better Twitter integration with the app, or better sharing functions which would make sense for an app that seems to want to create a community vibe. However, the app does feature a pretty extensive collection of images, across a variety of styles, and has some potential to really shine with a few tweaks—perhaps in version two?
Street Art Gallery (PlanetAbba, free)—Android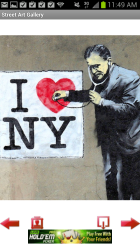 Another slideshow-style app, the Street Art Gallery app from PlanetAbba opens onto Think Tank art, with arrows for navigating and icons for features along the bottom. A word of caution before you start tapping, however: Ads appear along the bottom as the image loads, below the arrows. If you tap too quickly, it's easy to accidentally tap an ad instead and get redirected.
That said, SAG does have sharp, beautiful, and large images of street art, graffiti, yarn bombing, and 3D chalk painting (although the app seems to heavily favor Banksy's work). The two icons on the bottom allow you to set an image as your phone's background, or share the image via a variety of methods such as email, Dropbox, Google+, Picasa, Flipboard, ChatON, or even the Sticky Wiki app, with just a few clicks. Both Facebook and Twitter sharing are noticeably absent here, but there are certainly workarounds for that. You can zoom in and out of the images by tapping on them to show the controls, but there's not a great deal of functionality beyond that.
Much like Grafitti!, the Street Art Gallery app is lacking artist and location information, a map, and an ability to search through the images or upload your own, but it at least functions cleanly and keeps things simple: big, sharp images of some of the most recognizable street art out there.
For comprehensive coverage of the Android ecosystem, visit Greenbot.com.