Jobs Blasted by Sen. and Apple Insider Over iPhone 4 Flaws
By the minute things are getting worse for Apple when it comes to the iPhone 4. Steve Jobs is now being directly implicated in iPhone 4 antenna-gate and Sen. Charles Schumer (D-New York) has penned a letter asking Jobs to personally solve the problem. Schumer is calling Apple's current software fix "insufficient."
Apple Woes Go From Bad to Worse
Last year Steve Jobs was told directly the iPhone's design may hurt the antenna's reception, according to a Bloomberg News report that quoted an unnamed source within Apple. The report says in 2009 Apple senior engineer Ruben Caballero told Apple management, including Jobs, the iPhone's design may hurt its antenna reception. The Bloomberg report also says an unnamed carrier partner brought up concerns about the antenna at that time.
It doesn't comes as surprise Apple declined to comment.
As if allegations of Jobs himself ignoring antenna warnings were not bad enough, now the government has decided to chime in.
Does Sen. Schumer Own an iPhone?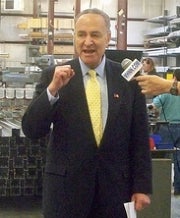 Apple's iPhone woes have made it all the way to Washington. Sen. Schumer, vice-chairman of the Senate's Joint Economic Committee, sent a letter Thursday to Apple asking Jobs to fast track a fix.
In his letter Schumer is calling into question the discrepancies between Apple's July 2 letter to customers and a recent Consumer Reports review. "These proposed solutions would unfairly place the burden on consumers for resolving a problem they were not aware of when they purchased their phones," he wrote. Existence of the letter was first reported by AppleInsider.com .
Brian Fallon, a spokesman from the senator's Washington, D.C. office confirmed that the letter was sent Jobs and provided PCWorld with a copy (see below). In it, the senator also asked Apple for a transparency and a free remedy to its affected customers, "so that consumers can once again trust the product that they have invested in."
Government intervention and a company-wide cover-up? Expect Friday's iPhone press conference to be standing-room only.
Full text of Sen. Schumer's letter to Jobs:
July 15, 2010
Dear Mr. Jobs,
I write to express concern regarding the reception problem with the Apple iPhone 4. While I commend Apple's innovative approach to mobile technology and appreciate its service to millions of iPhone users nationwide, I believe it is incumbent upon Apple to address this flaw in a transparent manner. According to Consumer Reports' review, released Monday on its website, the iPhone 4's signal-strength problem is a hardwire glitch triggered by gripping the device in a particular manner. This finding, according to Consumer Reports, "call[s] into question" Apple's recent claim that the problem is "largely an optical illusion caused by faulty software." Consumer Reports declined to recommend the iPhone 4 because of this hardware design flaw.
Given the discrepancy between Consumer Reports' explanation of the reception problem and the explanation provided by Apple in its July 2 letter to customers, I am concerned that the nearly two million purchasers of the iPhone 4 may not have complete information about the quality of the product they have purchased. The burden for consumers caused by this glitch, combined with the confusion over its cause and how it will be fixed, has the potential to undermine the many benefits of this innovative device. To address this concern, I ask that Apple provide iPhone 4 customers with a clearly written explanation of the cause of the reception problem and make a public commitment to remedy it free-of-charge. The solutions offered to date by Apple for dealing with the so-called "death grip" malfunction-such as holding the device differently, or buying a cover for it-seem to be insufficient. These proposed solutions would unfairly place the burden on consumers for resolving a problem they were not aware of when they purchased their phones.
I also encourage Apple to keep its promise to provide free software updates so that bars displayed accurately reflect signal strength; I further urge Apple to issue a written explanation of the formula it uses to calculate bar strength, so that consumers can once again trust the product that they have invested in.
I look forward to Apple's swift action on this matter, and once again laud Apple for its innovative efforts and service to millions of Americans.
Sincerely,
Charles E. Schumer

Amazon Shop buttons are programmatically attached to all reviews, regardless of products' final review scores. Our parent company, IDG, receives advertisement revenue for shopping activity generated by the links. Because the buttons are attached programmatically, they should not be interpreted as editorial endorsements.