Review: Seagate Satellite Mobile Wireless Storage (500GB)
At a Glance
Seagate GoFlex Satellite Mobile (500GB, USB 3.0)

PCWorld Rating
While it's a good all-around portable drive, the 500GB Seagate GoFlex Satellite Mobile Wireless's raison d'être is serving up files and multimedia via Wi-Fi. The drive creates its own local hotspot that you can log onto with just about any device sporting a Web browser to view the documents, video, music, and photos stored on the drive. Seagate also provides dedicated GoFlex Media clients for Android and iOS devices.
The Satellite Mobile Wireless will run off its internal battery for about 7 hours, according to Seagate. You can use the included USB wall charger or cigarette lighter adapter to either power the unit or charge its battery via the unit's DC jack. As a GoFlex USM (Universal Storage Module), the Satellite also has a USB 3.0 bridge adapter that attaches to the bottom to allow direct connection to a PC. (You can read our review of an earlier incarnation of this drive, outfitted with with a USB 2.0 interface, here.)

The Satellite is an average performer: It wrote our 10GB mix of files and folders at 38.5MBps and read them at 60.8. That's about the same as the Seagate Slim, but it's around 9MBps slower than the WD and Rocstor drives. Where the Satellite lost ground was in reading and writing our single large 10GB file, a task it performed at 79.5MBps and 71.8MBps—that's fast compared to USB 2.0 drives, but it's about 20- to 30MBps slower than the other four drives in this roundup.

The Satellite's software is the aforementioned Web portal, plus a PC-based utility that lets you register the drive across the Internet. The Web portal is nicely rendered, automatically catalogs the files on the drive, and is easy to use.The Satellite does not connect to the Internet, however, so there's no surfing while you're logged on to its network.
In addition to providing access to music, video, photos, and documents, the Satellite also lets you define a password, reset the drive, and more. Seagate's Media Sync application is available for download and will transfer files to the Satellite for you as well as optionally filter out those not playable on Apple products. You may, of course, copy using normal operating system methods—cut and paste or drag and drop.
Note: This review is part of a five-product roundup. Click here to return to the introduction, or click one of the other four reviews.
Western Digital My Passport Edge (500GB)
Western Digital My Passport (2TB)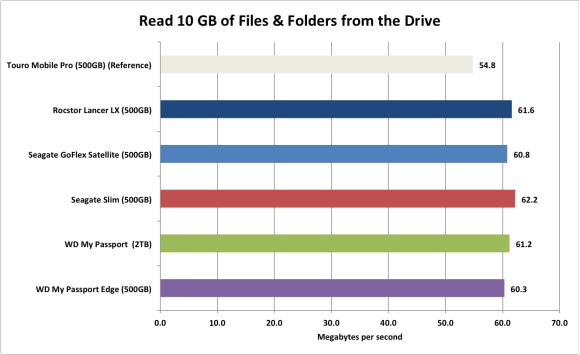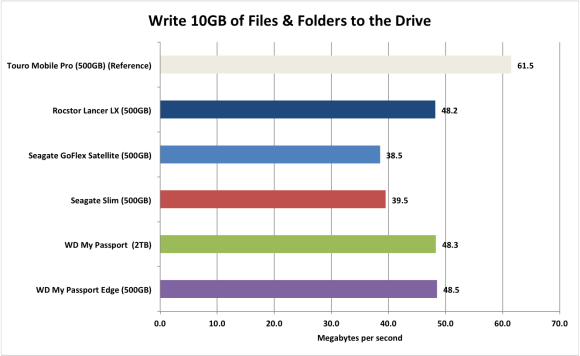 At a Glance
Seagate GoFlex Satellite Mobile (500GB, USB 3.0)

PCWorld Rating

If you need a super-portable Wi-Fi hotspot to share files and stream media from, the Satellite is definitely worth a look.

Pros

Shares media via its own Wi-Fi hotspot
Product has been updated with a USB 3.0 interface

Cons

A tad pricy
Middle-of-the-road performance
Shop Tech Products at Amazon