Review: WD My Passport Edge (500GB)
At a Glance
Western Digital WD My Passport Edge (500GB)

PCWorld Rating
The $100, 500GB Western Digital My Passport Edge is thinner and more attractive than the standard WD My Passport, but it can't compete with Seagate's Slim in either regard. And while it's an excellent performer and sports a nice software utility bundle, it isn't available in larger capacities.

The My Passport Edge fell a mere 03.MBps shy of the regular My Passport in overall performance—that's essentially a statistical tie. With a 10GB mix of files and folders, it read at 60.3MBps, and wrote at 48.5MBps. With our single large 10GB file, performance climbed to 112.6MBps reading and 104.2MBps writing.

WD includes its PC/Mac SmartWare software bundle, which includes drive-level password protection, secure erase, drive testing, SMART status, sleep-timer adjustment, and backup. It's easy to use and attractive. If 500GB covers your needs, the My Passport Edge is probably the best combination of looks, performance and portability among the drives we tested.
Note: This review is part of a five-product roundup. Click here to return to the introduction, or click on the next review you'd like to read:
Seagate Satellite Mobile Wireless Storage (500GB)
Western Digital My Passport (2TB)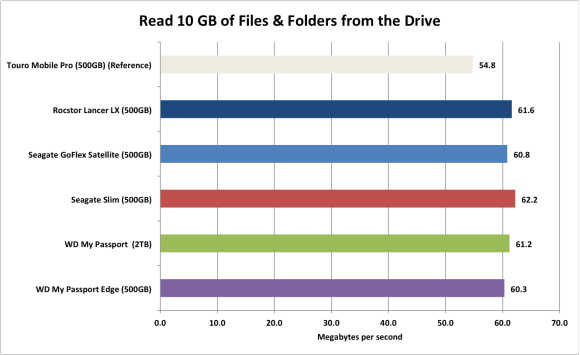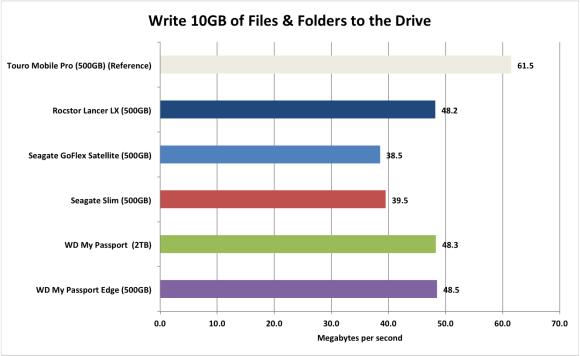 At a Glance
Western Digital WD My Passport Edge (500GB)

PCWorld Rating

The Edge (not to be confused with the guitar player) adds good looks and better transportability to the My Passport line. It's fast, but tops out at 500GB instead of the 2TB available with the non-Edge My Passport.

Pros

Fast
Good software bundle

Cons

Model line maxes out at 500GB
Shop Tech Products at Amazon