Review: Acer C120 Pico Projector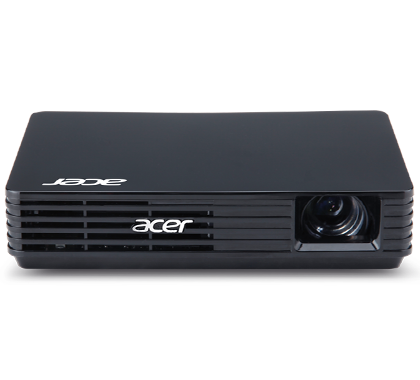 At a Glance
Acer C120 Pico Projector

PCWorld Rating

This projector can do one thing: project the screen of a USB-connected Windows PC. It does that job well, and it's inexpensive. Installation can be tricky, however, and other projectors let you leave the...
The Acer C120 looks good at first glance. It's small, bright, and attractively priced—at $230 on Amazon as of October 29, it's the least-expensive pico projector in our latest roundup. It's also the least versatile: It projects only the screen of a USB-connected Windows PC. This unit doesn't support Macs at all.
The C120 is bare-bones in many other aspects, too. It has no power on/off button; the lamp simply lights up whenever you plug the projector into a power source. It lacks speakers (Acer's engineers must have assumed that customers would use the ones in their connected Windows laptop). The USB cable (a Y cable with two jacks to support either USB 2.1 or USB 3.0), an AC adapter, and a somewhat flimsy fabric case are the only accessories included. And apart from a very temperamental focus wheel, the projector has no hardware controls. Those design decisions might be what enabled Acer to keep the C120's weight down to a minuscule 6.3 ounces and its dimensions to 4.7 by 3.2 by 1.0 inches, but I'm not convinced that the trade-offs were worth it.
You must use your computer to control the projector's display resolution and power consumption (standard or eco). The applets for these controls are supposed to install automatically on your PC when you connect the two. In my tests, however, the procedure took multiple attempts and a couple of reboots. Until the computer recognizes the C120, the only thing the unit will project is the Acer logo.
Once the installation succeeded, the projector's DLP engine immediately threw a large, bright image of my Windows 7 ThinkPad's screen on the wall from a good 10 feet away. Initially it also fiddled with the laptop's display resolution, but switching that back wasn't difficult. The C120 natively displays a resolution of 854 by 480 pixels, and it supports inputs of up to 1280 by 800—typical for the current crop of pico projectors.
Image brightness varies according to how you've set up the C120: Acer rates the projector at 100 lumens when it's running on AC power, but you have several ways to connect the USB cable. Acer recommends using USB 3.0 for best performance (which makes sense, given that standard's superior bandwidth). If you plug in the second USB cable, the projector will use the additional power to produce a slightly brighter image. Acer rates the C120's brightness with a USB-only connection at 75 lumens, which is plenty bright for a small, well-lit room.
Ultimately, the Acer C120 is a projector for people who need a quick and relatively inexpensive way to make presentations from a Windows machine. If you're looking for a mobile projector that will let you leave the laptop at home, check out the other products we tested for this roundup.
Note: This review is part of a four-product roundup. For more, return to the introduction, or click the links below to read our other reviews.
At a Glance
Acer C120 Pico Projector

PCWorld Rating

This projector can do one thing: project the screen of a USB-connected Windows PC. It does that job well, and it's inexpensive. Installation can be tricky, however, and other projectors let you leave the laptop at home.

Pros

Extremely light and portable
As bright as any current pico projector
Inexpensive for this category

Cons

Can project only what's on the display of a USB-connected Windows PC
Tricky to set up
Not compatible with Macs