Review: Google's Nexus 10 is the Android tablet we've always wanted—almost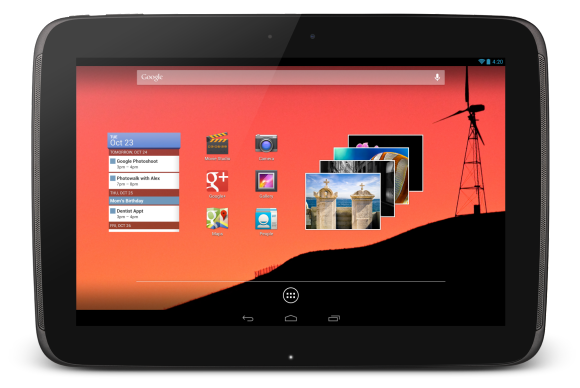 At a Glance
Google Nexus 10 (32GB)

PCWorld Rating

The Google Nexus 10 pairs a terrific display with a fine-tuned design.
The Google Nexus 10 tablet enters the world as Google's flagship Android tablet—and it's worthy of that designation. Its high-resolution display is unmatched by its Android peers. Factor in strong specs, a competitive price, and its status as the first—and so far, only—Android 4.2 tablet, and the Nexus 10 is a winner. Though the tablet does have a few weakness—including surprisingly mediocre performance on some benchmarks and games—on the whole, this tablet is a worthy competitor to Apple's most recent iPad.
The Nexus 10 costs $399 for 16GB of storage and $499 for 32GB. Those prices are highly competitive; in fact, the 16GB Nexus 10 is one of the least-expensive, most-capable 10.1-inch Android tablets around. It also happens to be priced the same as the 16GB iPad 2, but with a far superior display and a newer processor. The $499 model, meanwhile, joins a handful of other 32GB tablets priced at between $450 and $500, including other models with higher-than-average resolutions, such as the Apple iPad, the Acer Iconia Tab A700, and the Asus Transformer Pad Infinity TF700. Since there's no expansion slot, what you buy in storage capacity is what you get.
Pixels Matter
When it comes to tablet displays, I can't overemphasize the value of having more pixels. I've heard people say that more pixels alone do not guarantee a better viewing experience, but I have yet to meet a high-pixel-density display that didn't outperform a lower-density display, at least for rendering text.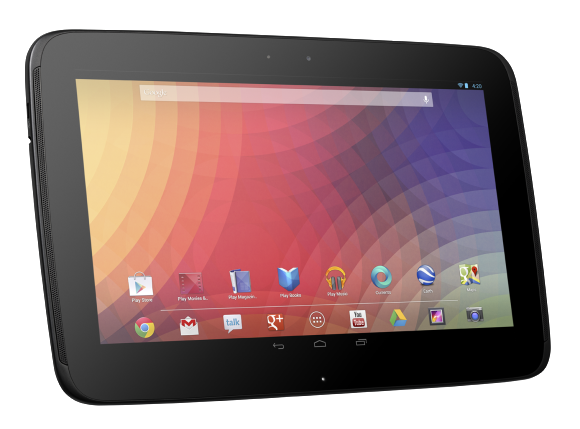 The Nexus 10 has a 2560-by-1600-pixel, 10.1-inch PLS (a variation on in-plane switching) display, and its touch surface uses Corning Gorilla Glass 2. The screen's pixel density works out to 300 pixels per inch, which tops the Apple iPad's Retina display (at 264 ppi), and competing 1920-by-1200-pixel Android tablets (all at 224 ppi). Meanwhile, the average 1280-by-800-pixel, 10.1-inch Android tablet has just 149 pixels per inch—all the more reason the Nexus 10's clarity and double-the-pixels resolution is so welcome.
The way text looks also depends in part on how well the operating system renders fonts, and on how smoothly individual apps handle fonts—as well as on other hardware factors, such as the air gap between the glass top surface and the screen. But the display's pixel density plays a critical role, and the Nexus 10's superiority in this regard is evident as soon as you turn on the tablet.
In my testing, text looked smooth and sharp—better than what I've seen on other Android tablet displays, and a match for the Apple iPad (third and fourth generations).
I can't say I saw noteworthy differences between the Nexus 10 and iPad displays, beyond the color handling (more on that below); and any minute differences in screen quality could as easily be ascribed to differences in Android versus iOS as to the difference in pixels.
That said, I found the Nexus 10's display a pleasure to use for everything—from reading the text describing my app, to viewing my pictures, to reading e-books and Web pages. Those extra pixels put the Nexus 7's display, at 216 ppi, to shame. Indeed, the Nexus 7's display suddenly seems in dire need of an upgrade, Google.
The Nexus 10's display benefits from the use of LG's Zerogap Touch technology, which is a variant on optical bonding. Much like optical bonding, Zerogap Touch eliminates the air gap between the cover glass and the display beneath; here, LG prints the touch sensor film directly onto the cover glass. Getting rid of the air gap mitigates glare; increases contrast; and improves the viewing angle, sharpness, and clarity of text.
My one display gripe involves the Google tablet's handling of colors. On the one hand, compared with its rivals, the Nexus 10 gets props for having the most evenly distributed shading of whites and blacks on our test image of grayscale bars, and of colors on a test image of color bars. Colors look good, but as on many other Android tablets, my test images seemed slightly off, particularly in handling the natural browns of skin tones and the shadings of some colors (for example, a purple that looked more flat than rich in color). You may not notice the difference at first, but it will become more apparent when you look at the Nexus 10's display side-by-side with other tablets.
Design

The tablet measures 10.39 by 6.99 by 0.35 inches, which makes it similar in size to competing models, though not quite as compact or svelte as some. Its weight disappoints, however: At 1.33 pounds, it's lighter than the current iPad (1.44 pounds) and matches the iPad 2; but it's heavier than many competing tablets of similar dimensions, including the Asus Vivo Tab RT running Windows RT.
The Nexus 10 is still highly portable, of course, despite its weight. However, you'll begin to notice the extra heft when holding the tablet one-handed for long periods of time—as often happens when you navigate with one hand and support the tablet with the other. Given that most Android tablets, and even Asus's Windows RT tablet, come in at lighter weights, I would have preferred to see the Nexus 10 continue the trend toward lighter 10-inch-class tablets.
The tablet's physical design reflects a serious effort to make the tablet stand out, albeit on subtle points. For example, the Nexus 10's back has a soft-touch coating that curves around the tablet's sloping edges, making it easy to hold.
Even better: When you hold the device in landscape mode, a grippy, textured material—similar to the backing found on the Nexus 7—runs along the top inch and a half or so. This extra strip works well for grabbing the tablet while you're on the go, and it provides extra security against drops when you hold the tablet one-handed. My one reservation about this backing relates to how it will interact with the crumbs and other pieces of gunk that invariably accumulate at the bottom of my bag. Some soft-touch backs I've seen seem to attract the debris; others, less so.
When held in landscape orientation, the tablet has a well-defined power button and volume rocker along the top edge, in the left corner. On the tablet's right edge sits a Micro-HDMI port; on the bottom is a dock connector for future accessories.
The left side accommodates the headphone jack and a MicroUSB port that pulls double duty for data transfers and charging. I found the location of these ports odd and awkward—especially when I used the tablet while charging it. The only way it felt comfortable was when I flipped the tablet around so that the ports came out of the lower corners (or bottom); and in those scenarios, the power and volume buttons ended up in an awkward placement, too.
The use of MicroUSB charging is very welcome. Few tablets use this standard charging interface, yet it provides the ultimate in convenience and portability: If you forget a charger, you can easily find a MicroUSB cable at a corner store, and you can then charge off your PC—or perhaps even connect the tablet to the same charging brick that your laptop uses (if it has a USB port built-in). Convenience comes at a price, though: The Nexus 10 took longer to charge than the average tablet did when linked to a charger other than the one it came with.
The Nexus 10 packs GPS and a compass; Bluetooth 4.0 and 802.11b/g/n Wi-Fi connectivity; and dual-side NFC for use with Android Beam. On the tablet's back is a 5-megapixel, 1080p camera with LED flash; and sitting just off-center on the front is a 1.9-megapixel, 720p camera.
The Nexus 10's front-facing stereo speakers are an improvement on tablet speakers that point out the back or bottom of a tablet, designs that put the speakers at grave risk of being covered by my hands as I hold it. The speakers had a formidable and surprising loudness for such a compact device—significantly better than the usual pitiful output I hear on a tablet—but the audio seemed to lack depth. At the default settings, without my adjusting the equalizer, the highs sounded distinctly tinny, and the bass seemed lost on my audio test tracks.
Specs and performance
Inside, the Nexus 10 packs Samsung's Exynos 5 system-on-a-chip, which features a 1.7GHz ARM v7 Cortex A15 dual-core processor, along with ARM's Mali T604 GPU. It also has 2GB of system memory—double what practically all other Android tablets available today have. The extra memory can help with multitasking and with handling graphics.
In our lab's benchmark tests, the Nexus 10 performed well on most but not all of the tasks we set for it. It scored the highest of any tablet on Geekbench, dramatically outpacing Nvidia Tegra 3-based tablets; and it came out noticeably ahead of the fourth-generation iPad. It performed respectably in our HTML5, SunSpider, and Web page load tests, scoring among the top performers. And it was the best Android tablet on our GLBenchmark 2.5.1's Egypt Classic and Egypt HD Offscreen tests, turning in frame rates of 34 frames per second and 78 fps, respectively. But the Nexus 10 scored lower than Tegra 3-based tablets on AndEbench's native test, though it bested the competition on the Java test.
The Nexus 10 performed well on our battery life tests, too. It lasted 8 hours, 55 minutes while playing back a high-definition video on continuous loop, at a brightness of 200 nits. That's about one hour longer than the Asus Transformer Pad Infinity; a half-hour longer than the Samsung Galaxy Note 10.1; and the same as Microsoft's Surface with Windows RT. The third-generation iPad's lasted 10 hours, 46 minutes.
Android 4.2: Most polished Android OS
I've been using Android tablets since the dawn of the Android 3.0 Honeycomb era. Android 4.2 represents a dramatic change from even 4.0 Ice Cream Sandwich, which offered, in its most basic interface design, the same experience as Android 3.x.
The Nexus 10 is the first 10-inch tablet to carry any version of Android 4.1 Jelly Bean. Previously, Jelly Bean shipped on the 7-inch Google Nexus 7; and that tablet will receive an over-the-air update to Android 4.2.
Though it carries over some of 4.1's interface tweaks, Android 4.2 adds some features that are optimized for the roomier displays on 10-inch tablets. Some of the enhancements borrow heavily from tablet manufacturers' own custom launcher tweaks to Android; others echo directions Microsoft took with Windows Phone 8.
The lock screen is an example. With Android 4.2, you can customize the lock screen with widgets supplied by Google and (in the future) by third-party developers; and you can unlock the tablet and jump directly into the camera app. (This feature will be fully implemented on November 13.) The new lock screen's ring-style design for unlocking the tablet directly into an app is very reminiscent of Acer's Ring navigation on its Android tablets. And Microsoft's Windows Phone 8 lets you add specific apps directly to your lock screen.
As on the Nexus 7, I found it handy to have Google's core apps pinned to the launcher along the screen's bottom dock (here, the roomier display accommodates seven apps to the Nexus 7's five); the same goes for having a ready-made folder of Google apps. The app drawer is unchanged from Android 4.1 in its presentation, as are the new Google-supplied widgets.
The home screen has a prominent Google search bar running along the top. The aesthetics of the bar differ slightly from those in Android 4.1. The Nexus 10 is the first 10-inch tablet that ships with Google's search-based service, Google Now. The latest version of Google Now includes information on nearby events and concerts, reminders about hotel and flight reservations, and even details about attractions and photo-ops near you. Your satisfaction with Google Now is likely to be a matter of taste, but it's good to see Google continue advancing this feature.
Many of the tablet's core apps get a refresh with Android 4.2. The Google Music Player, for instance, has a slightly punched-up design; and the Gmail app lets you swipe email messages from your inbox directly to an archive (regrettably, the app's new design also complicates the previously clear and simple process of downloading files). The Gallery app delivers zippy performance, though I did notice a slight lag in its rendering of high-resolution images as I swiped among photos in an album. Unfortunately, the Gallery's preview thumbnails still look pixelated, and it's much too easy to delete an image accidentally by swiping it off the screen (oops).
The most substantial app change involves the camera, which gets a completely new interface that's faster and more streamlined than Google's earlier iterations. Also on-board is Google's Photo Sphere, which—like Microsoft's Photosynth, in Windows Phone 8—lets you take pictures in every direction to create immersive 360-degree photos. It's a cool idea, but in practice Photo Sphere fumbled on the shots I tried; it did an unimpressive job of stitching the images together.
Among the new features in Android 4.2 are voice search (which includes limited navigation and speech-to-text); gesture typing, similar to what Swype and SwiftKey offer; and Miracast wireless display support (coming in a future update). In an update that will be included when the tablet ships on November 13, Google will also add support for multiple users, each with their own sign-in, home screen, and customized interface and apps. This feature may be handy if you share your tablet with multiple people in your home, for example.
In my hands-on experience with Android 4.2, I found the tablet highly responsive. Moving among apps and home screens was quite fluid, perhaps a reflection of Google's "Project Butter" enhancements introduced with Android 4.1.
Not all aspects of the new update work well on a 10-inch tablet, however. The notifications and settings panel has been split in two and moved to the upper left and right corners of the screen, accessible via a pull-down shader, just as on the Nexus 4 phone and the Nexus 7 tablet. Previously, this information was accessible from the bottom right corner of the display, requiring a simple tap that demanded less finger-travel than the new top position does.
Similarly, the three core virtual navigation buttons have shifted from the bottom left of the display to the center, bringing their placement more in line with the way they appear on Android phones. This positioning makes sense on a phone's display, but again the location works less satisfactorily on a 10-inch tablet. The same might be said of Google's altered presentation of recently accessed apps: Previously a narrow filmstrip of pop-up icons flush left, they now appear in a carousel-like design that takes over the entire screen. I found the new design handy in some cases, and annoying in others.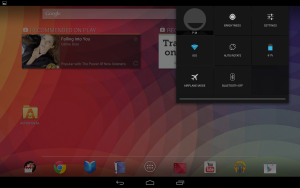 One good thing about Google's interface tweaks is the aforementioned settings panel. Google has expanded the panel to encompass a wider swath of settings options, similar to the approach that other Android tablet makers have taken. Google uses a tile design rather than the rotating carousel that Acer, Asus, and Samsung use; the advantage is you can see your options with a single touch. The tiles look a bit bulky on screen, and it's difficult to tell whether you can customize the options (evidently you can't customize them, at least for now), but this panel is a welcome addition to the stock Android OS. For example: You can now track battery life down to the percentage left, without digging levels deeper into the menus.
Bottom line
The Google Nexus 10 is the best 10-inch-class Android tablet you can buy today. The clarity of its high-pixel-density display puts it in a class by itself. Take into account its reasonable price and the benefits of its offering the latest version of Android, and this model is a worthy challenger to the Apple iPad.
For comprehensive coverage of the Android ecosystem, visit Greenbot.com.
At a Glance
Google Nexus 10 (32GB)

PCWorld Rating

The Google Nexus 10 pairs a terrific display with a fine-tuned design.

Pros

High pixel density display has sharp, clear text
Strong performance

Cons

Slow charging over standard MicroUSB