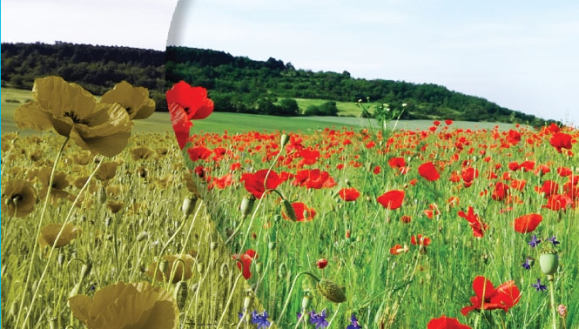 Do you know anyone who's colorblind? Or maybe you're colorblind yourself? If you answered yes to either of these questions, you probably know that color vision deficiency is not the end of the world. You can't tell apart some colors, and your general color spectrum is somewhat smaller than others', but did you ever consider buying a pair of glasses to fix it? Apparently, now you can.
The EnChroma sunglasses are designed to enhance color vision for both the color-vision deficient and for people with normal color vision. They come in four different models: The EnChroma Cx-D and Cx-PT glasses are designed to deal with the two most common forms of color-vision deficiency; the Cx-NRG glasses are provide general color enhancement for anyone; and the Cx-UV450 glasses contain comprehensive protection from UV rays.
"After more than 10 years of R&D in the color vision field and from my direct experience of working with color vision deficient (CVD) patients, it is apparent that CVD affects many areas of their lives," says Dr. Don McPherson, VP of products for EnChroma, in a press release. "Being present when a CVD person tries our glasses and sees colors in a way that they never have before has given me a sense of great accomplishment."
In short, putting on a pair of these glasses should change the way you see colors if they work as advertised. If you're colorblind, they should restore at least some of the color intensity you've been missing, and the ability to differentiate between confusing green, red, orange, brown, pink, and light blue colors.
The EnChroma sunglasses have a special coating that selectively filters the light to remove the specific shades that are responsible for color confusion. Even if you're not colorblind, seeing the world in more vivid colors could sure be nice.
If you want a pair, you can preorder them for $400 if you're not colorblind, or for $600 if you are colorblind. The first pairs will ship on November 19. EnChroma glasses come in two stylish frames: the cool Explorer and the sophisticated Gamma. So you can look that much cooler when seeing your colors.
Can't decide which one you need? The EnChroma product selection wizard includes a color-vision test that can help you determine which type of color-vision deficiency you have, if any. Too bad it can't help you choose the right color for your frame!
What do you think? Worth it or not?
Get more GeekTech: Twitter - Facebook - RSS | Tip us off
This story, "These sunglasses can help colorblind people experience a more colorful world" was originally published by TechHive.