Eight tips for Windows Phone 8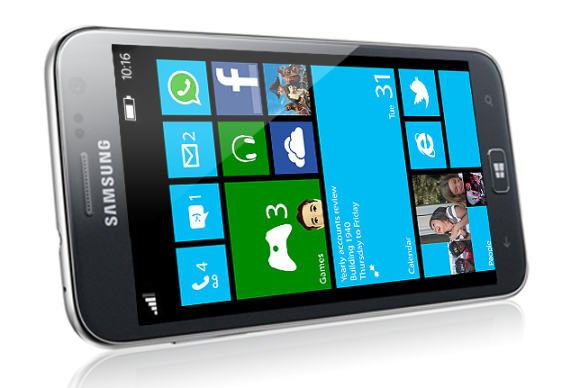 Windows Phone 8 has been official for two weeks now. Handsets hit the stores just days ago, and we've been busying our fingers learning all the ins and outs of Microsoft's newest mobile OS. There's a lot to love about Windows Phone 8—slick user experience, bright live tiles, and unique hardware—but it takes some time to get to know new software. And since we're already elbow-deep in it, we thought we'd bring you a quick cheat sheet on some of the more common questions about Windows Phone 8.
1. What's the deal with the Microsoft account?
Much like an Apple ID (or a Google account), Microsoft has created an umbrella for all its various groups and that umbrella is your Microsoft account. Formerly known as a Windows Live ID, a Microsoft account is the email address and password you used for Windows Live ID, Xbox, Xbox Music, Outlook.com, Hotmail, Windows 8, SkyDrive, Zune, MSN, Find My Phone or Messenger, so there's a pretty good chance you already have one.
And that's a good thing, because you're going to need one to get apps, games, music, and videos from the Store, play Xbox games, get Twitter and LinkedIn feed on your People hub, create and restore backups, chat using Messenger, sync documents with SkyDrive, or find, ring, lock, or erase a lost phone. If you're starting from fresh, setting up a Microsoft account is as easy as filing an email, choosing a password, and completing a few additional fields.
Ideally, you'll have one Microsoft account and everything will sync back to that. However, many people have more than one account that can be used as a Microsoft account. Perhaps you've got an Outlook.com login at work and an Xbox login at home, or maybe you have separate Zune and Xbox Music accounts. Can you join all these accounts under the big Microsoft account umbrella? Unfortunately, no. If you have more than one account, you'll have to choose which one you'd prefer to make your Microsoft account. This is not easy to reverse, so choose wisely. Usually, you'll want to choose the account you use the most, or the one that has the most information you'll want on your phone. So, if you select your Xbox account to be your Microsoft account, you'll get your Gamerscore, avatar, and achievements on your phone. If you use a Zune or Xbox Music account, you'll be able to play any music bought on those accounts on your smartphone, and get new music. The advantage of picking one account to be your main Microsoft account is to take advantage of the way the services are connected, such as pulling up photos on your TV via SkyDrive when you're using your Xbox, or moving a chat conversation from your phone to your PC.
2. How do I get contacts into my phone?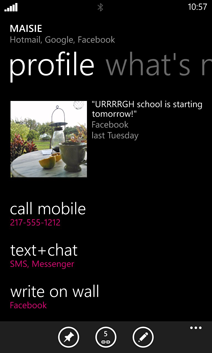 One of my favorite parts of Windows Phone 8 is the People hub that gathers all your contacts from various email and social media accounts into one location. When I want to see what's up with my sister, I don't have to check Facebook, Twitter, emails, and our more recent text threads, all I have to do is pull up her contact card in my Windows Phone 8 handset. However, that functionality first requires you to import all of your contacts into your shiny new handset. And there are several ways to do this, depending on where your contacts are coming from.
Switching contacts over from a SIM card is the easiest: Tap the People app, then the ellipses (…) in the bottom right corner, which will bring up the Settings option. From there you should  tap Import SIM Contacts, if they haven't already automatically imported.
If your contacts are in an Outlook, Google, Facebook, LinkedIn, Twitter, or a Microsoft Office 365 account, you'll need to add that account to your Windows Phone 8, and the contacts will get automatically imported. In order to add an account, go to Settings > Email + Accounts, and tap—wait for it—Add an Account. It's pretty straightforward from there: Your phone will ask you to identify the type of account (Outlook, Hotmail, Yahoo! Mail, Google, LinkedIn, etc), then you can enter your login information and sync the account with a few taps of the Next button.
If your contacts are trapped on your PC and you have Microsoft Office Outlook with Exchange, you should be able to import them via your Microsoft account. If you don't use Exchange, you'll need to save your contacts with a Microsoft account that has a cloud-based email service such as Outlook. Your contacts will automatically sync with the address book on your phone when you sign in with your Microsoft account. You may first need to install the Microsoft Office Outlook Hotmail Connector, and then use it to add your Microsoft account to Outlook. Copy your contacts and calendar to Outlook.com, then follow the steps in the Sync Outlook to Windows Phone wizard.
Of course you can also just transfer contacts, emails, and calendars to the Microsoft account you've set up on your Windows Phone, or add them manually by selecting the + icon in the All list in your People hub.
3. How do I organize my contacts?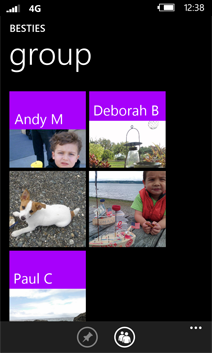 So now that you've synced your contacts list, your People hub might look like an overwhelming archive of everyone you've ever met as the All section holds each and every one of your contacts alphabetically. However, there is a way to fix that with the help of Groups and Rooms.
Rooms are an invite-only section on your Windows Phone where people you've invited—via text message—can join. Members of a Room can share photos, videos, notes, or a private calendar, or participate in group chat (if they have Windows Phone 8). Groups, on the other hand, are a less official way to categorize your contacts and don't require an invitation. Groups only show up on your phone and your Microsoft account and display all the members' social updates in one place. You can text, email, or IM the whole group at once, but they do not have access to your calendars or photos.
If you don't have a number for a contact, you cannot add them into a Room. Members of a Room also become your Messenger friends or that they are in your SMS record, which allows you to chat with them in the room. If you leave or delete a room, or remove someone from a room, they will still show up in your Messenger section unless you remove them. You can see who you've invited to a Room by checking the Messaging section where your invites should appear as text message threads.
All the members in a room can add photos and videos, add and change calendar items, send group chat messages, and add and edit notes. They can't see personal messages, or anything on your phone that you haven't specifically shared with the Room. You can see social updates from the members of a Room if you're connected to them on a social network. If you haven't accepted Dad's friend request on Facebook, you won't see his updates in the Family Room, for example.
In order to set up a Group or Room, go to your People hub and find the Together section. Then tap the + icon and choose which you'd like to start. From there you'll use the + icon to add members from your contacts list. For Groups, just tap the contact name to add them; for Rooms, the contacts will get a text message inviting them to join the Room. When they do, the Room will be available on their phone. (Only Windows Phone 8 users get the whole Room experience, other handsets have limited functionality. For example, Windows Phone 7 and iPhone users can join a room and see the shared calendar, but they won't be able to participate in group chat.) When you're done adding people, tap the green checkmark or Done.
While it's awesome to segment out contacts into groups, there is a limit: five Rooms and each can have 10 members; Groups can each have no more than 25 members, but there's no limit to how many Groups you can have.
4. How do I move media between my computer and my Windows Phone?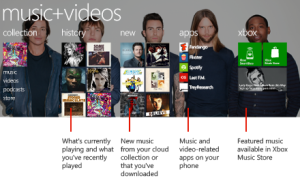 Much like Apple needs iTunes, Windows Phone 8 requires an app to move music, photos, and videos between a PC and a handset. However, if you're running Windows 7 or Windows 8, your computer will direct you to the right app when you connect your Windows Phone 8 handset to it. If you've got Vista or are an XP holdout, you'll need to use Windows Explorer; if you're a Mac user, you'll need to find the Windows Phone app in the App Store.
From there, the app or program should guide you through the process fairly quickly, although it's worth noting that each option has slightly different functions. The Windows Phone app for desktop and Mac also syncs with iTunes, for obvious reasons; while Windows Explorer is the only way to copy documents between your phone and your computer (something that will come into play in the section below). All options will move music, photos, videos, and ringtones between your phone and your computer, as well as automatically copy photos and videos to your computer when your Windows Phone handset is plugged in.
You can add ringtones within the Windows app by clicking Add Music and then Add Songs. From there, select Settings > Ringtones + Sounds and tap the Ringtones list to select your ringtone.
5. What about those Office programs?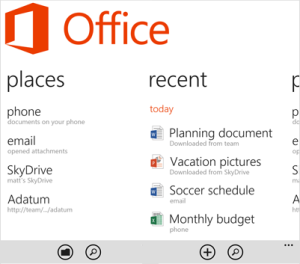 For the first time ever, you can get real, live Office documents on your Windows Phone. Located in the Office hub are options to open and work on Word, Excel, and PowerPoint documents—albeit in a somewhat limited fashion. Additionally, OneNote Mobile and SharePoint Workspace Mobile are also available.
The Office hub also contains a Recent tab, where you can find documents you've recently worked on, and a Places tab, where you can find documents located on your phone, attachments opened from email, or documents saved on SkyDrive. There is support for several file types.
Once you've used Exchange to copy documents to your phone, you can pick right up where you left off and edit them. Just open your document from the Places or the Recent tab then edit away using the pencil icon in Word or the function icon in Excel. Not all functionality is supported, but you can navigate the document by tapping anywhere within it and hitting Outline. You can zoom in and out, copy text and paste it into other files or messages on your phone, format text, and work on Excel workbooks, and pin any of the documents to the Start screen.
To delete documents, go to the Places tab, then tap Phone and tap and hold the selected document. Tap Delete, then confirm or hit the back button to cancel. To access Office documents that are protected, tap Need credentials and then enter the username and password from the specified email account. It's also a good idea to back up your documents using SkyDrive.
6. How do I create a backup?
There is nothing more important than having a solid backup; because Windows Phone 8 is integrated with SkyDrive, it's incredibly easy to back up your data should you find yourself in the worst-case scenario.
SkyDrive, Microsoft's cloud service, can be turned on or off from the Settings section of your Windows Phone 8 handset, although you will need to sign in with your Microsoft account to enable backup. From Settings, choose Backup, and then pick what you'd like to include.
Backing up your Windows phone can save texts messages, photos, videos, a list of installed apps, accounts you've set up, Internet Explorer favorites, and phone settings including call history, location, speed, and lock screen. Backup cannot save apps themselves or the data located within those apps, but apps can be easily reinstalled from the app list (which is backed up). If you need to restore your phone, keep in mind the Start screen will default to its original set of Live Tiles, and you'll need to set up Wi-Fi connections again. It's also worth noting that turning off backup for text messages will not delete previously saved messages. To do that, you'll need to first turn on backup, and then delete the messages from your phone.
If you find yourself needing to restore a backup to your Windows Phone 8,  just sign in using the same Microsoft account you used to create the backup and when prompted, choose which backup you'd like to use. Tap Next, and wait for it to download, then tap Next again. You'll need to enter in passwords for your restore accounts, or you can skip this step and just hit Done.
7. How do I set up the Wallet feature?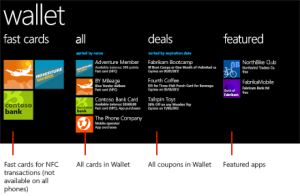 One of the new features available on Windows Phone 8, Wallet is a secure place to store credit cards, debit cards, loyalty cards, membership cards, and coupon information. From there, you can keep track of balances and transactions, set up payment for app, music, and game purchases, and browse for deals in your area.
Again, you'll need to be signed into your Microsoft account. If you've previously made a purchase using this account, it's likely that you already have a card on file. If that's the case, your card should show up in Wallet after you've logged in with your Microsoft account information. If your bank has an app that can be linked to that card, Wallet will try to find it and suggest that you download it. If you open a Wallet compatible app and sign in, you will have access to your account directly from Wallet. Alternatively, you can manually add cards by tapping the + icon and following the instructions.
Information in the Wallet can be kept secure using a Wallet PIN (recommended, but not required). To set up a PIN for Wallet, go to Wallet, then tap the More ellipses and choose Settings + Pin. Turn on the slider switch, then enter and confirm your new PIN and tap Done. You can also opt to use the wallet Pin to protect music, apps, and in-app purchases by checking a box on this screen.
Cards that you use frequently can be set up as "Fast cards," which will enable you to pay for something using NFC even when your phone is locked. That said, Wallet doesn't necessarily mean that your Windows Phone 8 phone is enabled for NFC transactions. If your phone does handle NFC transactions, you'll see an option to turn them on under the Settings + Pin tab in Wallet.
8. How do I edit photos?
To edit a photo, open it and tap the More ellipses, and then tap Edit. The Edit menu along the bottom has options to Crop, Rotate, or Fix.
Tapping Rotate rotates the image counter-clockwise; tapping Crop brings up a grid that you can drag and pinch to crop the image. Fix will automatically apply common photographic fixes such as color temperature, exposure, and shadow and highlight adjustment particularly tuned to that image. Tap the floppy disc Save icon to save changes. To edit a photo you've just taken, tap back or flick right and then tap the ellipses.
If Fix isn't really doing the trick, you can find third-party lenses to edit your photo. These apps are available in the Windows Phone Store and they work right in the camera's viewfinder. Some lenses apply filters, some turn images into 3D panoramas. To browse lenses, choose the Lenses icon from the Camera. Your phone will display any lenses already on the handset and you can tap the Find more lenses link to search the Store for additional options.