Review: Scosche's Rhythm helps improve workouts
Scosche's Rhythm Pulse Monitor is a heart rate monitor that straps around your forearm. This appcessory costs $100 and works in combination with a free app (available on iOS and Android) to track various stats, including heart rate, distance, pace, and calories lost. The Rhythm is a neat little device: at just 10 ounces, it's lightweight; it's about the size of a mans watch, and it's much more comfortable than the typical chest strap heart rate monitor.
Fitness level
The Rhythm Pulse Monitor (and app) can be used by anyone – athletes, fitness nuts, casual joggers, or even people who are in physical therapy.
Best activities
Though the Rhythm can be used by anyone, certain people will get more mileage (perhaps literally) out this appcessory. The device is primarily a heart rate monitor, so it's best for people who need to monitor their heart rate constantly during a workout. It's also great for athletes who are looking to optimize their workouts by maintaining a certain heart rate, or by physical therapy patients who need to ensure they don't work out too hard. The app allows users to create specialized activities and set specific goals, but doesn't include a lot of presets – so it's better for users who know what they're doing and what they want to get out of their workouts.
Design and features
The Scosche Rhythm Pulse Monitor is a small plastic device with three buttons. It attaches to a soft, neoprene strap which has rubbery insets to prevent slippage. In the box you'll find the device, two sizes of straps, a USB-wired charging dock, and a quick start guide.
Getting started is straightforward, if not very well explained in the quick start guide. First, you'll need to charge your device by snapping it into the charging dock. I say "snap" because the dock actually snaps onto the bottom of the device and locks itself in place. As a result of this sturdy construction, taking the device off of the charging dock can be a little tricky the first few times.
Once your device is charged, you can choose an arm band (depending on the size of your arm), and fasten the Rhythm around your forearm. The actual device is meant to be worn on the inside of your forearm, which is an odd feeling if you're not used to working out with something strapped there. The placement takes a little getting used to, but it shouldn't interfere with any other workout gadgets or gear (such as weight gloves or watches).
The Rhythm's three buttons control power (in the center) and volume (up/down buttons on either side). To turn the device on, tap the power button once. The first time you use the Rhythm, you'll need to pair the device to your iPhone, iPod Touch, or iPad using Bluetooth. The device works in tandem with a free app called Scosche Rhythm. The Rhythm is also compatible with Android devices running Android Gingerbread 2.3.3 and higher.
Once the device is turned on and paired, you're pretty much ready to go. The app's main screen shows you the device's battery status, your current heart rate, what your "selected activity" is (more on that later), and whether GPS is turned on or off. To start working out, all you have to do is hit the giant start button at the bottom of the screen, and the Rhythm will track your heart rate, a rough estimate of calories burned, and distance.
However, if you want to get a little more out of your workout, you can select an activity. Unlike some pedometer/heart rate monitor/workout technologies, the Rhythm doesn't have built-in presets such as "running a trail" or "lifting to lose weight." Instead, if you want to track a certain activity, you can create and choose a "selected activity" from the app's home screen.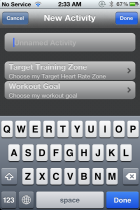 Here's how to do that: hit the "Activities" tab at the bottom of the app and choose "+New Activity." You'll be taken to a new screen where you can name your activity (e.g. "Running"), choose a target heart rate zone (resting, weight loss, fitness, performance, and red line), and choose a workout goal (calories, distance, or time). Once you've created an activity, you can choose the activity from the home screen and the app will prompt you with words of encouragement (for example, if you chose "workout goal" as "time: 10 minutes," the app will tell you that you're "halfway there" when you hit 5 minutes).
Choosing an activity helps you track your workout better, since you'll be able to tell, thanks to audio cues, whether you're meeting your workout goals or not.
The Rhythm boasts other features, as well: the buttons allow you to control your music from the device, for example. Scosche says this is convenient, because you can work out up to 33 feet away from your device…but, of course, if you're listening to music then you likely have wired headphones that plug into your device. And if you're using wireless headphones, they probably have basic music controls built-in. Still, it's a nice thought.
The Rhythm app also uses your phone's GPS to track where you've gone (if you're running a trail, for example) on a map, and lets you share workouts with your friends via Facebook, RunKeeper, and MapMyFitness. You can also track past workouts on the workout calendar tab in the app, and see detailed stats using Scosche's Rhythm Web Dashboard.
The bottom line
Scosche's Rhythm Pulse Monitor is a nice, comfortable alternative to other heart rate monitors – which usually involve a chest strap. However, it's not terribly useful as a workout device unless you're already using a chest strap – that is, if you can't tell me how a heart rate monitor will fit into your workout routine, you probably don't need one.
But, if you're an athlete in training, or in physical therapy, the Rhythm can be a very useful tool. Not only can it keep you on track by letting you know when your heart rate slips out of your defined range, it can also track other stats such as pace, distance, calories burned, and it can even track where you go if you happen to be running a trail. The device is pretty straightforward, as is the free app, but, again, it's not really designed for someone who doesn't know exactly what they're looking for. The app's customizable home screen and customizable activities are great for people who know which stats they want to track and what their specific goals are, but people who just want to be generically encouraged might want to look at something like the Striiv Play.
This story, "Review: Scosche's Rhythm helps improve workouts" was originally published by TechHive.
Shop Tech Products at Amazon