Today's best-performing tablets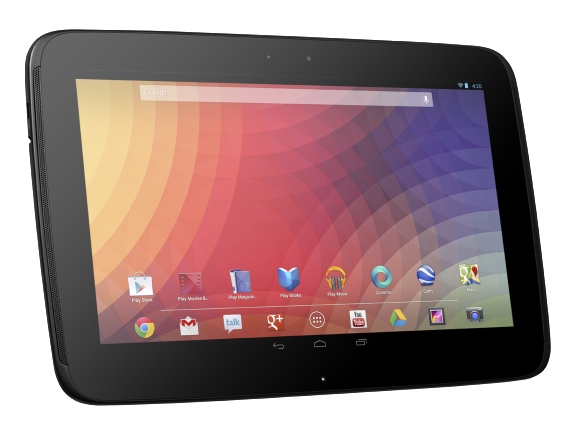 Performance is only one of many points we consider when we review tablets, but performance affects your overall impression of the tablet—how zippy and responsive it is when you use apps, navigate the operating system, and surf the Web. On top of that, if your tablet's battery fails to deliver long life, you'll find yourself tethered to an outlet more often than you'd like.
See our complete list of the best tablets.
Not all of our benchmark tests are available across all operating systems, but we do have a few that run on Apple's iOS, Google's Android, and Microsoft's Windows RT. We put two dozen of the latest tablets—regardless of screen size—to the benchmark test to see how they compare.
We tested all the tablets with the most recent firmware and operating system updates available at the time of testing; such updates can and do affect performance results. When a tablet had more than one Web browser or video player installed, we used the native apps.
Overall, as you'll see in the charts below, we discovered that Nvidia Tegra 3-based Android tablets are among some of the best performers out there, but Samsung's Exynos processor—found in the Google Nexus 10 and the Samsung Galaxy Note 10.1—came on strong. As in the past, we also noticed variations in performance stemming from the different processor speeds, system memory, and operating systems in play.
Geekbench
Primate Labs' Geekbench measures single-core CPU, multicore CPU, and memory performance, and works across Android and iOS (we used version 2.3.7 for the former and version 2.3.6 for the latter). On this test, Google's Nexus 10 came out on top: Armed with a Samsung Exynos 5 Dual processor (based on the dual-core ARM Cortex-A15), the Nexus 10 was the runaway leader, earning a score of 2354 on Geekbench—a difference of 29 percent over the next-closest competitor, the 1.4GHz Exynos quad-core-based Samsung Galaxy Note 10.1. The Nexus 10 boasted better single-core and memory performance in comparison with the Nvidia Tegra 3 quad-core tablets, and that was reflected in the Google tablet's stellar results.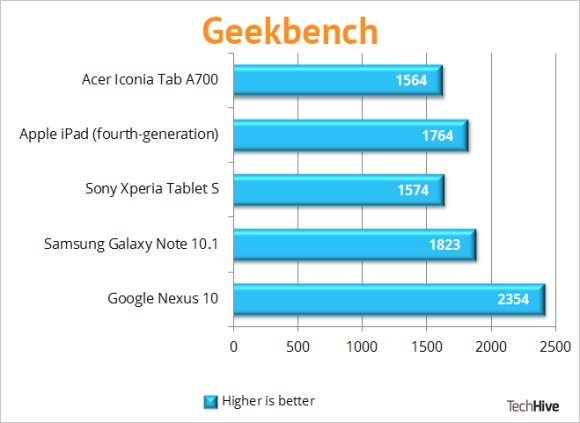 Beyond our top five performers—all of them 9- or 10-inch-class tablets—shown above, two other Nvidia Tegra 3-based tablets came close to making the cut: Fujitsu's Stylistic M532 posted a mark of 1555, and Toshiba's Excite 10 reached a score of 1513. Oddly, the Asus Transformer Pad Infinity TF700, a previous top-flying performer, had a score of just 1384. In general, however, Tegra 3 tablets do better than the Nexus 10's Exynos 5 on multicore tests, according to Geekbench results.
Another trend: None of the 7-inch models we tested made the top five. Among the 7-inch models we evaluated, the Tegra 3-based Toshiba Excite 7.7 achieved a mark of 1488, followed by the Google Nexus 7 at 1404. The Apple iPad mini managed a score of just 756.
AndEbench
Available for Android only, EEMBC's AndEBench tests multicore CPU and Java performance. Here, we saw a flip in some results as compared with Geekbench, while other tablets performed consistently between the two tests.
On the Native AndEBench test, the Asus Transformer Pad Infinity TF700 soared to the top, followed by the Samsung Galaxy Note 10.1, Fujitsu Stylistic M532, Sony Xperia Tablet S, and Acer Iconia Tab A700. All of these tablets have quad-core processors, and all but the Galaxy Note 10.1 use Nvidia's Tegra 3 system-on-chip platform.
The Google Nexus 10 posted a score of just 6306 on this test, below the average. Of the 7-inch tablets, the Tegra 3-based Toshiba Excite 7.7 led with a mark of 8394, followed by Google's Nexus 7 at 8113. The Amazon Kindle Fire HD, which uses Texas Instruments' OMAP4460, reached a score of 4311, well below the average.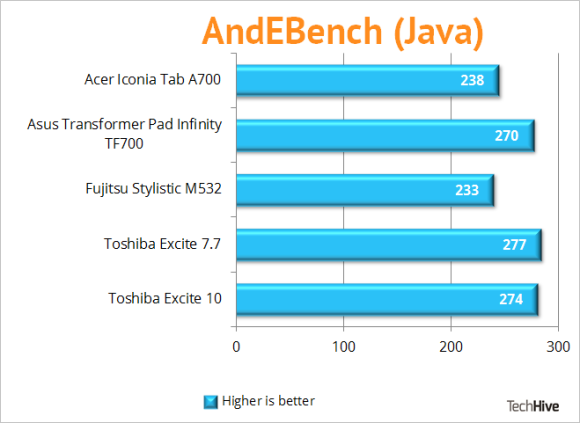 On the Java test, Toshiba's two Excite tablets topped the chart, followed closely by the Asus Transformer Pad Infinity. Acer and Fujitsu's steady performers rounded out the top five slots. Google's Nexus 7 achieved a mark of 216, Sony's Xperia Tablet S had a score of 212, and Samsung's Galaxy Note 10.1 managed a score of 190. Amazon's Kindle Fire HD again underperformed, reaching just 165 on this test.
SunSpider
The first of several cross-platform tests we run, SunSpider gauges the browser's JavaScript performance. And this is where the tablet story begins to get very interesting, with a complete shake-up at the top. Apple's dual-core A6X-based iPad (fourth-generation) was the fastest here, and the only tablet of the two dozen we tested to complete SunSpider in under 1 second. This feat is even more noteworthy considering that the average SunSpider time was 2 seconds. Breaking into the top five on this test were two Windows RT tablets, the Microsoft Surface and the Asus VivoTab RT. The Samsung Galaxy Note 10.1 remained a top-five mainstay, and the Barnes & Noble Nook HD tablet, which uses a customized variant of Android 4.0, snuck into the fray.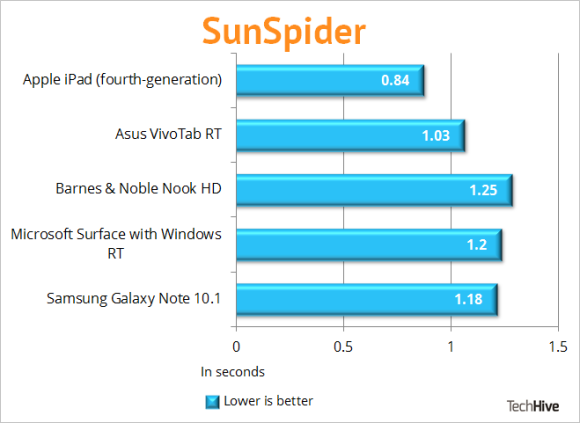 Tablets equipped with Nvidia's Tegra 3 were for the most part a ways off the radar, with scores hovering at or exceeding the 2-second average. Among the exceptions were Sony's Xperia Tablet S at 1.59 seconds, and Google's Nexus 7 at 1.69 seconds. The Google Nexus 10 required 1.39 seconds to finish the test, and Amazon's Kindle Fire HD needed 1.79 seconds.
Custom page-load test
In our lab's custom-created tests, we time how long a tablet's Web browser takes to load a locally stored Web page of our design, laden with varying text and graphics. The Web page file is approximately 30MB, with tables and large images resized down to thumbnails.
Here, the results once again shuffled somewhat from what we saw on the SunSpider test, a result that makes it difficult to draw broader browser-performance conclusions. Apple's iPad mini vaulted to the top of the leaderboard, followed closely by the fourth-generation iPad. Rounding out the top five were the Google Nexus 10 and the Samsung Galaxy Note 10.1 (each equipped with an Exynos processor), plus the biggest surprise of the bunch, the Amazon Kindle Fire HD.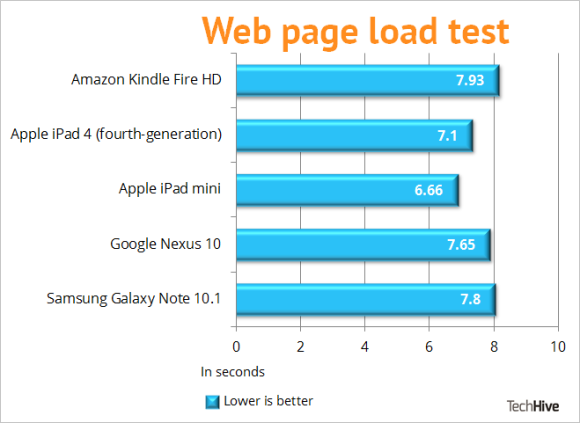 Once again, tablets carrying a Tegra 3 processor were among the slower models at loading our Web page, but the numbers were all over the place. We couldn't simply chalk up the variances to the operating system or the chip clock speed, either. For example, Microsoft's Surface with Windows RT came within sight of the top five, as it took just 10.4 seconds to complete our page load—but the Asus VivoTab RT, another Windows RT tablet, required 23.3 seconds to load the page fully. Acer's Iconia Tab A700 required 11.64 seconds, while Google's Nexus 7 took 15.73 seconds, Toshiba's Excite 10 took 15.55 seconds, and the faster-than-both-of-those (in clock speed, at least) Asus Transformer Pad Infinity TF700 took 19.34 seconds.
Battery life
We test battery life by running a 720p video of "Big Buck Bunny" on a loop until the tablet conks out. We set brightness at 200 cd/m2 (candelas per meter squared), and we keep the tablet in airplane mode, with Wi-Fi disabled.
For this chart, we extended the list to the best ten tablets, in part because three of the top five were all from the same company: Apple. All three current Apple iPads turned in strong battery longevity. In fact, the iPad 2, with its iOS 6.0.1 update, lasted 11 hours, 31 minutes, better than any other tablet regardless of size or operating system. The next-best model was Sony's Xperia Tablet S, which impressed with a battery life of 10 hours, 48 minutes; Google's Nexus 7 followed closely behind, lasting for 10 hours, 12 minutes. Microsoft's Surface with Windows RT made the top-ten cut, as did a pair of custom-Android-OS 7-inchers, Amazon's Kindle Fire HD and Barnes & Noble's Nook HD.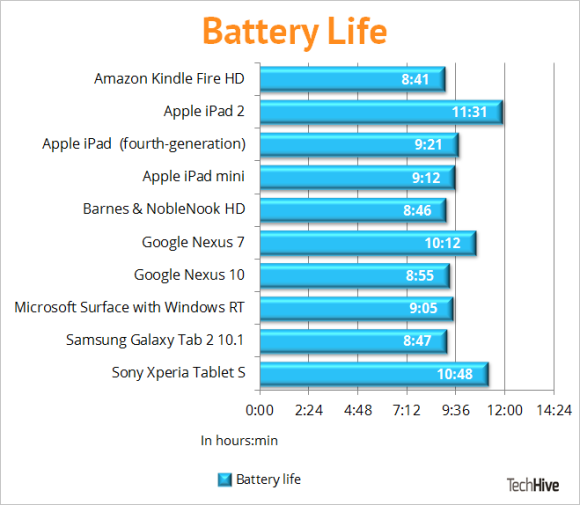 Clustered behind our top ten tablets in battery life were a handful of others that lasted more than 8 hours. Samsung's Galaxy Note 10.1 hit 8 hours, 24 minutes; Asus's VivoTab RT managed 8 hours, 20 minutes; Fujitsu's Stylistic M532 lasted 8 hours, 17 minutes; and Acer's Iconia Tab A700 squeaked in with a time of 8 hours, 11 minutes.
For comprehensive coverage of the Android ecosystem, visit Greenbot.com.