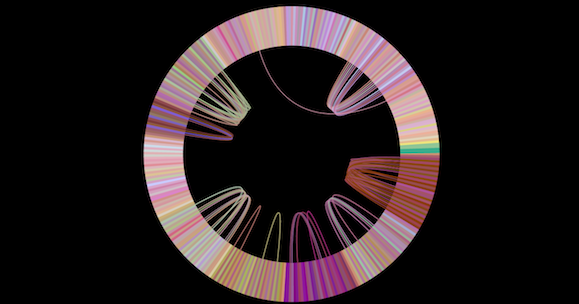 Before we go any further, here's a cat that's freaking out over a presumably ruined pot roast. Yep. Now that we got that out of the way, here's your Wednesday edition of GeekBytes, featuring remixed music, 3D printing, and connected devices.
So, you just can't get enough of listening to Gangnam Style on repeat. We hear you. But you've got to admit, even PSY gets a little stale sometimes. This Web app, created by Paul Lamere at a recent Boston MIT hack day, breaks down your tunes to find matching patterns. The result is a music player that doesn't need a repeat button, as your favorite track will just keep on playing forever and ever. The app uses a clever visualizer that gives you an idea of how it compares beats and skips around a song. Oh and you can even play around with the tracks via keyboard shortcuts.
Stevie Wonder's Superstition is a particularly stellar example of how the app works, and Call Me Maybe is worth a look, and of course endless Nyan Cat makes an appearance too. [via The Verge]
Just think of all that time you've sunk into playing Minecraft. What do you have to show for it? Not much? You can now turn your digital carving into physical reality thanks to unique 3D replicas from FigurePrints.
To see your Minecraft creations brought into the real world, you need to download a special piece of software that lets you select a portion of your game-world for replication. Once you select the area you want recreated in 3D, you can upload it to FigurePrints website and order a physical facsimile of your on-screen masterpiece. The final result is made up of thousands of thinly printed slices which are stacked together, bonded and finished to create a truly one-of-a-kind memento of your Minecrafting.
French startup SigFox has created a new cellular network designed to support all your devices, apart from your cellphone.
The new network was designed with the Internet of things, which would let random household items—your fridge or coffee pot, for instance—to connect to the Internet. The idea is that your appliances and other household gadgetry would be able to work for you wherever and whenever you are. [via Technology Review]
Get more GeekTech: Twitter - Facebook - RSS | Tip us off
This story, "Infinite Jukebox plays your faves ad infinitum (and other things we didn't cover)" was originally published by TechHive.