Review: Amazon Kindle Fire HD 8.9 4G LTE Wireless
At a Glance
Amazon Kindle Fire HD 8.9

Amazon Kindle Fire HD 8.9 4G LTE Wireless
Page 2 of 2
Software: Streamlined and visual OS
(Portions of this section are from the review of the 7-inch Kindle Fire HD, and remain applicable to the 8.9.)
The first thing to greet you when you power on your Fire HD 8.9 is an ad. In their full-color, HD glory, the ads feel much more intrusive than the grayscale advertisements on Kindle e-readers. The Kindle Fire HD's ads annoyed me, and I promptly started looking for the way to opt out for $15 extra—it's possible, if you can find the link buried amidst Amazon's options. (Hint: It's not on the tablet; you need to activate this feature via your PC, under Manage Your Kindle.)
As always in the Kindle universe, when you start up the tablet, it's already registered to you. The content sections make it easy to access your already purchased digital stuff: At the top of each section is a button for cloud or device. Your existing cloud content for books, magazines, music, movies, TV shows, and apps is already visible, ready to be transferred to device with the tap of a button.
The interface of the 8.9-inch tablet is the same as that of the 7-inch model, but made to fit the larger display. Interface elements remain sharp and appealing, although some graphics do fall apart (for example, music album covers appear a bit overblown for their image size).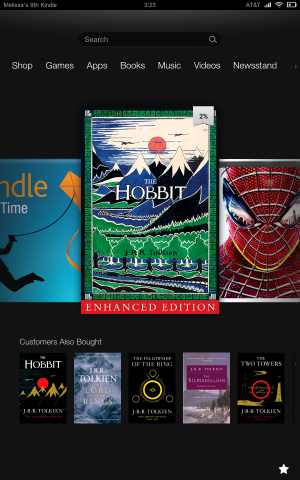 The Kindle Fire OS is defined by its simple-to-navigate home screen, with a black background and large, bold icons in its carousel menu, each for recently accessed content. In portrait mode, beneath the carousel, your screen will show recommendations of things other customers bought. I didn't like this item being front-and-center, though: While I don't mind Amazon's passing me suggestions, having those suggestions appear on my home screen is unappealing (and they're supposed to disappear once you upgrade to the ad-free tier). I liked the new shortcuts to some apps; for example, you can now launch a new mail message directly from the home screen.
In the carousel, you get control over what appears; if you don't want something there, you can tap and hold the item to remove it, or to add it to your favorites list. You can add something to your favorites by tapping the star in the slide-out menu, and you can access favorites from the home screen by tapping the star and scrolling through the pop-up shelf along the bottom. If the content occupies the full screen, the nav menu slides out from the right side with the home, back, search, and favorites buttons.

Amazon streamlined and rejiggered the order of the top navigation bar to provide quick access to the Amazon store—now in the primary spot—as well as to books, apps, music, videos, the newsstand, docs in your Amazon Cloud Drive, and more. Amazon also enhanced its notifications and settings shortcuts navigation, turning it into a pull-down shade in the style of Google's Android notifications shade. And Amazon put its much-discussed Kindle FreeTime parental controls and profiles enhancements into a separate app, instead of leaving them as a menu option buried amidst the settings.
The interface is streamlined and clean throughout. Amazon's sans serif fonts stand out for their smooth appearance. Oddly, though, in the book app the interface offers no way to adjust the brightness (as the Kindle app for Android tablets does), and there are no page numbers in sight.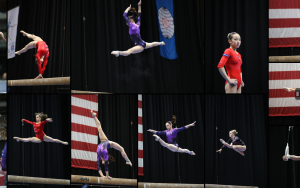 That's not to say that Amazon's reimagining of Android isn't arcane at times. But at least the company has a bold vision. And Amazon has corrected previous issues: For example, back at launch the Photos app couldn't interpret rotation data correctly, and it messed up the presentation of a folder containing both portrait- and landscape-oriented images. Now, that issue is fixed.
Overall, Amazon has increased the functionality and practicality of the Kindle Fire OS as compared with its first-gen tablets. For example, I can receive an attachment, open it, edit it in an app that supports the file type, save it, and then send it out again—all from the tablet.
The new software has an improved email app, with Microsoft Exchange support, as well as Facebook and Twitter integration, to make it easy to share passages of books. You can also tap into your Facebook account to pull images to your tablet, and share Amazon Gamecircle scores.
Unfortunately, Amazon continues to omit some basic built-in apps, such as a to-do list or a notepad.
Ecosystem: Missing, messy apps
(Portions of this section are from the 7-inch Kindle Fire HD review, and remain applicable to the 8.9.)
The Kindle Fire OS is now a custom skin of Android's 4.0 Ice Cream Sandwich, a notable jump up from its previous Android 2.3 Gingerbread roots. The update to 4.0 suggests that Amazon will amass more tablet apps optimized for larger displays—and optimized for tablet, period.
Regrettably, in my tests I could easily download apps that were not intended for my device, including apps for phones. And content optimized for the high-definition screen is in scarce supply currently. Amazon says it plans to help users find content by calling it HD, but the company hasn't revealed whether HD apps will eventually be sortable by category. Doing a simple search on "HD" in the app store revealed a messy array of content, some repetitive and not much that was cutting-edge or appealing.
As with your music, video, and book content, you're buying into Amazon's retail ecosystem for your apps—and that means you're limited to the company's selection, which Amazon says is more than 30,000. Compare that with the 600,000 apps in Google's Play store (though not all of them are made for tablets).
What Amazon does really well, though, is integrate the shopping experience—and cloud-based content—with your local content. In most instances I found the environment cleaner to navigate than Google Play.
One big concern I had going into the larger tablet was finding Kindle Fire HD-optimized apps that took advantage of the larger screen and its higher resolution. Unfortunately, my experience in this regard was quite mixed. I downloaded many apps that looked fine in terms of presentation, but then ran into other issues such as less-than-sharp video in Hulu Plus and jerky and pixelated graphics in games like Vector Unit's Riptide GP, Gameloft's The Amazing Spider-Man (Kindle Tablet Edition) and The Oregon Trail: American Settler, and even EA's Need for Speed: Most Wanted.
The 4G LTE advantage
The 4G LTE option on the Kindle Fire HD 8.9 represents another groundbreaking step in the span of the past two weeks for connected tablets. (First, we had the Google Nexus 7 with Wi-Fi + Mobile Data and its unlocked Micro-SIM card slot.) As noted earlier, the 4G LTE tablet starts at $499 for 32GB—that's a $130 premium over the non-4G-capable 32GB model. On top of that, you'll need to pay a one-time annual fee of $50 to AT&T for a basic 4G data package. But even so, that brings the cost of a dedicated connected tablet to an all-time low, as compared with the monthly data plans available for competing tablets.
The service includes 12 30-day data sessions, each at up to 250MB of data per session. You can purchase additional 3GB and 5GB data plans from AT&T, and use the tablet with any of AT&T's shared data, prepaid, or postpaid plans—domestically and internationally.
The relatively reasonable rate for data makes the 4G LTE Kindle Fire HD a key weapon in Amazon's arsenal for attracting consumers to its tablets over competing models. It makes the connected 8.9-inch tablet a viable option for people who seek occasional always-on connectivity that won't break the bank.
Bottom line
As with Amazon's 7-inch tablet, the Amazon Kindle Fire HD 8.9's greatest appeal lies with families and with people who tend toward mainstream, multipurpose uses that won't push the tablet's performance limits too hard. The tablet's integration with Amazon's numerous and varied services remains its core strength; from shopping to streaming media to storing your documents in the cloud, Amazon has you covered. E-reading and music playback are both well executed, and the email capabilities are more functional than before. You're buying into Amazon's limited app ecosystem, though, so if a wide selection and the ability to get the latest apps are a primary concern for you, a standard Android tablet would be a better choice. For other tablet shoppers, the Kindle Fire HD 8.9 is a good, affordable starting point to test the big-screen tablet waters. And the Kindle Fire HD 8.9 4G LTE is one of the best deals for light always-on connectivity.
This story, "Review: Amazon Kindle Fire HD 8.9 4G LTE Wireless" was originally published by TechHive.
At a Glance
Amazon Kindle Fire HD 8.9

Amazon Kindle Fire HD 8.9 4G LTE Wireless
Shop Tech Products at Amazon