App Invasion: Poltergeist 16-bit Horror
Poltergeist 16-bit Horror is a finalist from the Square Enix 2012 game contest, and it's scary good. The game puts you in the role of a former tenant of an old manor who must now scare everyone who stops by.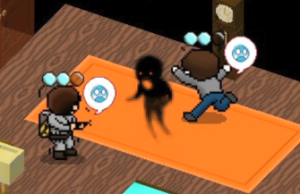 There are a different powers you possess that will allow you to shake things up, make noises, create portals, and conjure spectres.
Each level is filled with a certain number of house dwellers you'll need to scare off, and accomplishing this isn't always easy.
The song that plays throughout is also very addictive, and don't be surprised if you're still singing it long after you've scared away the last straggler.
You'll need some good strategy to get everyone out of the house so plan your haunting well, and beware of the dogs.
They are fearless.
For comprehensive coverage of the Android ecosystem, visit Greenbot.com.

Amazon Shop buttons are programmatically attached to all reviews, regardless of products' final review scores. Our parent company, IDG, receives advertisement revenue for shopping activity generated by the links. Because the buttons are attached programmatically, they should not be interpreted as editorial endorsements.