Six smartphone stands worth a second look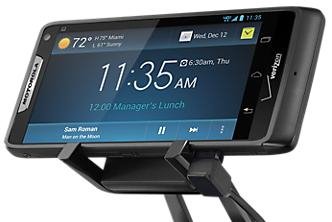 Anything that can make technology more convenient to use is worth a look. That's where smartphone docks and mounts come in: Regardless of the type of handset you own, a mount or dock for your smartphone could be a welcome addition to your desk or car. Here's our roundup of a few notable docks.
Samsung Galaxy S III Multimedia Dock
Though it's mostly made of light plastic, the $32 Samsung Galaxy S III Multimedia Dock has a rubberized bottom that holds the unit fairly firmly on desks and other surfaces. However, despite being designed to hold the Galaxy S III, S II, Galaxy Note, and Note II, this dock doesn't secure the phones as snugly as I'd like. It has a Micro-USB port on the back for charging, and a speaker line-out lets you connect your device to external speakers.
Seidio Desktop Cradle for HTC devices
This $30 Seidio cradle, designed specifically for use with HTC smartphones, could not be more simple. The unit has some heft, as well as two rubberized pads on the cradle's base; the combination ensures that the dock doesn't slide around. A Micro-USB port on the back handles charge and sync duties, and a small green light illuminates when you plug the cradle into a power source.
Motorola HD Dock for Photon Q
The defining feature of the Motorola HD Dock for Photon Q ($60) is its Micro HDMI and audio outputs, which are specifically geared toward sending your phone's content to your HDTV. The dock supports only landscape viewing on the Photon Q, but Smart Modes let you choose from different displays designed for tabletop usage.
Motorola Flip Stand

The Motorola Flip Stand ($30) is universally compatible with smartphones and tablets, which sets it apart from many other desktop docks. However, it has no Micro-USB port to plug your device into, which means you'll need to bring your own charger if you want to be able to charge and sync your docked phone. The dock supports devices firmly in either portrait or landscape mode, and is very easy to use.
Motorola Droid Razr HD Vehicle Navigation Dock
Designed for use with Motorola's Droid Razr HD and HD Maxx smartphones, the Razr HD Vehicle Navigation Dock ($40) holds devices snugly, and even comes with different adapters to accommodate protective smartphone cases. A built-in slot holds a Micro-USB charging cable conveniently behind the car mount in case you run out of battery power on the road. This dock supports only landscape viewing on phones, but Razr handsets detect when they are mounted and enter a special dock mode for easy use while you're in the car.
Samsung Universal Vehicle Navigation Mount
Although the Samsung Universal Vehicle Navigation Mount ($50) is designed for use with the manufacturer's Galaxy line of handsets, this dock's clamps should be able to secure most other smartphones as well, without any issues. Another benefit of this mount: Since the clamp unit rotates, you can switch between landscape mode and portrait mode easily.

Amazon Shop buttons are programmatically attached to all reviews, regardless of products' final review scores. Our parent company, IDG, receives advertisement revenue for shopping activity generated by the links. Because the buttons are attached programmatically, they should not be interpreted as editorial endorsements.