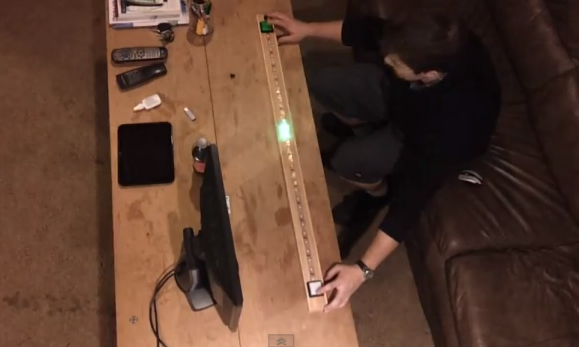 There are a lot of things I tell people I want. But the reality is that I rarely get around to doing anything with my impulses. Yeah, file this under the must-have, and actually want to do something about it category. Pong, one of the world's earliest arcade games, is now available in 1D, and it fits nicely on that coffee table in your gaming cave.
Built with an RGD LED strip and an LPD8806 LED controller, the objective of this game is to play Pong on a one-dimensional axis, throwing the "ball" back at your opponent before he scores a point.
The AVR code is available on Pastebin, and the project doesn't look all that difficult to complete. I could see myself embedding one of these right into my up-cycled coffee table in my gaming room. It would make it much easier to use it as a way to enhance the games I'm playing on the big screen against friends.
What's that? You don't want to be on the blue team? I'll Pong you for it.
The only thing that would make this thing any better would be to embed some kind of shocking device that would send a jolt to the loser. At that point, it would be more sport than game. I'm all for it.
But we'll let you guys figure out how to mod this game to dole out the pain. We don't want any lawsuits…
Like this? You might also enjoy...
Get more GeekTech: Twitter - Facebook - RSS | Tip us off
This story, "Take Pong off the screen and into 1D space with this nifty project" was originally published by TechHive.