If you've just picked up a shiny new Windows Phone 8 handset, you're probably wondering which apps to download to maximize your experience. We've got you covered, with essential apps that will help you get started.
With these apps you can transition smoothly from your old mobile operating system, customize your phone to reflect your personality and interests, and perform basic tasks such as drawing pictures, making lists, and editing photos. Here are ten starter apps for Windows Phone 8—all of them are free.
1. AppSwitch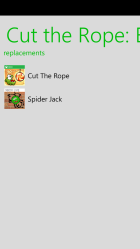 If you're reading this article, you're probably new to Windows Phone 8. If you switched over from iOS or Android, you may be missing some of your favorite apps. AppSwitch is a free Windows Phone 8 app that lets you find those missing apps—or, at least, similar apps—on the Windows Phone store.
AppSwitch lets you search the Windows Phone, Google Android, or Apple iOS app stores for your favorites. If a Windows Phone version or a similar Windows Phone app is available, AppSwitch shows you the "replacements" that you can download. For example, searching for "Cut the Rope" on the Android store serves up both the Windows Phone version of Cut the Rope and a similar game called Spider Jack.
AppSwitch doesn't cover every equivalent app out there, but its developers do update its list regularly with new matches. Instead of searching for exact matches, you can also browse recently added matches, popular matches, and top-rated matches.
2. Toggle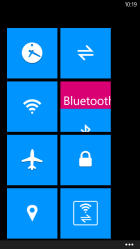 Sometimes you need to quickly access network connection settings, such as Wi-Fi and Bluetooth, so that you can turn them on (or off). Toggle is a free app that offers live tiles for those particular settings; you'll find tiles for Wi-Fi, Bluetooth, cellular data, airplane mode, location, and lock-screen settings. The tool also has a "Double Bill" tile that lets you access your cellular data settings and your Wi-Fi settings in rapid succession.
Adding these tiles to the Start screen is easy: Just open the Toggle app, tap a tile, and hold down until you get the 'Pin to Start' option. Even the smallest tiles are live, so you can see at a glance if your connection settings are turned on or off. Note, though, that the tiles take you to the various settings screens—they don't act as toggle switches.
3. Paint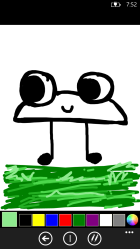 Paint is a simple, free app that lets you draw and save pictures on your Windows Phone 8 device. As far as sketchbook-type apps go, this app is almost too basic—it has no complex settings, such as opacity, brush style, or layers. Let's just say that it's more for casual drawing than for creating artistic masterpieces.
Even so, this app is brilliant in its simplicity. The main screen consists of eight preset colors (though you can choose any hue you like from a color wheel in the lower-right corner), and the option to choose one of four brush sizes. A back button lets you undo your last move, and a "brush type" button comes into play when you use two fingers on the screen—you can draw squares or ellipses this way. To save or clear the screen, just tap the settings button and choose the appropriate option.
While this app may frustrate professional artists, it's perfect for the nonartist who just wants to take some handwritten notes or sketch a simple picture.
4. Shazam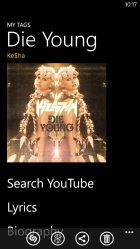 Quick—what's the name of that song on the radio? Thanks to Shazam, the answer is a quick tap away.
Shazam is a free app that uses your phone's microphone to "listen" to commercial songs and identify them using a specially designed algorithm. The app takes just a few seconds to listen to a song, send the data to the server, and spit back the name of the song, as well as the artist, album art, lyrics, and artist bio, if available.
The Windows Phone 8 version of Shazam allows users unlimited tags and maintains a running list of recently identified songs. Shazam also offers a Start screen tile that flips between the Shazam logo and the album art of the most recently identified song.
5. Facebook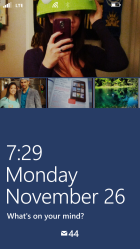 No smartphone is complete without a nosy social networking app that keeps you connected to the rest of the online world. While Windows Phone 8's People Hub collects updates from across several social media sites, Facebook's own free Facebook app is actually quite nice on Windows Phone 8. This app features multiple screens, including a news-feed screen, a photos screen, and a home screen that lets you see your profile, friends, messages, events, groups, pages, and apps.
The Windows Phone 8 Facebook app gives you the option of turning on a banner image at the top of the screen. This image, which comes from your tagged Facebook photos, replaces the generic blue Facebook banner and gives the app more of a Facebook Timeline feel. It's like a cover photo, but just for your eyes.
The Facebook app also lets you customize your lock screen with Facebook photos and updates. If you choose to display photos from your Facebook albums on your lock screen, the photos will change periodically.
6. Urbanspoon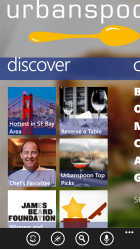 Urbanspoon is the perfect city companion app when you're looking for food—whether you're hunting for a gourmet diner, a sushi bar, or anything that's nearby. Through this free app you can browse local restaurants by cuisine, features (such as delivery), price, and neighborhood, as well as by what's open.
If you're feeling lucky (or lazy), you can use the app's shake feature—which actually involves shaking your phone—to find an open restaurant near you. The shake feature doesn't have to be all chance, however: Urbanspoon lets you lock categories, such as the cuisine type and price. This flexibility allows you to look for, say, a Mexican place, a cheap Mexican place, or a cheap Mexican place on a particular street.
Urbanspoon also has a discover tab, which helps you find cool restaurants in your area. Under this tab you'll see collections of restaurants—for example, if you're in San Francisco you can browse the "Hottest in SF Bay Area" collection or the Urbanspoon Top Picks.
The app also offers photos, reviews (from critics and app users), and general information about each restaurant. This is an excellent tool for discovering new eats in your neighborhood or for finding somewhere to dine in a brand-new city. It's optimized for Windows Phone 8, too: The Urbanspoon live tile flips between the app's logo and top-rated local restaurants.
7. Skype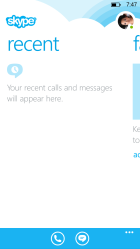 Microsoft's Skype app for Windows Phone 8 is currently still in preview mode, which means that some features don't work quite as expected. However, Skype is still a great app to have on your Windows Phone 8 device, especially since it's a Microsoft-developed app and it fully integrates with the Windows Phone 8 ecosystem.
Skype lets you make free voice-to-voice and video calls over both your phone's cellular network and Wi-Fi. Thanks to this new version's integration with Windows Phone 8, you can receive incoming Skype calls the same way you would a normal incoming call. You can also find your Skype contacts from your regular phone contacts screen, and vice versa.
The Windows Phone 8 Skype app has three screens: one for recent calls and messages, one for favorite contacts, and one for all contacts. Aside from calling contacts, video chatting with them, and sending instant messages, you can edit and update your profile, your mood status, and your availability from the Skype app. Since the app runs quietly in the background, you can receive Skype calls and messages at any time.
If you pin the Skype tile to the Start screen, you'll be able to read your latest message (if you set the app to its largest size).
8. RapDialer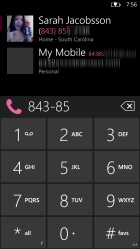 RapDialer provides a "rapid dialing experience" on Windows Phone 8. The regular Windows Phone 8 dialer is a little weak when it comes to features—it doesn't support speed dialing, prefix dialing, or searching your address book based on the phone number you've entered into the dialer. RapDialer, on the other hand, does all of that.
When you open RapDialer and start entering a phone number, the app automatically searches through your contact list for contacts that match that number and/or the equivalent T9 search. This way, you can quickly find and call someone without having to type in their entire number or locate them in your address book. RapDialer also lets you assign speed-dial numbers to contacts, automatically dial a prefix (such as a country code) before certain numbers, and swipe over contacts twice to text them.
RapDialer is available at no cost, but the free version shows ads in the settings menu. You can purchase the ad-free paid version for $3 in the Windows Phone store.
9. Fhotoroom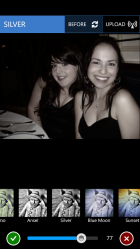 No smartphone is complete without a photo editor, and although Windows Phone 8 supports a series of Lenses, Fhotoroom is one of the most full-fledged free photo editors we've seen. It manages to maintain the Instagram-style aesthetic with its use of filters, frames, and tilt-shift options.
Fhotoroom requires a quick sign-up, during which you'll have to supply a username, an email address, a password, and a photo to represent yourself. The app has tons of filters, including multiple light-leak and vignette filters, and you can apply each filter fully or partially (you can use a slider to determine the intensity of the filter). The app also has frames and basic editing features such as cropping, rotating, and adjusting contrast, brightness, saturation, gamma, colors, white balance, and tones.
In addition, Fhotoroom provides its own camera app, which has a built-in level, a self-timer, different scene presets (action, night, landscape, portrait, and auto), and 5x digital zoom. The app connects with Facebook, Flickr, Tumblr, and Twitter, so you can share your picture creations with all of your social networks.
10. Evernote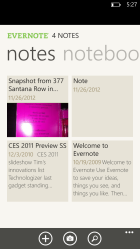 Even though Windows Phone 8 users already have OneNote on their handsets, longtime Evernote fans will be cheered by its presence in the Windows Phone store. Evernote is a useful app because you can take advantage of it in a ton of different ways. The free app lets you jot down notes, make lists, clip webpages, and snap photos, and it syncs your notebooks across multiple devices. Since Evernote is available for just about every platform, you can access your Evernote notes from anywhere.
The Evernote Windows Phone 8 app is attractive, with one screen for notes and another screen for notebooks. You can add different tiles to your Start screen for assorted tasks, such as creating a new text, image, or voice note. Tons of other apps will let you perform individual tasks such as creating a grocery list or tracking expenses by taking a photo of a receipt, but Evernote can do it all—and keep it all in one place.
This story, "10 starter apps for Windows Phone 8" was originally published by TechHive.