Samsung's New Android Phones: The Vibrant and The Captivate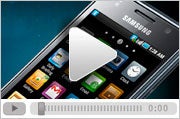 Samsung releases two great Android smartphones that are almost identical: The Vibrant on T-Mobile and the Captivate on AT&T. They're easily the best Android phones that either mobile provider offers. Ginny Mies takes a look.
For comprehensive coverage of the Android ecosystem, visit Greenbot.com.