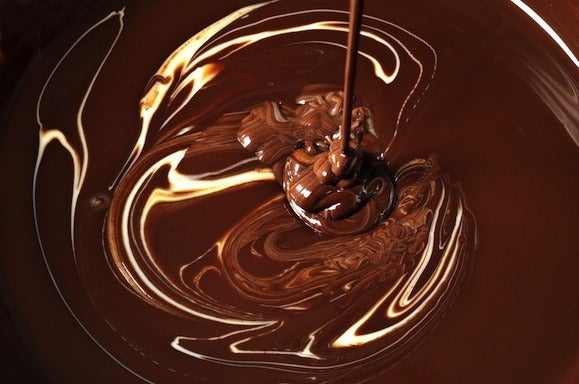 Chocolate melting in the summer may be a thing of the past. The chocolatiering engineers at Cadbury Chocolate, the same geniuses behind those delectable cream-filled eggs, have reinvented chocolate so that it really will melt in your mouth and not your hand.
According to Popular Science, chocolate should melt at 93 degrees Fahrenheit, which is why you have to squeeze that Twix out of its wrapper in the summer time. Scientists at Cadbury's R&D facility in Birmingham, however, have developed a "temperature-tolerant chocolate" that can withstand temperatures of 104 degrees Fahrenheit for three hours straight without getting goopy at all.
The secret behind this melt-resistant chocolate, according to an 8,000-page (!) patent, is not from any additional chemical, but the actual physical composition of the candy.
In an early step of chocolate production, all the ingredients (cocoa butter, vegetable oils, milk, and sugar) are typically mixed and grinded inside a container filled with tiny metal beads in a process called conching.
Cadbury chocolatiers found a way to break down the sugar crystals into even smaller pieces that don't end up completely coated in fat. The smaller bits of sugar also create a sugar matrix that helps the candy retain its shape until a bit of chewing pressure breaks it and, reportedly, releases a melted chocolately explosion.
For now, Cadbury only plans to distribute its melt resistant chocolate to warm-weather countries with no word on any stateside release, but there's always hope.
Get more GeekTech: Twitter - Facebook - RSS | Tip us off
This story, "Cadbury develops chocolate that weathers the summer heat better than you do" was originally published by TechHive.