Review: Microsoft Office 2013 features new look, prices
PowerPoint's enhanced media support includes the ability to play more video formats and the option of having background audio play across your entire presentation.
For presenters with two screens at their disposal (one for the audience and one for themselves), the Presenter View makes it easier than ever to access notes and preview upcoming slides. If the Presenter View somehow winds up on the wrong screen, the Swap Display command quickly deals with the problem.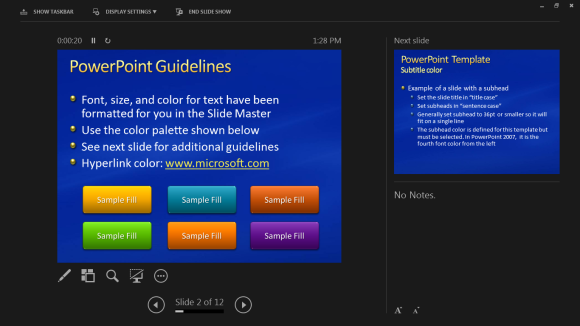 Coauthors can collaborate on a presentation using the PowerPoint Web app. And for those people who skipped Office 2010, the ability to broadcast a presentation online by sending a link to audience members bears mentioning as a very cool feature.
A cleaner Outlook
Last time around Outlook got a ribbon, but it also grew cluttered. Microsoft has addressed this issue in Outlook 2013, which opens with a simple two-pane design consisting of the list of messages and the selected message in the preview pane. You can quickly respond to the message by clicking the Reply button in the preview pane.
If you want more than two panes open, Outlook 2013 will oblige. You can choose between several layouts in the View tab, including ones with panes for your calendar, your to-do list, or the People (formerly Contacts) pane, where you can also see updates from social networks you've set up using Outlook Social Connector (introduced in Office 2012).
At the bottom of the screen, you can click either Calendar, People, or Tasks to switch views, or hover to get a peek—via a small pop-up—at your selection. This Peeks feature allows you to access information without having to change views completely.
A new feature called Mailtips will bring possible issues to your attention, such as if you fail to forward an attachment. In corporate environments where IT pros set policies for email, Outlook will point out potential violations.
One curious innovation: The Calendar view now includes a couple of days' worth of weather information.
OneNote, Publisher, and more
Microsoft has endowed other Office apps with design improvements similar to those in the big core programs, including the capability to suppress all or part of the ribbon, and the landing page at launch. OneNote, for example, benefits from the easy screenshot capture in Word and PowerPoint; it also sports improved tools for modifying tables, and it can update embedded Excel and Visio files when their content changes. As with other Office apps, you can share a OneNote notebook stored online by sending a link for viewing and, if you allow it, editing the content from a browser.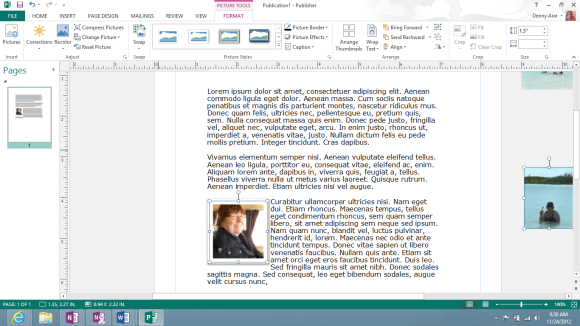 Publisher 2013 offers the same design, formatting, and design tools as Word and PowerPoint do. It now lets you collect images on the area next to a document, and then try them one at a time by using a Swap Image button.
Visio 2013, Microsoft's business-diagramming app, gets new styles and templates. It also supports collaboration features, but only for SharePoint users or Office 365 subscribers—there's no free SkyDrive support, which makes sense for such a hard-core business program. A new wizard helps you link
500 - Server Error
Oops! We're not able to find the page you're looking for. Here are some options to help you get back on the right track:
If all else has failed, try emailing our friendly customer service staff.