The best smartphones you can buy right now
Whether you're due for an upgrade or just have extra dough burning a hole in your pocket, there's never been a better time to buy a new smartphone. Apple, HTC, LG, Motorola, and Samsung have completed refreshing their respective lineups in time for the holidays; now all you have to do is pick out the phone that best suits your needs. Regardless of your carrier, you can find a new phone this season that you'll love and that your friends and family will covet.
Given so many solid choices, we've broken down the best smartphone options by carrier, offering two top picks and an honorable mention for each of the big four services (AT&T, Sprint, T-Mobile, and Verizon).
AT&T
What more can we say about Apple's iPhone 5? It's the thinnest iPhone yet, with a stellar camera and more available apps than you can shake a stick at. The iPhone 5 is available on multiple carriers, but AT&T's version gets a special nod for being able to connect to the sevice's faster HSPA+ network in areas where LTE isn't yet available.
The Nokia Lumia 920 is a big handset, but that size accommodates a roomy, impressive-looking 4.5-inch, 1280-by-768-resolution screen that can respond even to gloved fingertips. The phone's camera uses advanced floating-lens technology, which allows the lens to stay open longer and capture more light to produce amazing photos even in low light.
Honorable mention: The Samsung Galaxy Note II is even larger than the Nokia Lumia 920, and its size makes it the ideal device for watching videos or reading books on the go.
Sprint
Though the LG Optimus G is available for both Sprint and AT&T, the Sprint version sports a higher-megapixel camera and a more aesthetically pleasing design. The Optimus G features a beefy quad-core processor and interesting software enhancements that set it apart from other Android smartphones, as well as a crystal-clear display that makes the phone easy to use in bright sunlight.
Samsung's Galaxy S III is available on all four major carriers. Sprint's version, however, is the only one that's compatible with Google's mobile payment system, Google Wallet. If you find the Optimus G a tad too large for comfort, the Galaxy S III may be just your style. Its slick design and smaller dimensions make it a worthy Android alternative to LG's handset.
Honorable mention: The Apple iPhone 5 on Sprint may not run at the LTE speeds that its Verizon and AT&T cousins enjoy—but with unlimited data, who needs them?
T-Mobile
T-Mobile has its fair-share of excellent handsets. The 6-month-old Samsung Galaxy S III remains a top-notch smartphone, thanks to its vibrant 4.8-inch, 1280-by-720-resolution display, its above-average camera, and its attractively slim profile.
If you're looking for a unique smartphone experience, check out the Samsung Galaxy Note II. Aside from sporting an eye-catching 5.5-inch, 1280-by-720-resolution HD Super AMOLED display, the Galaxy Note II comes with a pressure-sensitive stylus that lets you write on the phone's screen—handy if you need to jot down a name or number while on the go. It may not nestle comfortably in your hand (or pocket), but this feature-packed phone is definitely worth considering.
Honorable mention: If Android doesn't tickle your fancy, check out the HTC Windows Phone 8X. Though this attractive Windows Phone 8 smartphone lacks expandable storage, it offers a great user experience and its 8-megapixel camera takes great-looking photos.
Verizon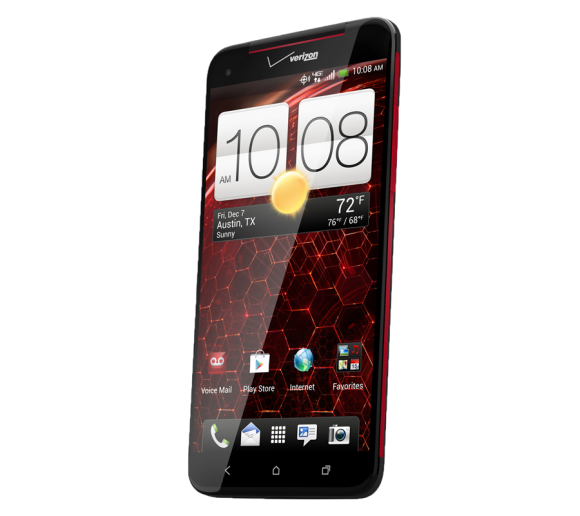 With its elegant design, powerful quad-core processor, and ridiculously high-resolution display, the HTC Droid DNA is one of the best smartphones you can get on Big Red. It does have a few weak points—specifically, subpar battery life and a lack of expandable storage—but the Droid DNA is a strong choice for people who want a phone that has a lot of muscle under its hood.
If you truly value battery life in a smartphone, the Motorola Droid Razr Maxx HD will seem like a dream come true: This model currently sits at the top of our charts on battery life, delivering enough power for 12+ hours of continuous use. The phone doesn't have an ultra-high-resolution display or a quad-core processor, but its outstanding battery means that you can go without charging it for days at a time.
Honorable mention: If you want to balance power and portability, the slim and sleek Apple iPhone 5 will fit your needs perfectly. The phone's battery can easily last for 8 hours on a single charge, and the iPhone 5's Retina display is still one of the best looking screens around.
For comprehensive coverage of the Android ecosystem, visit Greenbot.com.