The six apps of Hannukah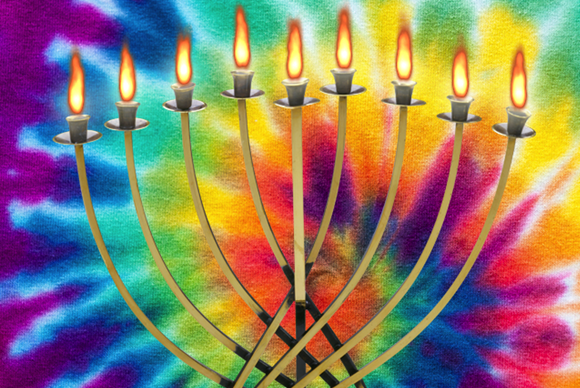 Hannukah comes but once a year, though it lasts for eight nights. Thus, we had hoped to present a list of eight apps for Hannukah—that's roughly one for every thirty variations of how to spell "Hannukah." Such a list was not to be: Of the few dozen App Store entries for Hannukah, many are utter dreck not worth your time, even if they're entirely free. Here are six apps that, if not entirely exceptional, are at least smile-inducing for iOS owners looking to celebrate the Festival of Lights.
Light My Fire: A Hannukah App You want to light the candles, but you're away from your menorah? No problem. This app from The Jewish Museum in New York lets you choose from more than a dozen menorahs—each of which includes information about its own history and the artist who created it. You also choose from a variety of mostly ridiculous backgrounds (the Eiffel tower, leopard print, a cat) for your lamp to sit upon (see image above). Some of the app's interface is weird, like swiping to light candles on your selected menorah, instead of merely tapping. But as an added bonus, it includes quick access to the Hannukah blessings in English, Hebrew, and transliterated Hebrew. Ha-leh-loo-yah! (Free)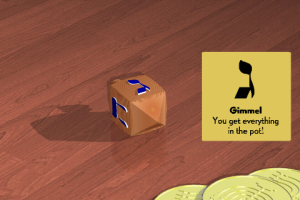 iGevalt - Dreidel Simulator Boy, I'm not going to lie to you: It's a sorry dreidel game situation on the App Store these days. Most dreidel-centric apps haven't been updated in years ("requires iOS 2.0 or later!"), and most are dreadful. The one positive with iGevalt—and believe me, it's not a very good app—is that it doesn't just show you which side your virtually-spun dreidel lands on; it also spells out the name of that letter in English, and explains what that means in terms of the dreidel game: "Gimmel—You get everything in the pot!" ($1)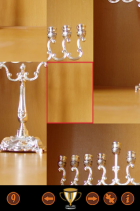 Hanukkah Fun If you like slider puzzles, Hanukkah Fun is worth a look. The app includes one free puzzle; you reassemble the photographed menorah by tapping tiles to swap their positions. Fair waring, though: If the developers' religious affiliation were a little different, one might expect them to wake up to a stocking full of coal later this month. Why, you ask? Well, the app offers a $1 in-app purchase to buy more puzzles to solve. That, in itself, is fine. But Hanukkah Fun tries to get you to confirm that in-app purchase incessantly—when you tap any buttons in the app, or even when you solve the puzzle. If you want lots of puzzles, then you'll buy it and never see the message again. But if you just want the one free puzzle, you'll likely tire of the developers continually trying to pilfer your hard-earned gelt. (Free, with in-your-face $1 in-app purchase)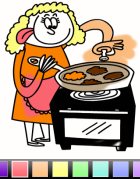 123 Color Hanukkah Coloring Book This is a sweet app for young kids, filled with pictures for young ones to color in. And it's not just menorahs and dreidels: There are sizzling latkes on the stovetop, Hannukah cookies, presents, and more. You can purchase lots more coloring book pages (not themed to the holiday) if you desire, too. My four-year-old thinks this app, more than any other on the list, is a Hannukah miracle.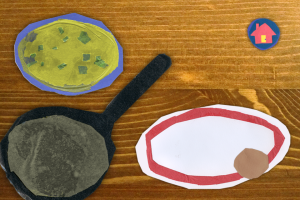 Hanukkah Activity Center This app sports a hand-drawn aesthetic. In fact, the app's look was allegedly designed by children. Talented children, because all the visuals are recognizable, which is more than I can say for my own drawings. You can navigate among four screens in the Activity Center: There's a simple driedel to spin by tapping on it, and a latke making screen where you cook latkes by tapping, and a paper menorah for which you can choose candles and light them. Each of those activities plays an instrumental Hannukah tune in the background, and there's even a bonus activity center where you can choose a song and see its lyrics in Hebrew or transliterated. ($1)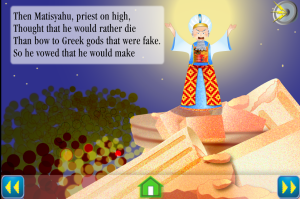 Chai on Chanukah Like Hanukkah Activity Center, this is an app with many options. They include: Spin the Dreidel, Light the Menorah, Open Your Presents, Read the Story, and What is Chanukah. The first two options are self-explanatory. In Open Your Presents, you drag scissors over wrapped gifts to see what's inside—usually a disappointing gift—while a stereotypically-voiced Jewish mother gently scolds you. Read the Story actually features a nice, rhyming retelling of the Hannukah story, with optional voiceovers and well-made illustrations. The What is Chanukah screen is a long scrolling wall of text, and makes some controversial claims about the right way to spell the holiday's name in English. ($1)