The complete guide to Windows Phone 8 settings
Windows Phone 8 prides itself on being a highly customizable mobile operating system. From the location and size of the live tiles to the lock screen and theme colors, each Windows Phone 8 handset offers a ton of options—something you'll likely notice upon your first visit to the Settings menu. If you haven't already perused the lengthy list of settings, check them out by tapping the Settings icon, which looks like a small gear, or by selecting Settings from the App list.
However, there's no need to be overwhelmed: Although the settings may seem extensive, that's only because the new OS has fewer top-down menus. In other words, many of the settings that you usually find nested in menus on other devices are located right on the main settings screen in Windows Phone 8. (Depending on what type of Windows Phone 8 handset you own, you may see other options that are not mentioned here. For example, HTC 8X phones also have Beats Audio and Attentive Phone settings, while Nokia Lumia handsets also have Display+Touch and Nokia Account settings. This article focuses only on settings that are universal to all Windows Phone 8 handsets.)
To start off, note that the Settings menu consists of two screens. The first screen, for system settings, covers general device adjustments (such as changing your ringtone or toggling Bluetooth, Wi-Fi, or airplane mode). The second screen is for application-specific settings (such as choosing which apps may perform background tasks).
System settings
Ringtones+Sounds
The Ringtones+Sounds setting screen is where you can adjust and modify the assorted sounds your phone makes.
At the top of the screen are two toggle buttons for turning your phone's ringer and vibration on and off. To change your phone's ringtone, tap the box underneath 'Ringtone'. Choose a ringtone from the menu, or tap the Get more link underneath the box to download ringtones from the Windows Phone Store.
In this screen you can also choose tones for different notifications, selecting separate tones for text messages, voicemail, and email. You can also elect to play a sound for reminders, key presses, locking and unlocking, the camera shutter, and other events.
One thing to remember: Although the Ringtones+Sounds settings screen controls your phone's sounds, if you turn the phone's volume off using the physical volume buttons, you will not hear these sounds.
Theme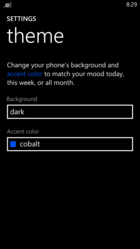 The Theme setting lets you choose your phone's general color scheme. Here you can select from one of two backgrounds: Dark (black with white text) or Light (white with black text). You can also choose one of 21 accent colors. The accent color shows up mainly on the Start screen, where it's the background hue for generic tiles. It also appears in the App menu and in other menus on your phone. You can change both the theme and the accent color as often as you like.
Email+Account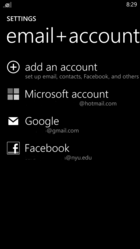 In the Email+Account screen, you can set up any and all of your email and social networking accounts on your Windows Phone 8 device. To add an account, tap Add an account and choose the type. You can pick from several preset account types (such as Facebook, Google, Hotmail, Twitter, and Yahoo Mail), or you can add your own type through the Other account option. To add a business Exchange account, tap Advanced setup.
You also manage your existing accounts from this screen. To do so, simply tap the account name. Here, you can change the account name, choose how often to download content or email from the account, choose what type of account content to sync (email, calendar events, or contacts), and modify your login information. To save your changes, tap the checkmark or Done button.
Internet Sharing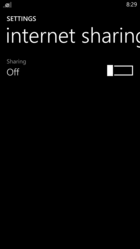 A new feature to Windows Phone 8, Internet sharing lets you turn your phone into a Wi-Fi hotspot so that you can share your cellular data connection with another device.
Simply enter the Internet Sharing screen and tap the toggle button to turn the feature on. You can set up your sharing with a customized name and password to prevent random devices from connecting to your phone. The Internet Sharing screen will show you how many devices are connected to your phone (up to five can be connected at any one time). If no devices are connected for several minutes, the sharing feature will turn off automatically to conserve battery life.
Note, however, that not all carriers support this feature.
Lock Screen
The lock screen is the very first screen you see when you turn your phone on (before you see the Start screen). The Lock Screen settings menu lets you modify how this screen looks in several ways:
Change the background photo or elect to display a photo from Bing or Facebook.
Choose to show an artist or album picture on the lock screen when music is playing.
Choose to show app notifications on the lock screen. You can pick one app (such as Facebook) that will show detailed updates, and you can select multiple apps (such as your email app and calendar) that will show quick updates.
Choose how long your lock screen stays on before the screen times out.
Set a password or PIN so that only you can access your phone.
Wi-Fi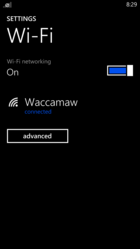 In this screen, you can manage your phone's Wi-Fi function. Turn the Wi-Fi antenna on or off by tapping the toggle button.
To connect to a specific network, tap the network name and enter a password (if necessary). Tap the Advanced button to see additional settings; here you can choose to be notified when new networks are available, to connect automatically to Wi-Fi hotspots, and to allow your phone to send information about Wi-Fi connections to discover nearby Wi-Fi hotspots. In this section, you can also see the Wi-Fi networks to which your phone has connected before (those that it "remembers" as known networks). You can also have your phone "forget" a network, by tapping and holding the name of the network until a delete button appears.
Bluetooth
The Bluetooth setting is similar to the Wi-Fi setting. You need to turn Bluetooth on if you want to connect a Bluetooth device, such as a headset or an external keyboard, to your phone. To turn Bluetooth on, simply tap the toggle; you can also turn Bluetooth off by tapping the toggle again. When Bluetooth is on, your device will be discoverable to other Bluetooth devices.
Tap+Send
Tap+Send lets you activate your phone's NFC (near-field communication) abilities. When you turn this feature on, you will be able to share photos, videos, contacts, websites, and other media with another NFC-enabled phone simply by tapping the two devices together. To turn NFC on or off, tap the toggle button.
Airplane Mode
Though its name suggests that it's designed exclusively for use during flights, airplane mode is also a convenient setting if you want to shut down your phone's sharing functions without actually turning off your device.
Airplane mode turns off your phone's cellular network, Wi-Fi, Bluetooth, and NFC sharing. To turn airplane mode on or off, simply tap the toggle button. You can turn Wi-Fi, Bluetooth, and NFC sharing on, separately, after you've turned airplane mode on.
Cellular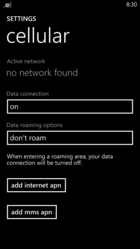 This settings screen allows you to turn your cellular data connection on and off, as well as to adjust your roaming settings. To turn the cellular data off, tap the box under 'Data connection' and then tap Off. You can also determine whether your phone should roam—if you choose Don't roam, your phone will automatically turn off the data connection when you enter a roaming area.
Location
Under this menu, you can choose whether applications can use your location. If you turn location on (using the toggle button), apps such as Facebook, Foursquare, and Google Maps will be able to see where you are and use that information to give you directions (in the case of Google Maps) or let you check in to local businesses (in the case of Facebook and Foursquare). Some apps may also use this data to target local advertisements to your phone.
Next page: Kid's Corner and other system settings
Kid's Corner
The Kid's Corner setting lets you set up and turn on the new child-oriented Windows Phone 8 feature. The first time you turn on Kid's Corner (using the toggle button), you will see a prompt to set it up by selecting which apps and games your kids may access, as well as choosing a lock screen password so that they can't access your full phone menu.
Once you've set it up, you can add games, music, videos, and apps to Kid's Corner in this settings screen—just tap one of the categories to see a list of the items that are available for Kid's Corner. If you leave Kid's Corner turned on, you can access the Kid's Corner screen by swiping left from the lock screen.
Battery Saver
The Battery Saver setting, when you turn it on (using the toggle button), lets your phone automatically adjust various settings to conserve battery life when the battery is low. If you turn Battery Saver on, your phone will turn off some services (such as background data and automatic email syncing) when the phone is in standby.
You can adjust the Battery Saver settings by tapping the Advanced button. In this screen, you can choose to conserve juice when the battery is low, from 'Now until next charge', or at all times.
The Battery Saver screen also lets you see information about your phone's battery, such as how much battery life is remaining and how long it has been since you last charged your phone.
Phone Storage
This screen shows how your handset is using its storage. At the top is a status bar that illustrates how much of your phone's built-in storage is being used and how much is available. If you double-tap this bar, you can see more details about the items on your phone, broken down into music and videos, photos, apps, the operating system, and 'other'. This information is useful if you're trying to free up space and you're not sure what to delete.
You can also change the storage settings on this screen. If your phone has a MicroSD card installed, you can choose to keep music, videos, and photos on either your phone's internal storage or the MicroSD card.
Backup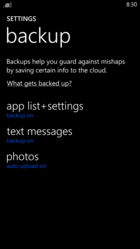 The Backup settings screen lets you back up important parts of your phone—namely, your app list and settings, your text messages, and your photos—to the cloud. If you tap any of these categories in the Backup settings screen, you go to the corresponding main settings screen (for example, tapping Messages in the Backup screen takes you to Apps > Settings > Applications > Messages) so that you can configure each backup separately.
Date+Time
The Date+Time setting screen lets you change your phone's clock. Here, you can toggle the 24-hour time format on or off, and you can choose whether to set the clock automatically or manually. If you want to set the clock automatically, your phone will use its data connection to sync the time with the server. If you decide to set the clock manually, you will be able to change the time zone, date, and time individually.
Brightness
Windows Phone 8's brightness options are somewhat thin. In the Brightness setting screen you can use a toggle to have the phone adjust brightness automatically, or you can set the brightness manually. However, unlike on other devices you get no brightness slider here—instead, if you choose to set the brightness manually, you are limited to 'low', 'medium', and 'high' settings.
Keyboard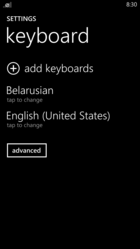 This screen covers the keyboard type and language, as well as the user-defined dictionary. The main Keyboard screen lets you choose (and add, if necessary) keyboards. To add a keyboard, tap Add keyboards and choose one or more from the list. Tap the checkmark or Done button, and those keyboards will be on your phone (some keyboards may require an additional download).
Once you have added keyboards to your phone, you can switch between them by tapping one of them on the main Keyboard settings screen. When you tap a keyboard, you can adjust its settings and determine whether it suggests text, highlights misspelled words, corrects misspelled words, inserts a space after you select a suggestion, inserts a period after you double-tap the spacebar, or capitalizes the first letter of a sentence.
The Keyboard settings screen also has an Advanced button. If you tap this button, you'll be able to reset the user-defined dictionary—that is, you can force the phone to forget any words that you have manually added to the suggestion list.
Language+Region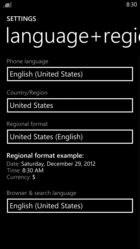 In the Language+Region screen, the 'Phone language' setting affects your entire phone—if you choose another language, your phone's basic settings will be in that language. For this reason, the available languages may be limited to popular ones such as English and Spanish (the exact assortment will depend on your handset—some models may have a more extensive collection that could include French, Arabic, or Chinese).
'Regional format', on the other hand, affects how your phone displays dates and currencies. For example, if you choose Spain as your region, the phone will show euros rather than dollars.
You can also choose your browser and search language here. Since this setting affects only the browser and search functions instead of the entire phone, many more language options are available.
Ease of Access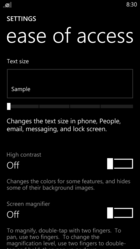 Windows Phone 8 offers several features in the Ease of Access setting panel. You can turn all of them on and off with toggle buttons.
Larger text: You can make the default text up to four times larger. This setting affects the Contacts, Email, Messaging, and Lock screens.
High contrast: This setting increases the overall contrast of the phone's screen and changes the colors of some features for better recognition.
Screen magnifier: This feature lets you double-tap the screen with two fingers to magnify it. The magnification works on all screens, not just the browser.
Speech for phone accessibility: This feature speaks various settings, including speed dial and caller ID, aloud.
Speech
The Speech screen lets you adjust settings related to your phone's voice-command features. You can talk to your phone to perform tasks such as searching, making phone calls, or sending text messages. To access the speech feature on your phone, tap and hold the Start button.
At the top of the Speech settings screen, you can choose to use the speech feature when the phone is locked. This is a helpful feature if you want to be able to make a call quickly without unlocking your phone.
You can also turn on audio confirmation. If you do so, your phone will confirm your speech commands by saying them back to you. At the bottom of the Speech settings screen, you can choose whether audio confirmation has a male or female voice, and you can choose whether your speech settings are in English or another language. If you choose a different language, you will have to say speech commands in that language.
You can also set up your phone to read incoming text messages aloud. Tap the box under 'Read aloud incoming text messages' and choose when you want this to happen: never, at all times, or just when you're using a Bluetooth or wired headset.
Find My Phone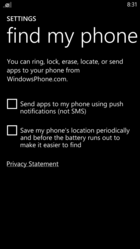 A feature automatically included with Windows Phone 8, Find My Phone lets you locate your handset remotely via WindowsPhone.com. You can also turn on your phone's ringer, erase the phone, lock the phone, locate the phone, or send apps to the phone—all remotely, using another computer or device with Internet service.
Because Find My Phone is included on every handset, this settings screen allows you to turn on a couple of additional features. Specifically, you can choose to have the Windows Phone Store send apps to your phone through push notifications (rather than text messages). You can also choose to have your phone periodically save and record your phone's location—this way, if you lose your phone and the battery runs out (or if it is stolen and the thief turns it off), you will be able to see the last recorded location. If you're worried about Microsoft or your carrier spying on you, however, you may want to leave this feature turned off.
Phone Update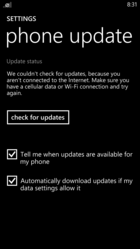 Check for updates to your software and operating system on the Phone Update screen. To do so, make sure your phone is connected to the Internet and tap Check for updates. You can also choose to have your phone download updates automatically.
Company Apps
Some companies have business-specific apps that you can download on your Windows Phone 8 device once you have added a company account. Be aware that if you add a company account, your employer will be able to disable the SD Card, encrypt the phone's internal storage, and remotely delete your content and settings.
To add a company account, simply tap Add account and sign in with your employer's Windows Phone account information.
About
You can see important information about your phone, such as your model number, carrier, screen resolution, and software, on the About screen. If you tap More info, you will also be able to see the operating system version, firmware revision number, and SIM ID.
In addition, you can reset your phone from this screen. You will be warned that tapping the 'Reset your phone' button will erase all of your personal content and restore factory settings. Tap Yes to proceed, and your phone will be wiped clean and restored to its original state.
Feedback
The Feedback screen lets you toggle feedback reporting to Microsoft. If it is turned on, your phone will automatically send information to Microsoft when you have a Wi-Fi connection. If this feature is turned off, your phone will not report any feedback to Microsoft.
Next page: Application settings
Application settings
Background Tasks
You can choose which apps are allowed to run tasks in the background from this screen. If you permit apps to run tasks in the background, they may use your phone's data connection to download updates; if you're on a limited data plan, it's a good idea to turn background tasks off for all applications.
The list of apps that you'll see in the Background Tasks setting screen will depend on the apps you have installed. To prevent an app from performing background tasks, tap the app name and press the Block button. To reactivate background tasks for an app, tap the app name and select Turn background tasks back on for this app the next time I open it.
Some apps will perform background tasks whether you want them to or not, and cannot be blocked. To discover which apps fall into this category, tap the Advanced button to see all of the apps that can perform background tasks. Although you will not be able to block any apps from performing background tasks here, you will at least learn which apps to avoid using until you have more data on your plan.
Games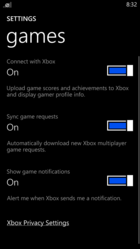 Since the Games screen lets you manage your Xbox games settings, it's relevant only if you have an Xbox gaming console. You can also access this settings screen through the Games app by tapping the More ellipses and then Settings.
Here, you can turn on several features:
Connect with Xbox: If you connect your phone with your Xbox gaming console, your phone will be able to upload game scores and achievements to your Xbox.
Sync game requests: If this setting is turned on, your phone will download new Xbox multiplayer-game requests. In other words, you'll receive an alert when your friends want to play Xbox Live games with you.
Show game notifications: If this setting is turned on, you will see Xbox notifications on your phone.
Internet Explorer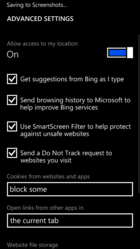 The Internet Explorer screen lets you change a few settings pertaining to Internet Explorer, your phone's default Web browser. You can also reach this screen via the Internet Explorer app by tapping the More ellipses and then Settings.
To choose how your phone displays websites, tap the box under 'Website preference' and choose whether it should show the mobile version of a site (if available) or the standard desktop version of the site.
You can also customize the behavior of the address-bar button, which is set by default to stop or refresh the page that you're on. If you prefer, you can change it to a favorites button or a tabs button in the Internet Explorer settings screen.
The Internet Explorer settings screen also lets you delete your browser history and adjust advanced settings. The advanced settings include the ability to filter websites, as well as a Do Not Track feature and options for blocking cookies. This screen is also the place where you can select the default search provider, indicate how to open links from other apps, choose to get suggestions from Bing, and manage the files that websites store on your phone (if you've elected to allow websites to store files).
Maps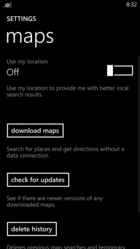 In the Maps screen, you can turn your location on or off for better local search results. You can also choose to download maps (so that you can use the maps feature without a data connection), check for updates, or delete your maps history. It's worth noting that the features found in this settings screen are different from the ones you access via the Maps app (by tapping the More ellipses and then Settings).
Messaging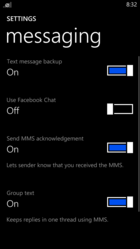 The Messaging screen allows you to toggle various messaging features. You can also reach this screen in the Messaging app by tapping the More ellipses and then Settings.
In this settings screen, you can turn on (and off) text message backup, Facebook chat, MMS acknowledgement (which lets the sender know when you've received a text message), and group text (which keeps all group text replies in one thread).
Music+Videos
The Music+Videos screen lets you change settings related to media. You can also access this settings screen via the Music+Videos app by tapping the More ellipses and then Settings.
On this screen, you can turn several features on or off:
Connect with Xbox Music: This feature lets you update song information, artist and album images, and more through Xbox Music.
Xbox Music cloud collection: Turning on this setting lets you include your Xbox Music collection of songs on your phone.
Now playing on Xbox: With this setting active, you can see, on your phone, what music or video is currently running on your Xbox.
Office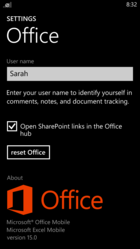 In the Office settings screen, you can change your Office username, open SharePoint links in the Office hub, and reset Office. You can also see information about your version of Office.
People
The People screen (which you can also access through the People hub by tapping the More ellipses and then Settings) lets you modify settings related to your contact list. Here you can choose to import SIM contacts (if you've saved any on your SIM card), filter your contact list by account (for example, you can hide your Facebook, Google, Hotmail, or Skype contacts from your phone), and hide posts from the contacts you've filtered.
You can also choose to sort your contact list by first name or last name, and to display names with the first name or last name first ("Sarah Jacobsson" versus "Jacobsson, Sarah"), as well as whether to use your location and whether to save check-in searches and locations. The bottom of this screen also provides another way to access and manage your email and social media accounts.
Phone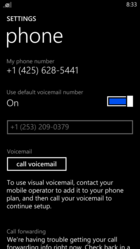 The Phone screen is where you'll find your phone number (in case you don't know what it is). Here you can also choose to use the default voicemail number or a different one, and you can call your voicemail directly.
This screen also allows you to turn on call forwarding, which sends incoming calls to another phone number, as well as "international assist," which helps you call internationally by automatically correcting common mistakes. You can toggle SIM security on or off, too.
Photos+Camera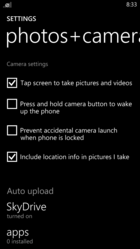 The settings in the Photos+Camera menu are different from the photo and video settings available within the Camera app itself. Here, you can choose whether to turn automatic upload (to your SkyDrive account) on or off, and you can elect whether to turn on location information for the photos that you take. You can also reset the camera here, as well as find apps to upload content. Other settings let you hold the camera button to wake the phone, or tap the screen to take pictures and videos.
Search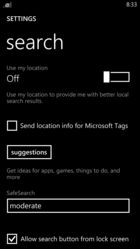 The Search screen lets you modify settings pertaining to Bing search, which is Windows Phone 8's default search provider. Here, you can turn your location on so that the search function can use it to provide you with better local results. You can also modify your SafeSearch settings, allow the Search button to work from the lock screen, and get suggestions from Bing as you type. You can also delete your search history.
Store
On the Store settings screen, you can create or change your wallet PIN to protect your music, app, and in-app purchases. You can also turn on personalized suggestions; if you do so, your phone will track what you do (as well as your location and social networking information) to offer suggestions for apps you may want to download. If you are worried about your phone or carrier tracking you, do not turn on personalized suggestions.
You can also access Store settings via the Store app itself by tapping the More ellipses and then Settings.
Wallet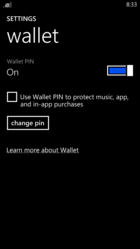 The Wallet screen, which you can also access via the Wallet app by tapping the More ellipses and then Settings+Pin, lets you set up and change your wallet PIN to protect your assorted digital purchases so that strangers (or your children) can't spend money on your phone.