Kids Review Kids' Tech
Children's toys are going more and more high-tech each year.
We asked five reviewers under the age of 12 to try the latest gadgets--a digital camera, a handheld, an e-book reader, a laptop, and a cell phone--designed specifically for a child to use.
Here's what the kids had to say about the toys after putting them through their paces (with a little added perspective from moms and dads).
Reviewer: Noah, age 8
Age group targeted: 6 years and up
Price: $50
PCWorld Kid Rating: 4 Smiles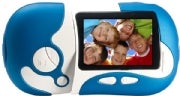 Noah took to the camera fairly quickly, figuring out the controls and effects with little adult guidance. When he asked about the lightning-bolt icon, his uncle told him to take a picture with it on and another with it off to see what happens. Once he did, he understood that it was for the flash.
Noah really liked the different effects that he could apply to photos in the camera, saying, "I just love how when you press the swirl button you can make a cool mode."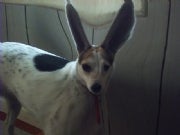 He also liked the ability to plug the camera into a TV with the supplied AV cable to see what his photos looked like on a bigger screen.
On the flip side, however, Noah thought that it was hard to figure out how to view the pictures he already shot, that it was difficult to open the cover over the USB connector, and that the lens was placed in such a way that his fingers often covered it.
Uncle Nick's take: "The age level is appropriate for this camera. It was definitely helpful for Noah that the camera covered only the basics."
Noah's bottom line: "It's fun to take anywhere" and "I wish it had a touchscreen!"
Note: The camera is currently out of stock on the company's site, but a representative says that it is for sale at Toys R Us.
Reviewer: Zoe, age 7
Age group targeted: 4 to 9 years
Price: $70, plus the cost of downloadable games, e-books, and videos
PCWorld Kid Rating: 3 Smiles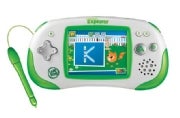 When the Leapster Explorer arrived at Zoe's home, she was very excited since she thought it was a Nintendo DS, which it slightly resembles.
Zoe's father, who helped her install the Explorer software necessary to purchase and download one of the more than 40 games and activities from the Leapfrog site, was unhappy with the setup.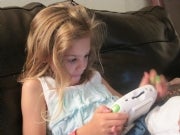 "I found the software very slow and frustrating to use, and it was a good hour before I could manage to see the available games," Dad reports. "Then there were a lot of miscategorizations, and apps that were not available for download even though there were previews of them."
Zoe thought the system and most of the activities and games she tried were "babyish." This included one that her father thought would be a sure-fire hit: the Disney Princess pop-up book. One exception was the Spongebob Squarepants Fists of Foam game, which earned the Zoe seal of approval.
Dad's take: "A Nintendo DS or something similar, or even an iPod Touch, would be a better choice for Zoe. The Explorer appears to be well made and strong. However, it seems a little expensive at $70, especially since that includes only one game."
Zoe's bottom line: "Sort of babyish" and "It would be better if it was pink." (The review unit was green and white. The Leapster Explorer also comes in purple and white.)
Reviewer: Ryan, age 5
Age group targeted: 3 to 7 years
Price: $60
PCWorld Kid Rating: 2.5 Smiles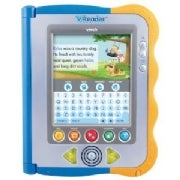 Ryan tried the V.Reader on a 300-mile car trip. Tucked in the back seat of the car, he held the reader in his hands and stared at it. "What do I do first?" The on/off button is hidden behind a corner and takes a couple seconds to respond.
Once the reader came to life, he started to play a spelling game. The idea was to fill in the blanks in an incomplete word by choosing the correct letters from a set dancing across the screen.
On subsequent startups, he would touch a small house icon and get stuck repeating a setup routine every time. "Type your name!" the reader would implore. "But I already typed my name!" Ryan would complain to the screen. "Type in a welcome message!" the reader would then insist. "What's a welcome message?" he would ask.
To hear and read a story, players are supposed to touch a book icon. But the problem is that the icon doesn't look much like a book and isn't labeled 'Book', even though all of the other icons have labels. When Ryan accidentally stumbled across the story, he enjoyed following along with the animated scenes and turning the pages when prompted. "This is a good story. But it's a little sad," he commented.
He had the most fun playing the spelling game to fill in the missing letters, and he merrily banged away on the built-in QWERTY keyboard. The slight lag in response time after pressing a button was a source of frustration, as were the somewhat advanced directions. ("To change your settings, press the paintbrush.")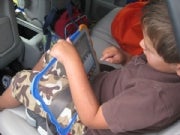 Mom's bottom line: "It's difficult to imagine a 3- or 4-year-old getting much out of the reader other than hearing a story. The device seems more suitable for the upper end of the age range. The V.Reader made a great companion for a lengthy car ride, but it had a hard time holding Ryan's attention once we were home."
Next: Laptops and Cell Phones

Reviewer: Maya, age 29 months
Age group targeted: 18 months and up
Price: $30
PCWorld Kid Rating: 4 Smiles
Our tester's assistant, her father, said, "The moment the thing came out of the box, it was ready for action."
And Maya rose to the occasion.
Dad reports: "Maya squealed, and started playing immediately. She instantly knew that it was a laptop like Mommy and Daddy's, and said 'computer,' which was surprising given that it doesn't look anything like any laptop I've ever seen. She spent about an hour the first day just pushing random buttons and saying what they were (when she knew)."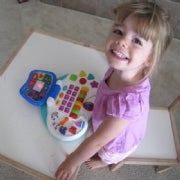 "On day two, she began to notice that pressing the trackball down made the shapes on the screen light up, and that pressing the corresponding shape on the keyboard made a clapping/cheering sound," Dad continues. "So she started doing that, and clapped when she got them right."
Maya enlisted her father's help in the testing, directing him by saying, "Daddy, push circle. Push circle. Push circle, Daddy." When Daddy complied, Maya complimented him: "Good job, Daddy!"
Dad's take (pro): "It offered plenty of opportunities for abstract thinking. Of course, she's accustomed to my iPad, which she can handle very well, and it offers infinitely more such opportunities. But I'm happy to have her play on this $30 toy instead."
Dad's take (con): "No off switch besides closing the lid, so it's hard to put the toy out of commission at the end of play time. Also, no volume control."
Maya's bottom line (as observed by her dad): She loved the trackball, and spent tons of time just rolling it around. ("The mouse is hiding the ball!") Also fun were the car/plane/boat sounds. Another favorite activity was playing with the Shapes buttons (as well as watching Daddy do it). By day four, however, her interest faded a bit.
Reviewer: Athena, age 11
Age group targeted: Although the Glowphone is marketed for ages 5 to 8, it is also useful for older children who aren't familiar with regular cell phones that have more features.
Price: $50 for the phone; service charges vary (pay-as-you-go minutes start at 14 cents a minute; a monthly plan covers 145 minutes for $20, or unlimited use for $65 a month).
PCWorld Kid Rating: 4 Smiles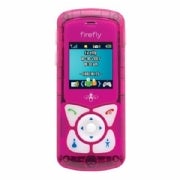 Athena is very interested in cell phones, to the point that she carries around a nonworking discard from her family in her pocket. She jumped at the chance to test the Firefly Glowphone.
With little help from me except for setting the password, Athena quickly programmed in her important phone numbers (a younger child's parent would do this part of the setup). The password protection kept Athena from making or receiving any calls that weren't on the approved list.
Additionally, the phone has special Mom and Dad buttons on the front, where the numbers of the two most important people in the child's life should be programmed. A side button on the phone may be programmed for one-push emergency calls.
The phone also receives text messages, but the child cannot send any.
Although Athena made and received a goodly number of calls during her three-day test, she was more interested in the other features of the Glowphone.
"I really liked the games, and changing the ringtones and wallpapers," she says. However, the phone occasionally froze on her (which she quickly rectified by turning it off and on), and the sound quality was occasionally pretty bad. She made several calls to me where I could not understand anything she said.
"I would make calls, and the people just couldn't hear me," Athena says. "Also, I used up my minutes too fast."
My take: This phone would be perfect for the targeted age group, but I think Athena will quickly find a need to move on to a more-complex phone. She was already feeling the inability to send texts, as well as the lack of a camera. Nevertheless, knowing that you can control a child's cell phone for his or her safety makes this a parent's dream phone for any boy or girl under 12.
Athena's bottom line: "The battery life was good, and it was fun to use."