While Google and Apple are busy trading volleys for the top spot in the smartphone market, Microsoft has been steadily attempting to win users over with the latest incarnation of its mobile OS. To that end, the company is pinning its hopes on Windows Phone 8, which couples a slick interface with a number of powerful features. If you've recently been tempted to pick up a new Windows Phone 8 handset (or have already taken the plunge), you might wonder how Windows Phone handles simple tasks like browsing with Internet Explorer, searching with Bing, using voice recognition, or navigating using the Maps app. We'll give you a tour of each feature below—with some tips on how to get the most from the mobile OS's features.
Exploring the Internet
To access the Web browser on your Windows Phone 8 handset, select the icon with the familiar "e" logo (or, alternatively, select Internet Explorer from the app list). Internet Explorer on Windows Phone 8 works just like a modern desktop browser—to get to a website, simply tap on the address bar and type the URL. To search for a site, simply tap the Search icon (which looks like a tiny magnifying glass) to search using Bing—more on that later.
More options are tucked away under the More button—it's indicated by the ellipsis (...) on the menu bar running along the bottom of your display. Some of the things you can do in the More menu are: open multiple tabs for multiple websites, check your browser history by tapping recent, search the webpage you're currently viewing, and bookmark websites by tapping add to favorites. You can also view favorite or bookmarked websites by tapping favorites in the More menu.
Pro tip: Have a website you visit frequently? If bookmarks aren't fast enough, you can pin the current page of the site right to the start page so that the site gets its own tile. These tiles aren't active—they just offer a snapshot of whatever was on the page when you pinned the tile. Nevertheless, they can prove handy if you just want to get to, say, Reddit as quickly as possible.
The More menu also has options to share a page (using any of the accounts you've synced to your Windows Phone) and access the Settings menu, which holds the rest of Internet Explorer's features. You can toggle a number of convenient items here: website preference lets you choose whether or not the browser defaults to a website's mobile or desktop version, which can be especially handy if you'd like to avoid a site's lackluster mobile version. You can also customize the button to the left of your address bar in the settings menu—it can be changed to let you see all of your open tabs, stop or refresh a webpage, or serve as a shortcut to a list of sites you've bookmarked. You'll also find the Delete History option under Settings, if you'd like to wipe your browsing history.
The Settings tab also holds the Advanced Settings menu, which offers a few more functions that can make browsing more convenient. If you do quite a bit of browsing and searching or if you use a lot of internet-connected apps, you can tell Internet Explorer to open links from other apps in a new tab. You can also enable or disable Internet Explorer's Do Not Track feature—'Send a do not track request' is selected by default. The Advanced Aettings menu will also let you decide if you'd like to block or accept cookies from websites and apps, always allow Internet Explorer access to your location, select a default Search provider (Bing or Google), and use a SmartScreen Filter to protect against potentially malicious sites.
Explore a bit more with Bing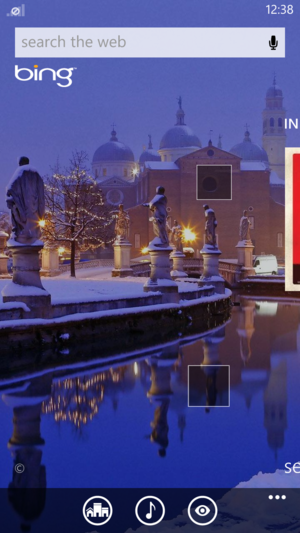 Microsoft's Bing serves as the default Windows Phone search tool. To get to the app, just tap the Search button on your device—it's one of the three main buttons along the bottom of your screen and is represented by a magnifying-glass icon. Once you're there, you'll be presented with an attractive image and a search bar: just type your query, and you'll be on your way. (The Bing screen also has small boxes superimposed on the image; tapping these boxes will give you information on the featured image.)
There's quite a bit more to the Bing app than simple searches, however. Swiping left or right from the main screen reveals more panes, which list information on popular movies, videos from across the Web, headlines, and local deals from a variety of sites like Groupon, Yelp, and Living Social.
A menu bar running along the bottom of the Bing app serves up a few more options. The musical-note icon fires up a Shazam-like music scanning tool, which will analyze the music you're listening to, identify it, and supply shopping links from the Xbox Music store. Tapping the "eye" icon activates the Vision feature which allows you to hover the camera over bar codes, books, or cases for DVDs and video games. Your phone will attempt to identify the object and search for more information on it. There's also a text translation option that will scan words and attempt to translate them for you.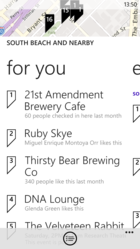 Lastly, there's Local Scout, which works with the Maps app on your Windows Phone. It scans the area around you, and then lists nearby restaurants, shops, and events. The results are organized into pages called 'eat + drink', 'see + do', and 'shop', and include business hours, contact information, and user reviews. If you've tied your Facebook account to your phone or if you use Bing extensively, Local Scout's 'for you' section will also attempt to list things that might be of particular interest to you.
Getting around with Maps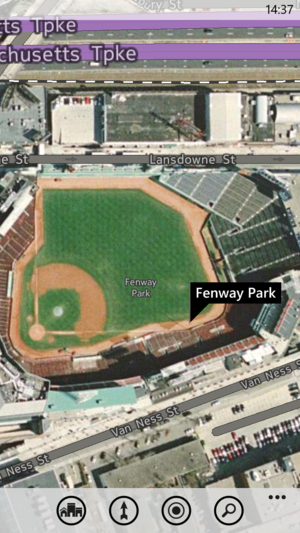 While Local Scout is handy if you're looking for things to do or eat, sometimes you just need a straightforward map. If you're rocking a Windows Phone 8 handset from HTC or Samsung, you'll have the Maps app (with an icon that looks like an unfolded paper map). If you've got a Nokia handset running Windows Phone 8, your maps are located under Nokia Maps (with an icon that looks like a compass). Nokia users also have the added bonus of Nokia Drive (in beta), which provides turn-by-turn driving directions, as well as directions that include public transportation information. Likewise, Windows Phone 8 handsets running on AT&T will get 30 days free of AT&T Navigator which provides turn-by-turn GPS navigation, offers traffic alerts, and helps locate nearby gas stations, restaurants, ATMs, and Wi-Fi hotspots.
The standard Maps app will display your current location on a map once you've opened the app and given it permission to access your location. From there you can pinch, zoom, and drag your way along the map; pinching all the way inward changes the map to a satellite view. Along the bottom row of the map are menu options for Local Scout, Directions, Me, and Search. Tapping the Me option locates your position on the map, tapping Search brings up a bar for entering the location you're looking for, while tapping Directions allows you to enter a start and end destination.
Directions can be displayed as a map, or with a list of instructions below a map (tap Directions List if you don't see them displayed). Scrolling down the directions list will cause the map to jump to the appropriate location. Tapping the More ellipsis here also gives you the option to clear the map, overlay traffic information on the map, display favorite places, change to an satellite view, and access the Settings menu.
In the Map settings, you'll find options to turn your location on or off, delete history, check for updates, and—a major feature—download maps. This is particularly useful if you do a lot of traveling, as the downloaded maps are available even when the phone is offline. To download a map, tap Download Maps in the Settings menu, then tap the plus (+) sign. You'll be able to search downloadable maps and get offline navigation directions. There are maps available for quite a few countries, and while the data isn't exhaustive, it can be useful in a pinch. (Keep in mind that downloading maps does take several minutes.)
Those using Nokia handsets will also have options to share their map (via email, text, or by posting an update to Facebook, Twitter, or LinkedIn); get multiple routes; access walking, driving, and public transportation routes; and pin a map or directions to the start menu. The options to view the map in satellite mode, view the traffic overlay, and download maps will be in slightly different locations on a Nokia handset.
Talking to your phone
Much like Apple users can rely on Siri, and Android users can speak to Google, Windows Phone users have the option to use Speech to interact with their handsets. Press and hold the Start button (it's the Windows logo) on your device to call up the Search app. (You will need to enable the speech-recognition service in Settings to use this feature.) You can use it to search the Web, as well as use it to invoke handy shortcuts for common tasks.
If you want to create a quick reminder—"get milk and eggs!" — just say "Note" followed by whatever you'd like to remember, and your phone will create the note for you in the OneNote app; it will save an audio recording, too. You can also text, call, or redial one of your contacts by saying "Text" or "Call" followed by your contact's name (provided they're in your address book). If the person you want to contact isn't in your address book, just say their number instead. Unlike with Android or Apple phones, the speech function can't send emails or set alarms for you. That said, you can open any application on your phone by saying the application's name.
This story, "Learning Windows Phone 8: Bing, Maps, and more" was originally published by TechHive.