Page 2 of 2
Google Talk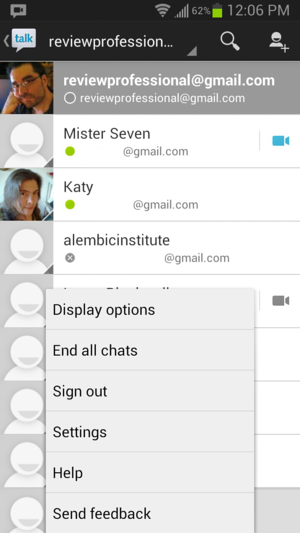 Google Talk (GTalk, for short) is the company's ubiquitous chat application. Embracing Google's minimalist interface design philosophy, GTalk is lean, speedy, and easy to use. The Android version, which is full-featured, interoperates with desktop systems and offers camera and audio support.
Logging in with your primary Google account populates your chat window with people from your contact list. Each entry includes a profile photo, an email address, and a status indicators. If a user has a camera or microphone connected, the representative icon will appear in the upper right of the screen, and tapping it will initiate a video or voice chat. You can sort entries by availability, name, or most recent login time. Profile photos link to contact information, such as telephone numbers and email addresses.
Tapping your own name at the top of the screen allows you to change your status to indicate whether you're available to chat, busy, or invisible. GTalk also supports custom status messages. Tapping a name or email address for a contact sends you to the text-messaging window—a threaded chat record between you and your friend. As also happens with the desktop client, YouTube, Flickr, and a few other links show up as previews in the Talk application. Otherwise, URLs appear as hotlinks.
More friends can be added to the conversation via the 'Add to chat' menu item, which brings up a list of friends who are currently online and thus available to invite to the group chat. All participants in a shared chat see everything typed there. You can, however, go off the record at any time to communicate without having GTalk log the conversation; this option provides a measure of privacy when circumstances require it, such as when someone needs to transmit a password or other sensitive information. Settings also permit you to block troublesome contacts.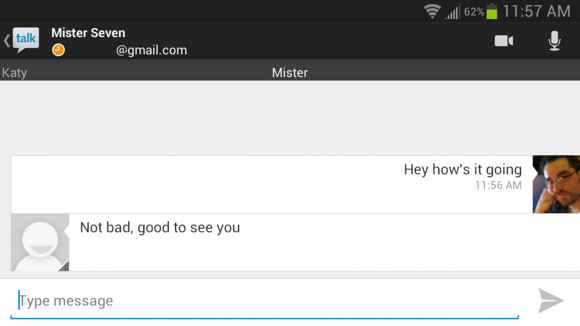 GTalk stores chat records in your Gmail inbox, as well as locally on your device; you can clear them from the GTalk application via the Clear chat history menu item, which is accessible inside every conversation. You sign out via the menu option available in GTalk's main contacts screen.
Wi-Fi Calling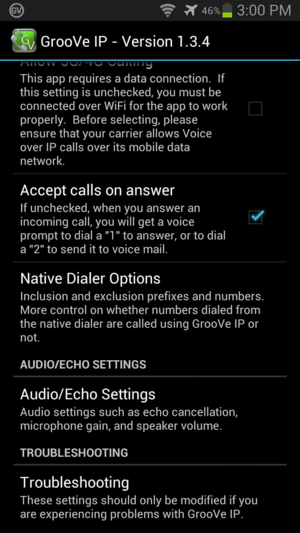 Some mobile carriers permit limited forms of Wi-Fi calling from select Android handsets, but most Wi-Fi callers use third-party services, such as Skype. Though these options work well, they tend to carry costs and require additional steps that render them less cost-efficient than their purveyors claim—and less convenient than standard mobile calling.
You can set up Wi-Fi calling with Android that's more efficient than these methods and that allows you to remain inside Google's  ecosystem, though it requires an extra utility to work. The GrooVe IP application extends Google Voice by allowing GTalk's audio chat facility to route your number over Wi-Fi.
Configuration occurs automatically after installation, when you select your main Google account or enter login credentials for another account. Upon completion of configuration, you'll need to open your Google Voice settings and point call forwarding to your Google Chat account; the appropriate Gmail address will appear. Advanced settings let you establish deeper integration with default phone dialer services, adjust echo cancellation and gain controls for the microphone, and perform other useful tweaks.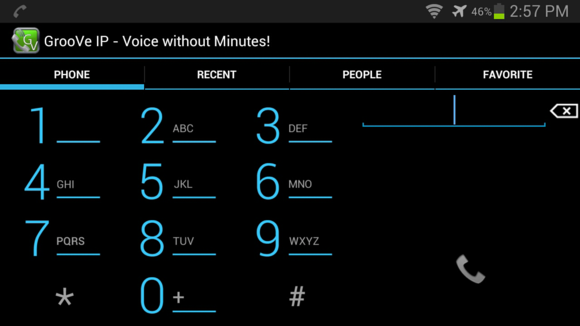 Alternatively, you can use a GrooVe IP add-on called GrooVe Forwarder that simplifies the process further and allows quick Google Voice configuration changes. Handling these manually is easy enough, but GrooVe Forwarder offers extra convenience.
After installing GrooVe IP, you'll have a seamless Wi-Fi option available for all of your calls, as long as you remain close to a hotspot. GrooVe IP also provides an alternative dialer, though you can use the built-in dialer, call logs, and so on, if you wish. With this application in place, Google Voice becomes a full VOIP service. You can put your Android device into Airplane mode, turn on the Wi-Fi, and make calls through the dialer to test the settings. The only charge is the initial $5 for GrooVe IP and $1 for GrooVe Forwarder.
Setting up the People app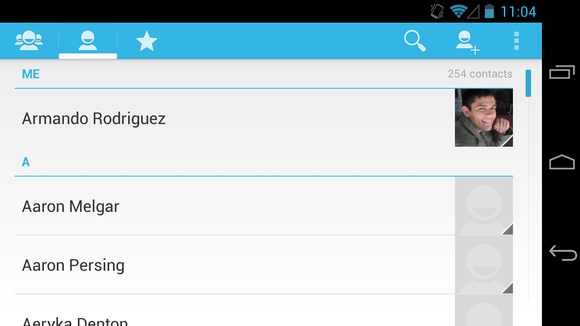 Starting with Android Ice Cream Sandwich, Google has offered Android users an enhanced contact manager in the form of the People application. Most of the old contact features are still around, but with a renewed focus on visual appeal and interoperability with social media applications beyond Google+.
The People app gives you three tabs, for sorting groups, all contacts, and favorites into scrolling vertical rows. You can add contacts by activating the contacts row and selecting the Add Contact icon in the lower middle section of the display. (The precise location of this icon depends on the phone you have.) The app presents you with the contacts form, which contains prompts for name, number, email, and other relevant information. The new Connections area lets you add your social networks, with your latest updates included in the profile information. Select Done to save the information to the contact record. You can delete entries via the settings menu on the contacts screen, and you can use the search icon on the right to quickly locate specific contacts inside large contact lists.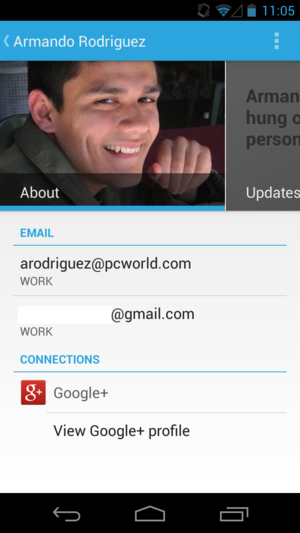 Menu options available inside the contact record itself allow further contact customization, including such variables as assigning unique ringtones, automatically forwarding from contacts to voicemail, and sharing contact records with others. You can also prepare automated responses in advance for certain callers or classes of caller.
The Groups tab lets you sort contacts for more-customized calling rules, such as giving family members or close friends preferred access and specialized ringtones. You can create, reorder, search, or delete groups via menu here. The Add Member button supports multiple selection so you can add many contacts to each group at once.
The Favorites tab features enlarged contact photos culled from Google+ profiles for each of your starred entries, making for faster selection and more visual flash. Tapping the large pictures reveals icons for quick call or messaging options. You can swipe between the contact list, groups, and favorites as well. And because it has a proper landscape mode, it will look good no matter how you hold the phone.
Aspects of this new approach go well beyond the contact list. For example, an email message from a contact will include the individual's profile photo, which you can tap to connect to the contact through various alternative means including external social media services. Not all post-ICS Android devices use the enhanced People contact manager, so check with your carrier or choose a Nexus device to be sure.
This story, "Android 101: Messages, Voice, Hangouts, and Talk" was originally published by TechHive.