Microsoft Office 2013 is here: Hands-on impressions and buying advice
The wait is over for Office 2013 and Office 365. Starting Tuesday, the latest version of Microsoft's venerable productivity suite goes on sale to consumers and academics, both on Microsoft's Office.com site and at retail outlets. You can buy the traditional stand-alone desktop software or, for the first time, consumers and students can buy Office as a subscription service that will make multiple installations cheaper.
Along with assorted new features and a design overhaul, Office 365 subscription services introduce the much-touted "Office on Demand" feature that allows subscribers to access full versions of Office applications on Web-connected PCs.
Windows users can still buy stand-alone versions of Office 2013 the old way (for prices ranging from $140 to $400). But if you need even the least-expensive edition on more than two or three computers in your household, you might wind up paying more than you would under the $100-a-year Office 365 Home Premium subscription plan (see our previous story on Office pricing), which covers up to five desktop installations (PC or Mac) versus a single installation for the stand-alone license.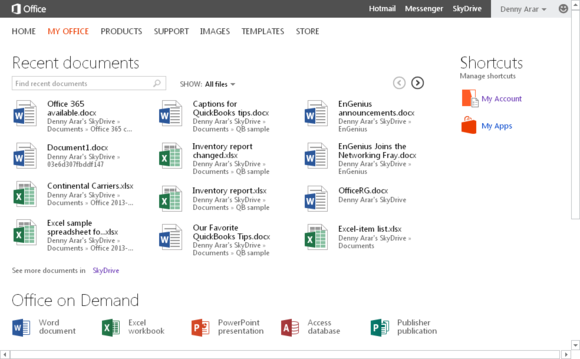 For students, faculty members, and anyone else who qualifies for the Office 365 University license, the deal is even sweeter: Microsoft is charging a mere $80 for a four-year subscription that covers two desktop installations.
Note also that the subscription licenses give you all the major Office apps, including Outlook, Publisher, and Access. The $140 Home & Student desktop software does not include those three apps; the $220 Home & Business edition adds Outlook but not the other two. To get Outlook, Publisher, and Access as well as the core Word, Excel, PowerPoint, and OneNote programs as desktop software, you must pay $400 for Office 2013 Pro.
Mac users who sign up for Office 365 will get Office for Mac
500 - Server Error
Oops! We're not able to find the page you're looking for. Here are some options to help you get back on the right track:

If all else has failed, try emailing our friendly customer service staff.