Amazon is discounting the 8.9-inch Kindle Fire HD ahead of Valentine's Day, with $30 off the Wi-Fi-only model, and $50 off the 4G LTE version.
The price of the 16GB Kindle Fire HD 8.9 dropped from $299 to $269, while the 32GB 4G LTE model dropped to $449 from $499. The discount is not added automatically – buyers will have to enter the code FIRELOVE at checkout to get the lower price. The offer is available until February 8, and there's a one tablet per customer limit.
It's not the first time Amazon has discounted the Kindle Fire HD 8.9. In December 2012, Amazon slashed $50 off the same tablet for one day only, while students with a Prime subscription could get the same deal throughout January 2013.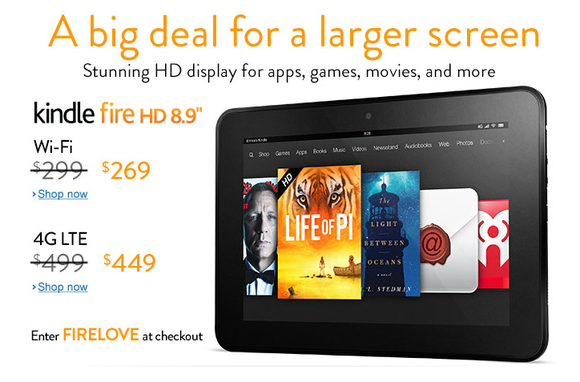 Amazon has not disclosed sales numbers for its Kindle tablet line, and the company is known for selling its tablets at no profit, or a small loss, hoping to recoup money from subsequent media sales.
However, the constant discounts for the Kindle Fire 8.9-inch since December might indicate that the retailer is not moving as many tablets as it hoped. A likely reason for that could be Apple's iPad mini, which launched in November, shortly after the Kindle Fire HD 8.9 hit store shelves.
Although the iPad mini has a smaller and lower-resolution screen than the Kindle Fire HD 8.9, the smaller tablet costs only $30 more than the Kindle. An iPad mini with Wi-Fi and cellular starts at $459 for the 16GB model, so with the Valentine's Day deal you would get double the storage of an iPad mini with cellular for $10 less with a Kindle Fire HD 8.9 4G.
This story, "Amazon discounts 8.9-inch Kindle Fire HD for Valentine's Day" was originally published by TechHive.