A single's guide to online dating
Hey there, welcome to my page!
I'm a twenty-something writer and audiophile who enjoys record hunting, hiking, and spicy foods. I would rather go to a show than a party, can't stand Lady Gaga, and will cut a rug if Tina Turner comes on. Looking for a driven, emotionally available man between 25 and 35, preferably with a beard.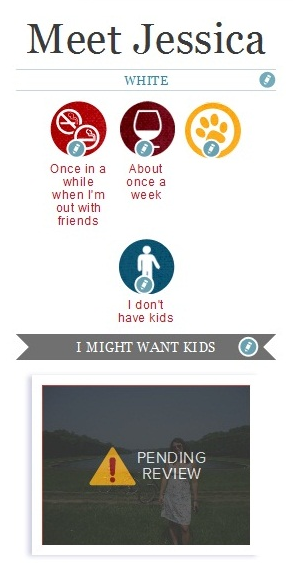 I was originally ashamed to have an online dating profile—I'm smart, I'm outgoing, and my mom says I'm cute. So why would I have to resort to the Web? The answer is pretty simple: I work as a reporter at a small-town newspaper, which keeps me pretty busy and away from a viable dating pool. In the two years I've spent at my current gig, I've met but one guy who was in my desired dating age range through more-conventional means.
According to researchers at the University of Rochester in New York, online dating is now the number two form of matchmaking in the United States, and although I was hesitant to try it at first, I took to online dating like a fish to water. It was fun to add photos, answer questions, and create witty snippets to highlight my irresistibly funny and cool (but definitely not desperate) personality with the hopes of snagging the music-obsessed, bordering-on-savant boy of my dreams.
Still, a 2012 Northwestern University study called popular websites such as Match.com and eHarmony "supermarkets" and "real estate brokers" of love. Associate professor of psychology Eli Finkel claimed that people don't learn much from a profile, and often get overloaded by choice. The study also found no compelling evidence that the matching algorithms sites use to identify potential partners actually work.
"Limiting the number of potential partners is only helpful if the algorithmic-selection process favors compatible partners over incompatible ones, which it fails to do," he said. "Even if the algorithms are cutting 2,000 potential partners down to five, if that process is random, is it really any better than strolling into the neighborhood bar?"
But dating-service advertisements, word of mouth, and several other studies would have you believe otherwise. In a marriage study conducted for eHarmony by ORC International in 2010, 37.8 percent of couples met at work or school, and 12.2 percent met online. For the 50-plus age group, however, 26.8 percent of surveyed couples met on the Internet, compared with 23.2 percent at work or school.
Match CEO Greg Blatt told the San Francisco Examiner that online dating is so successful because of societal changes.
"We get married older, work longer hours, move around more, and we're generally busier. These changes have put pressure on the way we traditionally have met our significant others," he said.
With online dating having become commonplace, I opened the online menu of men and tried a few of the most popular websites. Before you throw caution to the wind, here are some things you should know about the top five online dating sites.
Plenty Of Fish: Serious relationship seekers need not apply
Plenty Of Fish was the first site I tried, and it seemed to be the Classic MySpace of dating sites—grainy photos, a not-so-sleek design, and a hookup culture that barely lingered beneath the surface. Users fill out a basic survey—which asks you to describe your personality in one word, using such fantastic choices as "diva," "hedonist," "blogger," and my personal favorite, "music snob"—along with a 73-question personality test to determine matches.
Founder Markus Frind says his free site is the top dating site in the United States, Canada, the United Kingdom, and Brazil, with more than 2 million daily users in the United States alone. Frind adds that POF avoids niche demographics and is "the top in every age bucket."
"The more you use the site, the more effective the match algorithm becomes…. We use this data to determine who you're most compatible with, and constantly reevaluate who you're compatible with," he told TechHive.  "We look at people who are similar to you, millions of women who filled out a profile in similar ways, use the site in similar ways, [and] therefore we can predict that they will act like you. We are building neural networks."
Plenty Of Fish monitors user activity to compare stated preferences with the people you're actually looking at, which improves match quality by a factor of four. The site also asks people leaving the site in a relationship to give feedback.
"We work backwards to see what combinations of traits and characters lead to relationships. We're discovering all the things that cause relationships to break up and what causes relationships never to form in the first place," Frind says.
Although I did meet one nice guy through Plenty of Fish (who unfortunately fell into the too-nice category), I did not like many of the matches it showed me. Either they were in a different stage of life, I didn't find them attractive, or they couldn't write in complete sentences (I'm a journalist, gentlemen).
Plenty of Fish was not my favorite site, but I know a handful of "fishermen" who had some degree of success finding a casual relationship. This may be the site for you if that's what you're looking for. If you're looking for something more serious, be warned: You will have to sift through many undesirables to find the snapper of your dreams.
Zoosk: Dating with a social networking feel
I don't know anyone who has used the San Francisco-based Zoosk, which launched in 2007 as a Facebook app. Although Zoosk officials say it is "integrated into the social graph" with smartphone applications and premium subscriptions, it is extremely difficult to navigate. The user interface is both basic and overly complicated—getting to your own profile page is nearly impossible—and Zoosk doesn't present matches in a clear fashion. The easiest way I found to see matches was to use the carousel feature and click yes/no/maybe to indicate my preferences.
"[Our matching algorithms are] a combination of search engine comparison, how much of what you like matches up with someone else's interest based on your online social activity—and the user's behavior, [such as] which profiles they actually view—so it's a very dynamic tool," company spokesperson Kristine David wrote in an email.
Zoosk asks 40 predetermined questions to calculate compatibility, an approach that seems vague and insufficient for determining what kind of match the user is looking for. Users get an option to download a Web application in order to exchange messages with other users, but the site was so poorly designed that I couldn't figure out how to do that. Bonus features include the option to buy "coins," which allow you to send gifts and receive delivery confirmation on messages, but that seems extraneous.
Although I am in Zoosk's target audience of 25- to 35-year-olds, I wouldn't recommend Zoosk to anyone. You can find many more free sites out there with engaging user interfaces and a more accurate algorithm.
Match: For compatible long-term relationships
I used Match.com for about three months with little to no success, though the company would have you think that almost all of its users find a relationship or life partner. Realistically, the cause might be my age and my lack of a desire to get married in the next five years. The 50-plus age group is Match.com's fastest growing demographic, and only 25 percent of its users are under 30.
Still, this site has a better matching sequence, and it showed me more men whom I found attractive and compatible than any other site did. One widely accepted benefit is that, because Match is a paid site (one where you can't see any matches without putting up the plastic), it weeds out a lot of the cheapos and creepers who lurk on free dating sites. Having been on dates with several men who wouldn't so much as offer to buy me a drink or who couldn't afford to take the train to meet me in a central location, I have to admit that I find a guy who is willing to pay for a website appealing, as I enjoy going out and would like to do so regularly with a significant other.
Although I know only a handful of people my age who have had success on Match, most every person I spoke to over age 45 knew someone who had met their spouse on the site. While Match.com has some users who are seeking casual dating, this site and its matching process are best for people looking for a long-term relationship or marriage. Also, users who are less inclined to write about themselves or who are unsure how to define their ideal mate may find Match appealing, since users pick their favorite features, professions, and even voice tone by using pictures and sounds.
eHarmony: For tradtional daters
According to the New York Times, eHarmony was responsible for 2 percent of American marriages in 2007, or nearly 120 weddings a day. eHarmony's website is slick and easy to navigate, and I found that it made going back and adding more information about myself simple. Plus, it presented my matches well. Don't be fooled by the "see your matches for free" shtick, though: You have to pay to see anything about a potential match aside from age, name, and location.
However, the more autonomous date-seeker could be deterred from eHarmony, which refuses to let users browse for their own dates. Instead, users are required to answer a 258-question personality test, and then the site picks potential partners. This algorithm is the creation of Galen Buckwalter, a former research professor who gave 5000 married couples a personality survey and then correlated the answers with the couples' marital happiness. The resulting "29 core traits" that eHarmony prides itself on include emotional temperament, social style, cognitive mode, relationship skills, and physicality, among others.
Although eHarmony seems modern and exciting, I recommend this site for the more conservative or traditional dater seeking a long-term relationship. The questions and website goals made me feel slightly out of place, as I'm not especially traditional or looking to get married anytime soon. On the upside, this site doesn't seem to have a specific target age range, so all ages are welcome.
OKCupid: Something for everyone
OKCupid is my favorite of the sites I've used, and it's the one I've had the most luck with—I've had one long-term(ish) relationship with someone I've met through the service, and I am currently seeing someone I met on OKC with whom I have chemistry. This free site is incredibly popular with the 19-to-35 age group; it's user friendly and it presents information in seven different ways so you can customize it to create the environment you like best. What I like most about OKCupid is that it partially determines matches by assessing your responses to a variety of questions, and you can choose which ones to answer; I love taking surveys, so this setup is right up my alley.
Occasionally described as "hipster," OKC's profiles put emphasis on wit by giving users the opportunity to write a lot about themselves. The result can be a surprisingly pleasant and intellectual experience. It doesn't hurt that the site runs a pretty neat blog with good infographics.
OKCupid is open about how its algorithm works: The more complete your profile—including both the basic "who I am and what I'm looking for," as well as the unlimited survey questions—the more accurate the matches are likely to be. The site collects data on daily activities as well as on how important certain questions are (for example, having strong emotions about art is very important to me, while the need to be in contact every day—always—is not) to calculate match percentages. It determines matches by the number of questions you agree on (taking into account your answer and the importance value you attach to it), enemies by the number of questions you disagree on both at face value and in degree of importance, and friend potential by the number of answers you have in common.
Many of my friends and acquaintances have used OKC, and although about half said they'd met crazies on the site—a self-described "King of Sex" who assumed he could stay the night; one who couldn't distinguish a "group hang" from a date that she suggested; an "onion lady" who, although she didn't smell or make the guy cry, got nuttier with each successive layer he peeled off—the other half met long-term partners and are in successful relationships. If you are seeking a wide variety of relationships (including friends, casual dates, people who are looking for an open relationship, and long-term exclusive partners), OKC might be up your alley.
Dating wins and woes
During two years of on-and-off online dating across several sites, I experienced my share of doozies and snoozies, rude dudes, and even a few seriously groovy guys. I went out with one good-looking, successful lawyer who seemed excited to meet me, but then wouldn't say a word when we met up for drinks. I dated an easygoing teacher for a couple of months before he spent the entirety of one of our dates ignoring me and texting another girl he had met online.
Although some of the email conversations, dates, and relationships I had were frustrating, confusing, or downright ridiculous, I appreciate the experience of getting to know the men I met on different dating websites. At the most basic level, dating is a numbers game, and I figure that any opportunity to get to know people is better than sitting in a suburban city council meeting with people my parents' age.
In the end, the success of these sites and online dating in general completely depends on the user and their willingness to be patient, put themselves out there, and deal with the occasional dud who takes liberties or makes assumptions. But in that respect, it doesn't differ terribly from offline dating, does it?