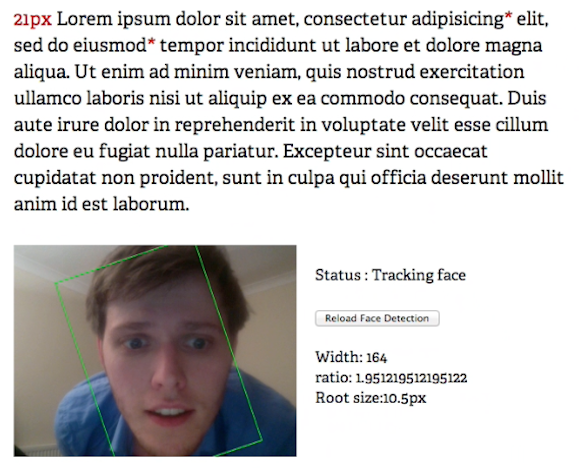 Do you ever visit websites where the text is just that little bit too small? Sure, you could use keyboard shortcuts to bump the font-size up, but wouldn't it be nice if your computer would just do it for you? I mean, this is 2013.
Croatian Web designer Marko Dugonjic has been experiementing with just that. The result is a neat website that offers a new take on responsive design: It alters the on-screen text size depending on how close your face is to the screen.
The site offers the experimental reading experience in three flavors: The first changes the font size based on set distances, resizing at various breakpoints. The second does its font-resizing magic in real-time, increasing and decreasing it as quickly as you move your face in-and-out towards the screen. This option can be slightly unnerving at first, and I imagine it not to be very practical in real-world scenarios, but, I doubt you'll be able to resist running back and forth at the screen to test it.
The last testing method is probably the most sensible for actual, practical use: It judges your postition relative to the screen and adjusts the font size when you load the page. This one we like.
You can see the site in action below (this is me testing the real-time method):
If you want to give Marko's concept a try, you can, but you will of course need a webcam handy and a browser thats willing to play nice.
[via TheNextWeb]
Get more GeekTech: Twitter - Facebook - RSS | Tip us off
This story, "Experimental website adjusts font size based on your proximity to the screen" was originally published by TechHive.