Page 2 of 2
Smartphone Data Protection
Whether you leave your phone in a taxi or a thief on a bicycle swipes it right out of your hand, what can you do to protect yourself before either (or worse) happens?
Ross Rubin, director of industry analysis for The NPD Group, says locking a smartphone's screen with a password offers a good first layer of protection--a simple process that, unfortunately, phone owners often fail to undergo.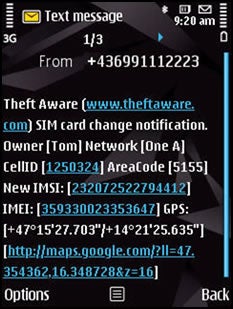 The next layer, he says, could come in the form of an add-on phone-tracking application such as Microsoft's free My Phone for Windows Mobile or Apple's Find My iPhone app, which works on iPhones and iPads but requires a $99 annual subscription to Apple's MobileMe data-syncing and backup service. The $15 Theft Aware for Android is one of several apps that can help you locate your missing Droid.
During an August 5 press event in New York to launch new versions of Kaspersky Labs' Internet security software, Peter Beardmore, director of product marketing, noted that getting cell phone users to install protective software on their handsets is a hard sell. A better business model might be if phone-protection software and services were bundled with handsets and sold as inexpensive add-ons to a customer's monthly phone service plan, he says.
Kaspersky Mobile Security ($30), currently available only for Windows Mobile and Symbian phones, can lock down a stolen phone, preventing the finder from making calls or accessing data; it can also help you track the handset on a map on another device, remotely wipe all of the phone's data, and notify you if someone changes the phone's SIM card. A BlackBerry version of the software should be ready by the end of the year, while an Android version may be available in 2011, Beardmore says.
Protect Your Smartphone as You Would Yourself
McAfee has also seen the cell phone light, so to speak, and recently acquired TenCube, the Singapore-based publisher of WaveSecure smartphone-protection software. Like the Kaspersky application, WaveSecure can track, lock, and data-wipe a stolen smartphone and detect SIM card changes. Once the phone has been locked down, a permanent message informing the finder of the owner and how to return the handset remains on the screen.
"Mobile devices have become an extension of our lives," says TenCube CEO Darius Cheung in a recent press release. WaveSecure is available for Windows Mobile, BlackBerry, Symbian and Android smartphones. A free beta version of WaveSecure Backup, a data-backup-and-restore product without the tracking, data-wiping and data-locking capabilities of WaveSecure, is available for non-smartphones that support Java.
Retrieving a lost or stolen cell phone doesn't always require sophisticated software--just a little detective work.
For example, when I left my cell phone on a Milwaukee bus in 2002, I quickly reported the loss to T-Mobile. The representative noticed that a call had been made since the time the phone vanished, and gave me the number. I called it, and the father of the teenager who found the handset answered; after some grumbling, he gave me his address.
An hour later I was met at the door by the teenager, who sheepishly gave the phone back. It wasn't until I walked away that I noticed that the boy--who obviously thought his find was a keeper--had already erased all of my contacts.
Teens love cell phones, and the desire for better ones sometimes adds up to juvenile crime, a trend that many police departments seem to have noticed. According to the New York Times, when school is in session, the Philadelphia police department doubles the number of officers in the subway system at 3:15 p.m., when classes let out.
In Washington, D.C., many cell phones are lost in the backseats of taxicabs as riders scuttle out of vehicles, but very few of them turn up at the District of Columbia Taxi Commission's lost and found, says Dena Reed, the commission's general counsel.
She says that while many interesting things are left behind in cabs daily (including three baby strollers one recent day), most lost cell phones are quickly returned to customers by the cab drivers themselves (if you are lucky) and thus never make it to the commission's office.
In New York, more than 20,000 items lost annually by commuters on the Metro North rail line end up in the fabled lost-and-found office at Grand Central Station. To handle the steady stream of high-tech gadgets and other items ranging from false teeth to false limbs, the Metropolitan Transportation Authority has designed an online claim system.
Riders can use a special Web form to enter a description of the missing item and where it was lost. Once a found item is matched with its owner, the person can pick it up or have it shipped via Federal Express.
Other Protection Tips
What else can you do to protect your cell phone's data?
Don't store sensitive information in an easily readable form.
If you use a password to encrypt or lock down your phone data, don't forget the password. Data-protection programs have no "back doors," and the only recourse you'll have is to reset your phone--which erases all the data.
Back up your phone data using your carrier's Web service or an app that lets you back up to a computer. This step will allow you to get up to speed with your replacement handset quickly.
To prevent thefts, be aware of your surroundings. Don't put your phone down and walk away even a short distance, such as from your table at a coffee shop to the counter where the napkins are.
Cell phone insurance is a good thing, but it replaces only the hardware, not your data.
In summary, treat your cell phone as a trusted friend--keep it close at hand, since so much of your life is in it.
You May Also Enjoy:
Stupid Mobile Tricks: 7 Stories of Smartphone Horror
Could the Droid X Replace Your Laptop?
iPhone vs. Everybody: Battle of the Smartphone Death Grips
(Story updated 8/11/10 to reflect clarification on what WaveSecure software is able to do.)