PreSonus Studio One Makes Music Creation Easier
As a long-time user of Sonar, Cubase, and Pro Tools, I was surprised to see PreSonus take a stab at the already saturated high-end digital audio workstation market. I'm glad they did, as the resulting Studio One (various pricing, free 30-day feature-limited demo) goes a long way towards combining the ease of use and creative flow of Ableton Live and FL Studio with the classic track-based approach to composing and recording offered by the aforementioned big three.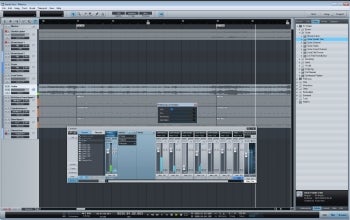 If you're an experienced DAW user, you'll notice Studio One's features are more than somewhat Cubase-like; the programmers worked on both Steinberg's Cubase and Nuendo. However, while the overall look and some of the controls are similar, Studio One's workflow and placement of functions are vastly superior. In place of the classic stack of hard-to-navigate-and-organize child windows there's a single work area divided into resizable panes that are either always visible, appear in context, or may be invoked via hotkeys. Ableton Live and FL Studio users will recognize the approach. Studio One allows you to detach the mixer for use on a secondary monitor, and FX and instruments are still free-floating.
Studio One supports the Steinberg XML format, so you can import Cubase songs, but I opted for recreating one of my Cubase recordings song using Studio One's Ableton-like support for drag and drop. I dragged an exported multi-track MIDI file to the track window and not only did Studio One recognize it, it allowed me to place tracks in time where I wished without reselecting them. From the left-hand browser pane, I simply dragged the VST instruments I wanted to the corresponding drum, bass, and keyboard tracks, selected the presets and voilà, all I had to do was drag in the live audio tracks and I was good to go. Total time, perhaps 10 minutes--without prior experience.
Though it's extremely quick and easy to use once you're up to speed, Studio One's features beyond the drag and drop are not all that easy to learn. The how-to info is a tad hard to find, the PDF user's guide lacks a navigable index, and some of the language and labels are needlessly terse, especially in the tooltips. I highly recommend a night with said user's guide and the company's YouTube tutorials before setting out on this particular DAW adventure.
There are some significant differences between the $250 Artist and $450 Pro versions of Studio One. The Artist version processes only at 32 bits, has no mastering suite, and here's a tricky one--doesn't support VST/AU plugin instruments or FX other than the ones that ship with it. That said, there are a host of excellent-sounding FX and processing plug-ins, plus several mostly capable virtual instruments. PreSonus offers a PDF comparison between the two versions online. You can upgrade from Artist to Pro for $200, so starting small won't lose you any work or hurt you in the wallet.
Over time, I've run across a few scattered gotchas. The Pro version supports VST 2.4 and 3, but not the older standards which forced me to find a substitute for at least one old standby FX. And the included Impact virtual drum machine doesn't allow you to change which notes trigger the pads. If you have a lot of drum tracks formatted to the GM standard--bring your own drum machine.
Despite the occasional head-scratcher like the shy-an-important-feature drum pads, I truly enjoy using Studio One, now that I know it decently well, and have been using it regularly for about a year. It sounds pristine, and so far version 1.5.x hasn't even hinted at crashing on me. It's well worth the download and a look-see, even if you're pleased with your current DAW. The integrated mastering suite in the Pro version is unique in the market and will save you a ton of money if you're in the market for such a thing.
Note: The demo won't load or save anything, and it times out in 30 days, but it's otherwise completely functional.