Neil Gaiman sets Twitter ablaze with fan collaboration
It's no surprise to see Neil Gaiman collaborating with artists and writers. The author of American Gods and The Graveyard Book became famous for writing the award-winning The Sandman graphic novels, which a number of different artists drew, inked, and colored. Fans are rarely surprised anymore—though they are certainly pleased—to see his work on film (Coraline, Stardust) and television (Doctor Who, Neverwhere). But when Gaiman asked his 1.8 million Twitter followers for story ideas in February, he launched a project that allowed professionals and amateurs alike to work with their idol in words and images.
Gaiman created A Calendar of Tales as a BlackBerry Keep Moving project, setting himself the task of writing 12 tweet-inspired short stories in 12 hours. On February 4, he asked the first question, "Why is January so dangerous?" on Twitter, and the large number of responses made #JanTale a trending hashtag. An hour later, "What's the strangest thing that ever happened to you in February?" made #FebTale a trending tag too, as writers, artists, and fans rushed to give their 140-character answers in the hope of catching Gaiman's interest.
"I've been trying to figure out for years a way to collaborate with readers," says Gaiman in the first of four video episodes that BlackBerry released for the project. "I loved the idea of getting some kind of feedback, and then I loved the idea of taking what I made and giving it back to people, almost like some kind of ping-pong match."
The project closed to submissions Monday, March 11. Its BlackBerry Keep Moving website, now bursting with words, images, audio, and video, hosts A Calendar of Tales, credited as "by Neil Gaiman and You."
Democratizing inspiration
"When you're trying something out on Twitter, and getting 10,000 replies," said Gaiman in a phone interview, "of course [you don't notice the handles]. There were people twittering back, and I'd think, 'that was cool,' and they'd turn out to be somebody I knew."

In the case of "February Tale," his favorite response came from @TheAstralGypsy, who described the strangest thing that had ever happened to him in February as "Met a girl on beach, searching for her grandma's pendant, lost 50 years ago. I had it, found previous Feb."
"I just thought it was a cool and wonderful thing," said Gaiman. "I was thrilled, and then I realized who it was." @TheAstralGypsy is graphic-novel writer and artist Al Davison. Gaiman wrote an introduction for Davison's 2010 book Hokusai: Demons and other tales of the Fox Mother. Davison, like many of the Twitter participants, answered all 12 questions.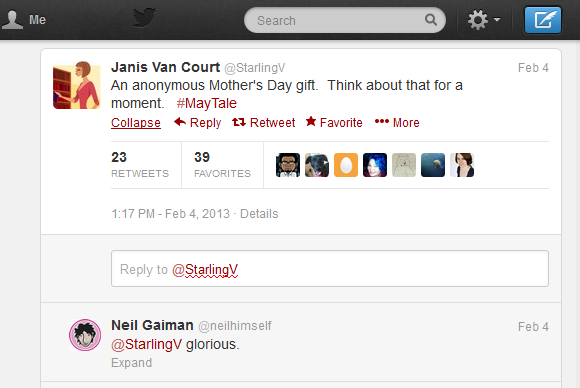 "I do not consider myself a writer at all," says Janis Van Court, a Utica College librarian, "but I enjoyed the prompt that Neil gave for his project. I thought it would be fun to respond to all 12 as a creative project." Tweeting under the handle @StarlingV, Van Court made a point of checking for each question, but "I really did just toss [the tweets] out there. I tend to agonize over words in email…I really just tried to get a feeling about the question and come up with something honest and spontaneous, and to write it well."
Van Court has never met Gaiman, not even at an event or book signing. She answered the question "What is the weirdest gift you've ever been given in May?" with "An anonymous Mother's Day gift. Think about that for a moment." A fan of Gaiman's work, Van Court was pleased when he favorited the tweet. "He retweeted and called it 'glorious.' That was quite a rush."
MeiLin Miranda (@MeiLinMiranda), a fantasy author in Portland, Oregon, jumped on the project before she even knew what it was. "By the time I answered the November question, it came straight from my heart." She responded to "What would you burn in November, if you could?" with the tweet "My medical records, but only if that would make it all go away."
Miranda says, "When he chose it, I was floored! I didn't see the idea. It was just an honest thought. It wasn't 'Oh, he'll like this one.' I'd tried really hard at some of the other ones."
"The best part of actually writing is that sudden magical moment where there's something coming out of your pen that wasn't even there a second ago," says Gaiman in the second video episode. "Everything you've been writing up until that point suddenly, magically comes together, and you…you're flying."
Pixels to pen to paint (and beyond)
"I've always loved collaborating with artists, because when I give them my words, what I get back is something that's absolutely magical," Gaiman says in the third episode. "It's never going to be like I imagined, but if you're lucky, you're going to get back something better." In response to his call for illustrations of the strange and fanciful tales, over 5000 art entries flooded in.
One of the reasons for such a high turnout is that BlackBerry turned to DeviantArt. With over 25 million registered members worldwide, DeviantArt is the world's largest online community for artists. Daniel Bornstein, DeviantArt's vice president of advertising sales, says, "DeviantArt has created a native experience on our network that allows our users to actively participate with Neil Gaiman-related content on DA as well as receive information about how they can get involved in submitting their artwork and films via the Neil Gaiman Keep Moving website." DeviantArt also created custom badges and journal skins for the project.
The project's BlackBerry Keep Moving Hub (not to be confused with the BlackBerry Hub integrated mailbox) showcases the different elements of A Calendar of Tales elegantly, boxing the collaborations between the episodes at the top and an explanation of the project at the bottom. You can click a month to read a tale and the tweet that inspired it, as well as to peruse the art submissions and other tweets. Gaiman is selecting images to illustrate the stories in an upcoming ebook and printed book.
As the project proceeded through each of the 12 months, Gaiman read the tales aloud in his distinctive voice (still English after over 20 years in the United States), and the SoundCloud recordings appeared under the boxes of tweets and images. Gaiman then invited filmmakers to create videos using as much of the audio as they liked. After the videos underwent vetting for appropriateness, Gaiman reviewed them and posted the first of his favorites on the project's Keep Moving Hub to go with each month's stories and art.
"He takes the inspiration, he executes, then gives it back to the community. The giving back is unusual," says Andrea Phillips, author of A Creator's Guide to Transmedia Storytelling. "Because Neil Gaiman is doing the writing, the quality of narrative is high, but that isn't what matters. It's the process and the participation."
Next: The BlackBerry connection
Reaching for a creative-juicy BlackBerry
BlackBerry, long known as business-phone stalwart Research In Motion, restyled itself with the launch of the entertainment-oriented BlackBerry 10 operating system. "We created BlackBerry 10 to help people achieve amazing things," said Frank Boulben, CMO of BlackBerry, in an email interview. "A great way to prove our point is by giving artists the opportunity to show the power of creativity in BlackBerry style by connecting with their communities and collaborating with them to make something unique."
BlackBerry gave Z10 phones to Gaiman, director Robert Rodriguez, and recording artist Alicia Keys. Each of these BlackBerry Ambassadors is working on his or her own Keep Moving project.
Andrea Phillips immediately sees the appeal for the company. "They're trying to build a base of Neil Gaiman fans who will look more positively at BlackBerry than they already do. They're trying to make themselves look cool with reflected glory."
Gaiman is a unique figure. It's a rare author who writes graphic novels, novels, short stories, teleplays, and young-reader books. It's an even rarer one who wins awards for all of them and lands on the New York Times bestseller list to boot. Gaiman's success has never endangered his indie cred. His characters don't have Happy Meal toys, but thanks to Gothic perfumer Black Phoenix Alchemy Lab, some of them do have their own fragrances.
Each of the BlackBerry video episodes features Gaiman interacting with his Z10. He scrolls through tweets, flips through images, snaps photos, and checks BlackBerry Hub. He chats on a video call.
That doesn't mean Gaiman uses the phone for everything. "He honestly was going to try to write the stories on the BB10, but he writes longhand," explains Cat Mihos, one Gaiman's assistants. She borrowed his Z10 to take a photo of him writing the old-fashioned way.
The 'Calendar of Tales' doesn't end with December
Van Court enjoyed the opportunity to work with an author she admires. "It involves so many people at the same time. This is like an open letter every few minutes." She was excited when Mihos contacted her about using her tweet as the basis for "May Tale." Allowing the tweet's use required signing a release form that BlackBerry sent, but Van Court didn't mind. "I signed away rights to media that haven't been invented yet," she says with a laugh.
BlackBerry's Boulben notes that all the Twitter collaborators reacted with enthusiasm: BlackBerry obtained a release form from each one the company approached. Gaiman got his first-choice tweet for every month's tale.
"It's a great way to connect with your fans," says Miranda. "Neil doesn't need to be in such close contact, but he does [stay close], and that's a lot of what makes him awesome." She hasn't seen an increase in her own book sales due to the tweet that inspired "November Tale," but she didn't expect one. "I have had some lovely Twitter conversations because of the Calendar."
Van Court noticed an uptick in Twitter followers, and she followed some back. "There are some interesting things in my feed that weren't there before." Overall, "I don't think it's changed anything in my life, but I think it has nudged me a little more toward writing as a pastime again. I spend a lot of time on a computer passively reading information, and now I think I would like to spend more time blogging."
Although A Calendar of Tales is closed to submissions, the project's Keep Moving hub states: "Neil would still like to hear from you. Tweet him your thoughts on the stories and your experiences creating the videos and images. Let him know what you think of the project so far." BlackBerry will announce the finalists for images and video in April, when the digital version of Calendar goes live.
Phillips has many thoughts about the project. "What we should care about is what emotions we're evoking—what is the experience, is it enjoyable, should it be emulated? It's what people are taking away from it. People are having an amazing, amazing time and getting something valuable. They're getting both enjoyable art and the process of working with someone they greatly admire."
"I think it's going to feel really strange leaving this project behind," says Gaiman in the fourth video episode. "Somebody once said that a painting is never finished, it's only abandoned. I think that's true of all art. There comes a moment when you just have to leave it behind and move on to the next thing. But you do it really happy, because whatever you leave behind you has taken on a life of its own."
Gaiman asked readers for inspiration, and some of them received inspiration in return. Just as Gaiman moves on to the next project, his collaborators move on and continue to create. A Calendar of Tales sits open for exploration, ready to spur visions and ideas in anyone who reads it, looks at it, listens to it, and watches it. Like Gaiman, like all artists, the Calendar keeps moving.