The Anybots Robot Can Attend Meetings For You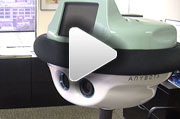 The Anybots robot functions as a seeing and hearing personal avatar that can roll around the office as you operate it through a Web browser from your home. With a Wi-Fi connection and a video camera and a speaker in the head of the bot, you can converse with work colleagues from a remote location, while you can hear and see them.
For comprehensive coverage of the Android ecosystem, visit Greenbot.com.