The Anybots Robot Can Attend Meetings For You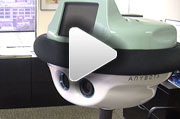 The Anybots robot functions as a seeing and hearing personal avatar that can roll around the office as you operate it through a Web browser from your home. With a Wi-Fi connection and a video camera and a speaker in the head of the bot, you can converse with work colleagues from a remote location, while you can hear and see them.

Amazon Shop buttons are programmatically attached to all reviews, regardless of products' final review scores. Our parent company, IDG, receives advertisement revenue for shopping activity generated by the links. Because the buttons are attached programmatically, they should not be interpreted as editorial endorsements.